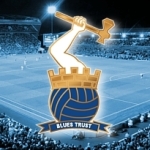 Blues Trust 2014 Annual General Meeting (AGM) will be held on Saturday November 8th, 2014, before the home game with Cardiff. Non-members are welcome to attend but only trust members can vote.
Four candidates have been nominated for election to the board: Steve McCarthy, Emma-Louise Hodgson, Peter Bull and Chris Walker.  Their Candidate statements can be viewed here.  Since there are fewer candidates than places available on the board, there has been no postal vote. The chair of our Election Management Group, Roger Ellis will put the candidates before the meeting for the approval of members.
Roger is the secretary of Sky Blue Trust and has also agreed to be on the panel for the Question & Answer session at the end of the meeting and answer questions about the situation at Coventry City. Both Blues Trust and Sky Blue Trust are part of the Supporter Trust movement, which seeks to gain more influence for fans in the running and ownership of their clubs.
Some copies of Punk Football by Jim Keoghan will be on sale after the meeting. (See the book review here).  This book is a very readable summary of the fan ownership movement in English football and we will be selling it for several pounds less than its price on Amazon. We are also hoping that Daniel Ivery will be able to come and sell copies of his book Haircuts and League Cups.
The AGM will start at 11 am and will be at the Fusion Centre,  High Street Deritend, Digbeth, Birmingham B5 6DY. The Fusion Centre is part of South & City College Birmingham. Entrance to the Fusion Centre meeting room is through the car park and to the right. The door is at the rear of the building, facing the car park.