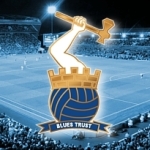 Blues Trust 2015 Annual General Meeting (AGM) will be held at 11am. on Saturday November 21st, 2015, before the home game with Charlton Athletic. It will be held at the Fusion Centre, High Street Deritend, Digbeth, Birmingham B5 6DY.  Non-members are welcome to attend but only trust members can vote.
The following business will be transacted :
To approve the minutes of the 2014 AGM
To elect Board members.
To accept the Independent Examiner's report on the accounts for the year ended 31st May 2015 and to authorise the Board to re-engage the Independent Examiner for the 2015-16 financial year.
To transact any other business which may be transacted at an AGM.
Candidates
Three candidates have been nominated for election or re-election to the board: Margaret Decker, Richard Stanley and Mark Sutton. Their Candidate statements can be viewed here.
Since there are fewer candidates than places available on the board, there will be no ballot. The independent chair of our Election Management Group, Craig Sloman of Charlton Athletic Supporters Trust (CAST), will put the candidates before the meeting for the approval of members.
Craig is Vice-Chair of CAST and has also agreed to be on the panel for the Question & Answer session at the end of the meeting and answer questions about the situation at Charlton Athletic. Both Blues Trust and Charlton Athletic Trust are part of the Supporter Trust movement, which seeks to gain more influence for fans in the running and ownership of their clubs.
Venue
The AGM will start at 11 am and will be at the Fusion Centre, High Street Deritend, Digbeth, Birmingham B5 6DY, which is directly opposite and on the other side of the road to Birmingham Coach Station in Digbeth. The Fusion Centre is part of South & City College Birmingham and its entrance to the Fusion Centre meeting room is through the car park and to the right. The door is at the rear of the building, facing the car park.
Please contact us if you have any questions about the AGM.