The following article has been written by one of our Trust members.  Would you like to contribute a discussion point of your own about Birmingham City Football Club?  If so, we would be delighted to hear from you.
Winning games certainly makes us Birmingham City supporters a happy throng. Couple that with Championship survival, then the world is a far happier place than that of only six weeks ago. Question is whether we are in the moment of forgiveness and move on. Obviously this refers to the past season of dire frustration and anger prior to the last ten games under a breath of fresh air.
Petitions, both on the ground and in the sky have created awareness with many feeling a little bit easier that voices are being heard. All very emotive. However, as we stand today, we are relaxed and feeling good, looking forward to next season and hopefully being physically able to support the team from our seats at St.Andrews. Again the question is whether we still need our hierarchy to take heed of our concerns and respond accordingly or simply side step the issue whilst times are good.
Pressure for answers is never easy, but simple communication from the people who receive our money as customers, should be a natural act. My feeling is that we as Blues supporters are really in no mood to let things drift especially when in a winning mode on the pitch. We simply are too long in the tooth from ten years of mismanagement to treat anything as done and dusted.
We are in a good space at the moment and long may it continue, but we must not lose sight of past shambles. We keep up the pressure for better communications, better overall service to us the paying customers and above all a feeling of being wanted by our famous club.​
Mitchell Bray
Recent News
Blues Trust has partnered with the Tilton Talk Show to prepare an open letter to the owners of Birmingham City PLC and the Board, which  was published yesterday. We are asking Blues fans to sign up to the contents of the letter that calls for the appointment of an experienced CEO to stop the rot of the 10 years of decline. The idea is to demonstrate to the owners that the vast majority of fans whilst backing Lee Boyer and the team are demanding change at the Board and CEO level.
To have your voice heard please read the details in the article and then complete the petition information. The more signatures the louder your voice so if you have 5 season ticket holders or people who watch the games then we need all 5 to sign.  So come on lets #tiltontalkshow #BluesTrust #bcfc #KRO #getyourvoiceheard !
We are still taking votes on our petition so please do take part – [over 1400 have signed so far] – the more fans to sign, the louder our voice.  Here's a direct link to the petition.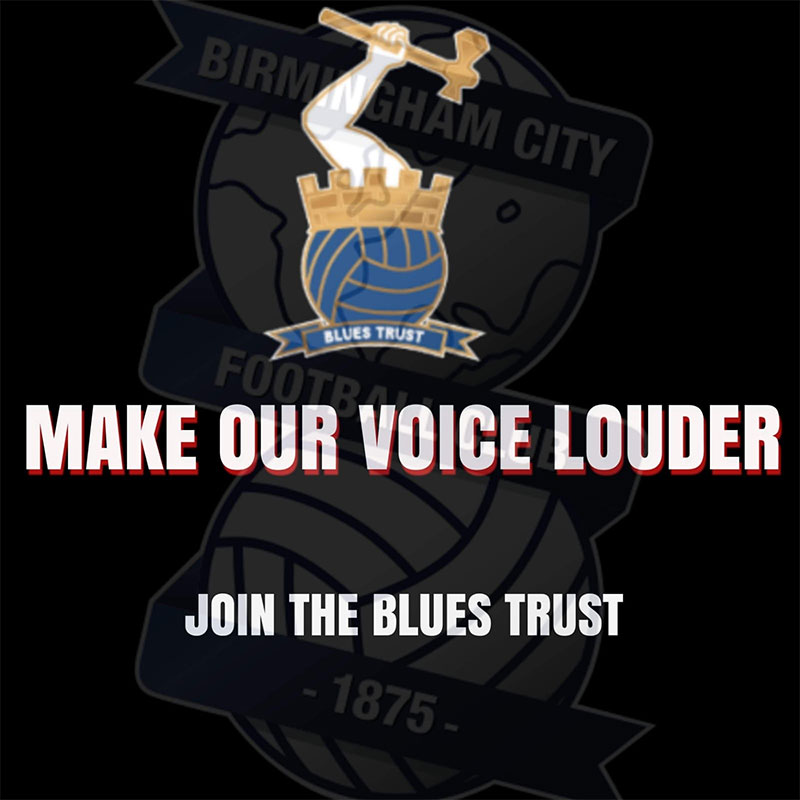 Want to be a full member with voting rights?
We have options for 1 and 2 years at £5 per year.  There is also a 5 year membership for £20 so you get 5 years for the price of 4.  See information and options here.
By making comments on the above article, you agree to Blues Trust retaining your email address should we need to make contact with you for admin purposes.   Let us know at admin@bluestrust.org if you do not wish us to do this.  We will not give out your email address to any 3rd party sources.