The following article has been written by one of our Trust followers.  Would you like to contribute a discussion point of your own about Birmingham City Football Club?  If so, we would be delighted to hear from you.
​"WhaGwaan ar kid" You can take the Brummie out of Brum but you can't take Brum out of the Brummie.  Here I am a septuagenarian living in the Island paradise of rural south-west Jamaica.  My Jonathan Grounds donated shirt hangs proudly on the washing line along with my Jamaican wife's bandana skirt and head-tie. We eat outside in the gazebo I built which is aptly named "Happy Abode" Every Sunday morning Harry Lauder's refrains compete with the combined congregations of the three Churches within earshot. Thanks to lockdown Harry Lauder always wins these days.
Bit of a far cry from the late fifties. Those days it was the number 9 'bus to Town then hot foot to St. Andrews.  Cattell Road navigated and place taken as near to pitch-side on the Kop as possible.  It was the time of the Inter-Cities Fairs Cup.  Yes, we did beat Inter Milan home and away including the one I wasn't allowed to go to at some San Siro Stadium or another. The home leg sticks in my memory, mainly because of the fashion of the day – winkle-picker shoes.  There was Jim with mates looking around for evidence.  "There you are, Italians, told you so" as we spotted the offending footwear.  On the pitch Jimmy Harris scored a brace to add to the earlier one scored at some other stadium.
Fast forwards some sixty years. For fish and chips read ackee and saltfish. "Town" is Kingston some hundred miles away. Sound systems abound at the local cricket ground that would never see the light of day at Edgbaston. I now live miles away from any semblance of a Football Stadium.  I guess that the National Stadium within the Independence Park complex in Kingston would be the nearest thing to St. Andrews but how the wind would blow without a roof over the terraces.
Football takes third place in Jamaica. Winner being Cricket with track and field a short way behind.  Football is a conundrum. True, cable and satellite TV bring the Champions League into our homes but there is no loyalty. Pinckney's are not born into a lifetime of undying support. Ballard's Valley FC v Mo- Bay United just doesn't work.
Let me take you a short ride to our local "town" Yes I suppose Junction could be called a town by some stretch of the imagination. The shopping area must easily be as big as Bearwood. Now for the unreal. It doesn't take long for an Arsenal "shirt" to pass by. Followed closely behind are Man U and Real Madrid. Another Arsenal passes and we are done. My unofficial count currently stands at Arsenal 104, Man U 90 with others varying between 10 and 50. No local teams or even shirts of the National Reggae Boyz. Then one day it happened. You guessed it. A shirt of claret and blue came oh so close. Close enough for me to have to comment. The rather startled passer-by on hearing my "sarky" comments spurted out that the shirt was sent to him from "farrin" He genuinely did not seem to know of offence he may of caused and  scurried away saying "sorry, sorry" I felt vindicated.
Given the track record of shirts imagine my surprise when it really did happen. There I was strolling down the isle of our local "supermarket" when I saw it. Walking towards me was a couple in their late sixties with THAT crest and logo clearly on display. A Blues shirt was making an appearance.  I guess it was a conditioned response but I found myself shouting "Blue Army" in their general direction. Sixty odd minutes passed and we had relived so many games of the sixties' seventies and every other decade bringing us up to date. We parted the best of friends, Imagine the obvious confusion of the other shoppers upon seeing and hearing an ageing white man, a Jamaican and his wife linking arms dancing towards the checkout singing Keep Right On at the top of their voices. Vern you have since passed on to that stadium in the sky. Ron, I know that you are still Keeping Right On.
So how do I keep in touch with "whagwaan" at the Blues? Well. We do have the Internet. Okay so it's only recently grown to 4Mbps but it works. Mostly. Saturday, usually Saturday sees me checking with Blues TV. Yes, after three years it finally works with some reliability. The dreaded Covid-19 pandemic has, ironically increased TV coverage of the mighty Blues. Here comes the downside.  Jamaica is not a "dark territory"  As a consequence I am often not able to sit in the comfort of my armchair Saturday mornings, early Red Stripe in hand with the curtains blocking out most of the fierce Jamaican sunlight tuning in to Dale Moon waxing lyrically about our fortunes.  No. instead it's a frantic search for a "dodgy stream" which hopefully is in English and will last the full ninety minutes. The stream that is not the players you understand.
And so my long distant love affair lives on. I keep up to date with far too many Blues sites and pages. My 'phone bursts into action constantly with the latest updates.  I'm probably more up to date than I was when reading the FT scores that someone had pinned to the wall of the viaduct on the Coventry Road after leaving the match. Thanks whoever you were. Okay I don't have the satisfaction of going into work after yet another Blues win and the "other lot" losing with a wall to wall grin on my face but that's a small price to pay.
I look back at my lifetime as a Blues Fan. Wasn't so bad eh!  Lost a few, drew a few and even won a few. My adrenaline pumps just as fast now as kick-off approaches as when Eddie Brown kicked off to start the game back in the day. I feel so lucky that Mum and Dad had moved to Birmingham just after the war looking for work and settled for the Blue half of the City. The other option doesn't bare thinking about!
And as I move into extra-time with the inevitable full-time whistle looming I offer you all a little thought. You do know that Owners, Managers and Players all come and go yet we, the fans stay 'till the end of that oh so long, long road?  KRO
Mr Jim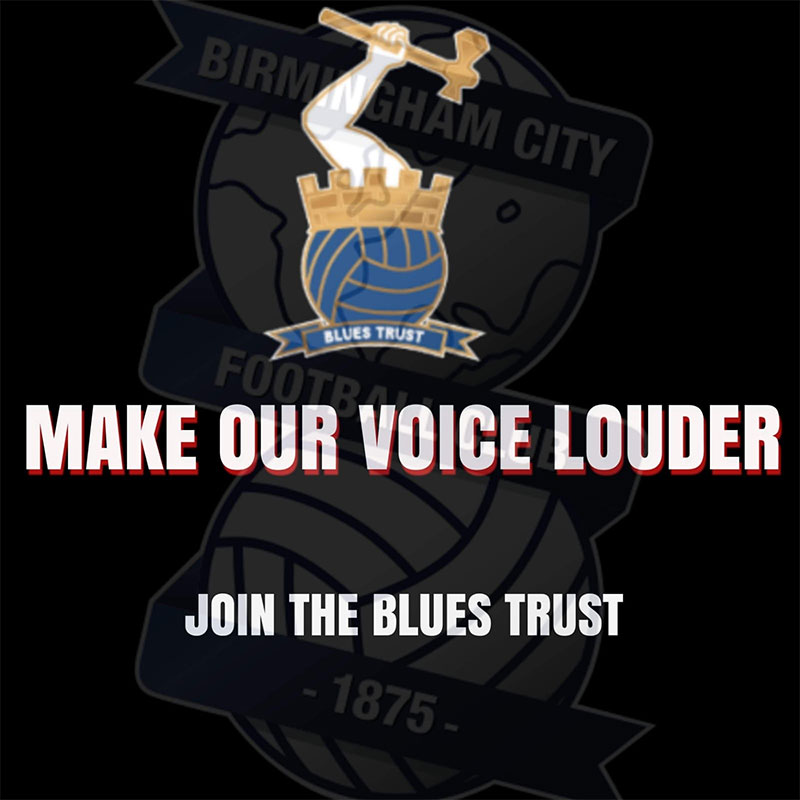 Want to be a full member with voting rights?
We have options for 1 and 2 years at £5 per year.  There is also a 5 year membership for £20 so you get 5 years for the price of 4.  See information and options here.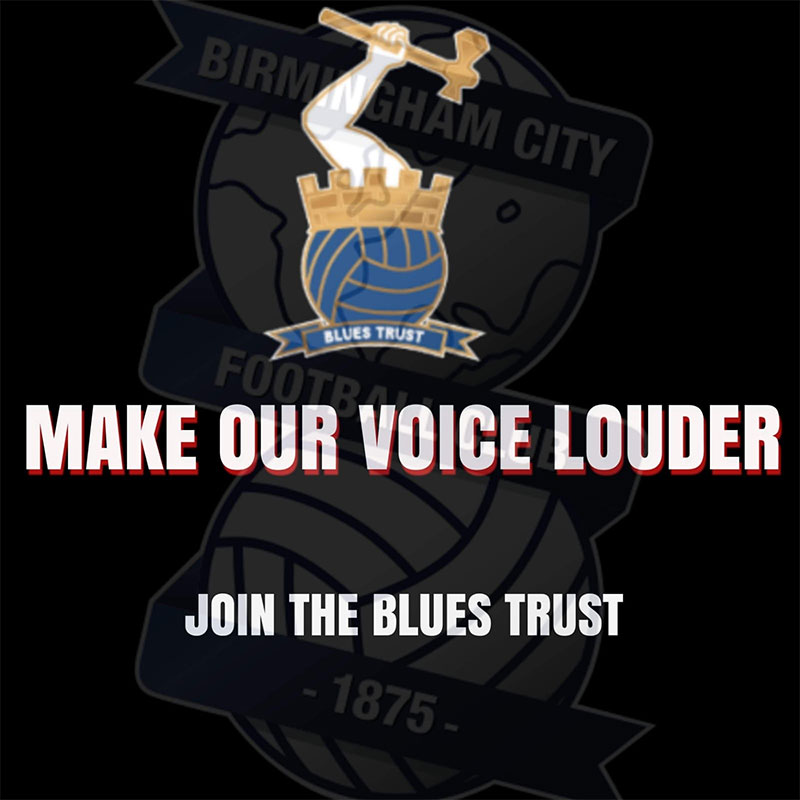 If you can't yet commit to full membership but would like to recieve our newsletters, why not sign-up to become a follower for free?
This category is not a membership and does not carry any voting rights.
By making comments on the above article, you agree to Blues Trust retaining your email address should we need to make contact with you for admin purposes.   Let us know at admin@bluestrust.org if you do not wish us to do this.  We will not give out your email address to any 3rd party sources.