The following article has been written by one of our Trust members.  Would you like to contribute a discussion point of your own about Birmingham City Football Club?  If so, we would be delighted to hear from you.
After another hugely disappointing season for Blues, Blackburn Rovers will be our last match for this Championship campaign. Forgettable season not quite, as the torrid frustrations under Karanka were amazingly rectified with the arrival and guidance of Lee Bowyer. History we now know, but it is the future that really counts.
Last Saturday, a much changed team got well beaten by Cardiff City who fielded a very strong outfit.  And, of course, they had the standout player in Harry Wilson. Bowyer understandably wanted to see what he had hidden away at Wast Hills and fair play to him that he was prepared for a defeat. This Saturday against Blackburn, I would expect a similar team selection. This, in my opinion, is a clever move by Bowyer as not only does it give him an ideal feel of what he has, but it also gives a clear indication to the Board that reinforcements are needed for next season. Before the Cardiff game, the squad used by Bowyer to reach safety clearly will be sufficient to hold mid table in the forthcoming Championship campaign. However, it is the next step that matters and that means spending money.
Strikers are the first to be talked about and righty so as these are the areas that get you a top six position. My view is that we really haven't anyone at the club that will deliver on that scale. Hogan and Jutkiewicz are not the pair to rely upon, decent as they are. Cosgrove is an enigma at the moment and Leko doesn't look a threat. Lee Bowyer obviously knows who he wants and that's where we support him and his judgement.
What is eventually summed up about this season is best described as the 'thank goodness for Lee Bowyer', with nightmares of Karanka put firmly out of our orbit. Crowds back at St. Andrews will add much needed atmosphere to B9, and it will not take a great deal for the team to get fans on their side, provided the results are decent rather than spectacular. That brings us back to strikers and that's the key.  Blackburn last stop for Blues and it may just be the ideal place for a young rookie striker to emerge. Leko and Cosgrove take note.
Mitchell Bray
​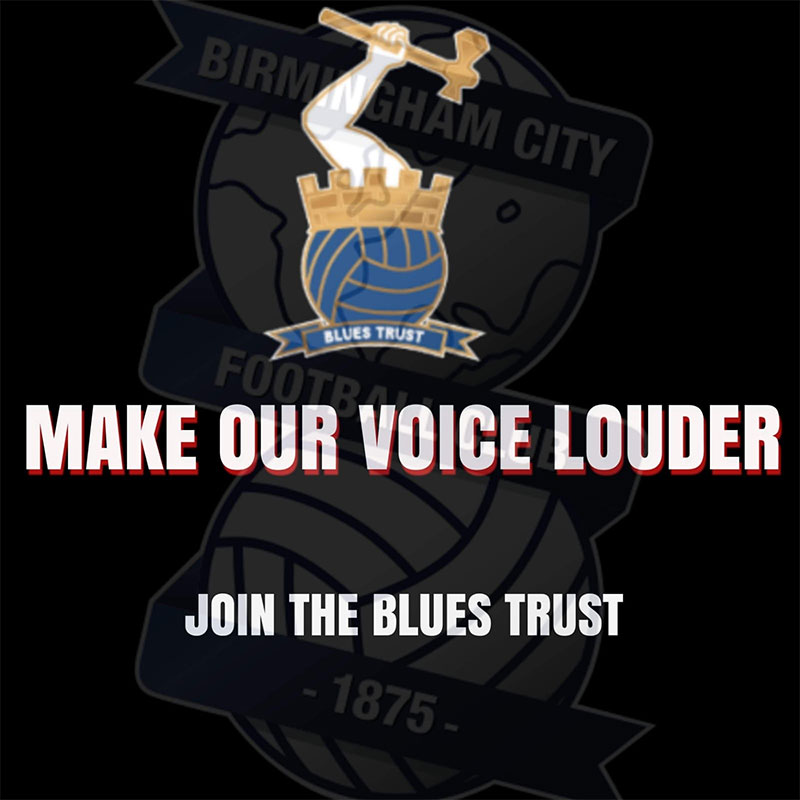 Want to be a full member with voting rights?
We have options for 1 and 2 years at £5 per year.  There is also a 5 year membership for £20 so you get 5 years for the price of 4.  See information and options here.
By making comments on the above article, you agree to Blues Trust retaining your email address should we need to make contact with you for admin purposes.   Let us know at admin@bluestrust.org if you do not wish us to do this.  We will not give out your email address to any 3rd party sources.