The following article has been written by one of our Trust members.  Would you like to contribute a discussion point of your own about Birmingham City Football Club?  If so, we would be delighted to hear from you.
Nothing compares to the start of a new football season, with supporters eagerly awaiting the release of the all-important fixtures. With St. Andrews hopefully being open for business again, then the extra incentive to attend the games is most definitely there. Add to all of that the successful arrival of Lee Bowyer and his achievement of keeping us in the Championship.  We surely must be in the mood for a season of good things.
My opinion is that we are. Wishful thinking then of course it is, but something in the water tells me that change is afoot.  Apart from the obvious with a new manager, renewed belief in retained players coupled with a raft of frankly inadequate ones exiting….then this new clean slate is ready. Much has been written, discussed and debated over the fruitless past seasons that has inevitably made most Blues supporters totally sponged out in both disappointment and frustration, leaving expectations at a very low level.  This August however, the feeling amongst our fans will be different I detect, with many already getting a real buzz that 2021/2 season will be good.
Apart from the two experimental league games against Cardiff and Blackburn last month, we as Birmingham City performed as a real force.  Add two quality additions plus the backbone of the 'Bowyer Players' who guided us to survival, then apart from the obvious Premier League relegated clubs, we stand a real chance of determined progress.  Last month's play offs involving Brentford, Swansea, Bournemouth and Barnsley typified a quartet of mediocrity in terms of top six Championship talent. Nothing really to be in awe of as far as our newly inspired Bowyer led squad.  Clean slate, new season, fans returning, thoughtful and sensible manager.  Stage is set.
Mitchell Bray
​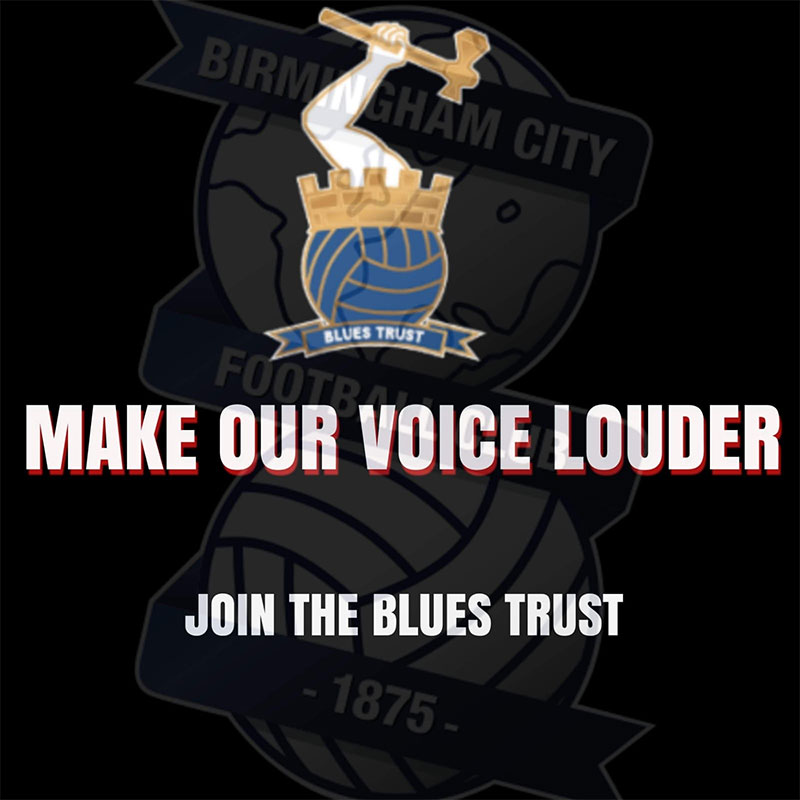 Want to be a full member with voting rights?
We have options for 1 and 2 years at £5 per year.  There is also a 5 year membership for £20 so you get 5 years for the price of 4.  See information and options here.
By making comments on the above article, you agree to Blues Trust retaining your email address should we need to make contact with you for admin purposes.   Let us know at admin@bluestrust.org if you do not wish us to do this.  We will not give out your email address to any 3rd party sources
.