The following article has been written by one of our Trust members.  They are the opinions of that person and not necessarily those of Blues Trust.  Would you like to contribute a discussion point of your own about Birmingham City Football Club?  If so, we would be delighted to hear from you.
Another Championship campaign now in touching distance certainly gets the adrenaline pumping. Hoping and wishing for better times has always been there, but in recent seasons it has also always been tinged with a big dollop of dread. We have got used to it. This season, however, does feel totally different. To me anyway.
Disappointment and despair over dark past times looks to have been weathered. Drawing the line now and looking ahead has never been more timely. Since the end of last season, we have seen pleasing developments on and off the pitch, with a sensible new Manager adding new players into positions that we as Blues supporters understand and welcome. We get his logic and we applaud his actions. This new season should therefore herald the end of negative thinking and low expectations, myself included. Lee Bowyer and his staff appear switched on and ready, with the likes of George Friend coming across very well with the players attitude etc.
As regards the signings so far, including those that have come in on loan, they all look appropriate and needed. All in my view necessary with no 'oddball' incumbents. Too many past signings have literally been square pegs in round holes. This again is, hopefully, an era now buried. Getting the signature of Dion Sanderson did it for me, as other clubs wanted him, but he came here. Yes, it might be local for him and convenient all round, but this is a decent player and Bowyer got his man.
Whatever the season holds and wherever we finish will, in my opinion, not be looked upon with yet more disappointment. Commitment appears to be rife in B9 and belief also, with the past hopefully and quickly forgotten. Not rose‑tinted glasses and wishful thinking on my part, but genuine feelings that our club is being given back to us. Fulsome support from the terraces is now the requirement and it will be the final cog that Lee Bowyer asks. He has done it all by himself so far. Now it is over to us.
Mitchell Bray
​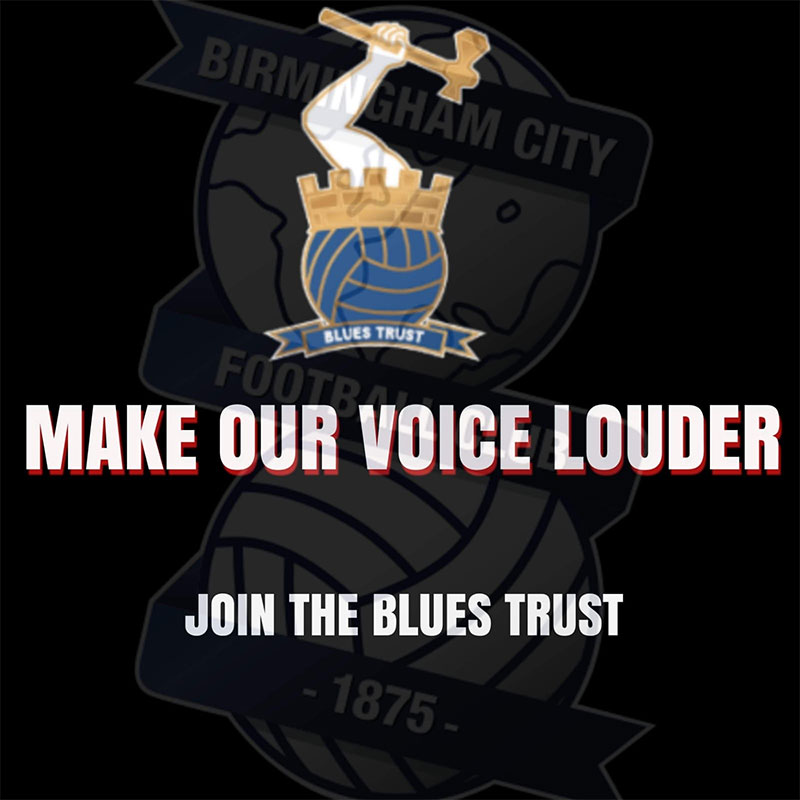 Want to be a full member with voting rights?
We have options for 1 and 2 years at £5 per year.  There is also a 5 year membership for £20 so you get 5 years for the price of 4.  See information and options here.
By making comments on the above article, you agree to Blues Trust retaining your email address should we need to make contact with you for admin purposes.   Let us know at admin@bluestrust.org if you do not wish us to do this.  We will not give out your email address to any 3rd party sources.