The following article has been written by one of our Trust members.  They are the opinions of that person and not necessarily those of Blues Trust.  Would you like to contribute a discussion point of your own about Birmingham City Football Club?  If so, we would be delighted to hear from you.
​With last Sunday's bitter disappointment of the national team losing to Italy behind us, our attention must now surely focus on our own beloved Blues. Less than a month to go and we start up again in a season which we hope will be a successful one.
Fans returning to St. Andrew's will raise the whole tempo of games, with players feeling the encouragement in terms of vocal support. St. Andrew's can be a joyful place for good, honest one hundred percenters. Add skill to all that and the right results – then supporters will be raising the roof. Flip side of course is that there will be no hiding place for below par players. My feeling is that Bowyer's men will be at it from the start, snapping away at opponents' heels reflecting their managers image.
Championship football is, for me, right up Lee Bowyer's street. We couldn't have a better character in charge. Since his arrival and the survival plan achieved, I believe he has the B9 world at his feet. This time around we know what to expect from basically an uncompromising Manager with an uncomplicated approach to the game of football. What we don't want to dwell on is the ever over reliance on the word formations. Too many analysts…..mainly boring pundits…..complicate the game beyond reason, resulting in the majority of games twisting and turning many times depending on how the result is going. As we now stand with Bowyer's squad it appears we have a decent defence, capable midfield and wingers up to putting the ball in the box. Keep it simple and the players and we supporters get it.
With our national team regaining pride by getting to the euro final, so it is the new league season that will grab the attention with all Championship clubs wanting to better themselves. Relegated clubs with the parachute payments are no doubt fancied, and those who narrowly missed out like Swansea and Bournemouth will be itching to go again. But there are always a few clubs that surprise and upset the odds. Blues, under Bowyer are in a decent place at the moment. The question it is whether we can get off to a good start and, if so, the supporters will play their part and raise the roof at St. Andrew's.
Above all…..and this is really the whole crux of the matter regarding our club, and hopefully I'm speaking not only for myself….the hope is for stability and general respect within. Achieve this and we will be better for it, not only for us followers but the respect we will earn in general in the name of BCFC.
Mitchell Bray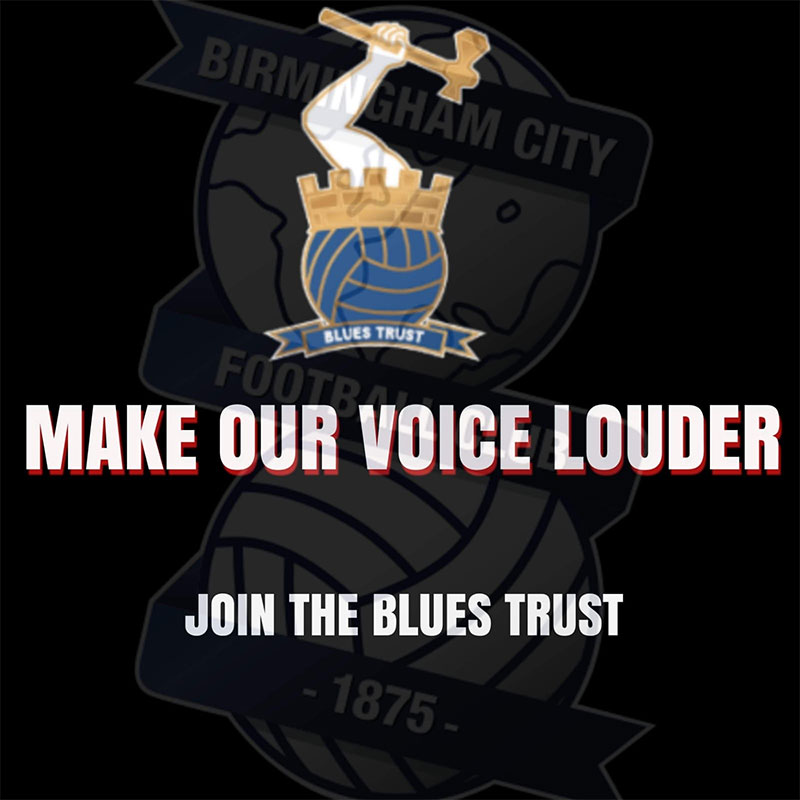 Want to be a full member with voting rights?
We have options for 1 and 2 years at £5 per year.  There is also a 5 year membership for £20 so you get 5 years for the price of 4.  See information and options here.
By making comments on the above article, you agree to Blues Trust retaining your email address should we need to make contact with you for admin purposes.   Let us know at admin@bluestrust.org if you do not wish us to do this.  We will not give out your email address to any 3rd party sources.