The following article has been written by one of our Trust members.  They are the opinions of that person and not necessarily those of Blues Trust.  Would you like to contribute a discussion point of your own about Birmingham City Football Club?  If so, we would be delighted to hear from you.
To say the signing of Troy Deeney has given everyone who supports Blues a lift is massively understated. This is huge in terms of credibility, real hope and a statement of intent. Whatever our recent problems, frustrations and sometimes anger towards the hierarchy of our club, Troy Deeney's arrival has gone a very long way in restoring my faith.
No doubt the Chairman, Lee Bowyer and Craig Gardner have done their utmost to get this signing over the line. Yes, Deeney is a great lover of BCFC and emotions run amok when it's your boyhood club, but business is business and I have little doubt Troy's advisers have sorted the best deal for him. A two year contract plus another option of a third year is generous, making it an attractive deal.
Question now is what's in store after this already good start to the season? Answer to this is hopefully going from strength, to even more progress with weaknesses being addressed and more potent personnel being brought in off and on the pitch. Talk we all know is cheap and actions are what it's all about, rightly so, but we can also dream a little and this paramount signing of Troy Deeney is massive. Keep him fit, and hopefully injury free, and together with the Juke you have a potent force in the attacking sense.
Lee Bowyer has addressed the defence, certainly improved the midfield and is now concentrating on the attacking format. For once we are in a good place. All that's needed now is a repaired stadium and supporters will surely play their part, loud and clearly, in welcoming Troy Deeney's decision to join his boyhood club. Again I say well done to all concerned in getting this signing done.
Mitchell Bray
​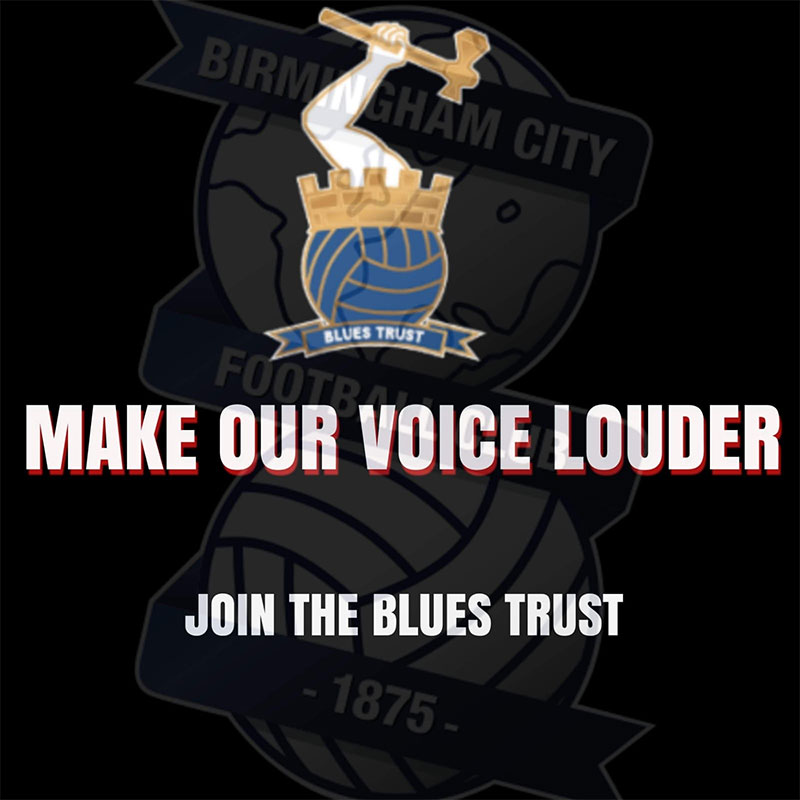 Want to be a full member with voting rights?
We have options for 1 and 2 years at £5 per year.  There is also a 5 year membership for £20 so you get 5 years for the price of 4.  See information and options here.
By making comments on the above article, you agree to Blues Trust retaining your email address should we need to make contact with you for admin purposes.   Let us know at admin@bluestrust.org if you do not wish us to do this.  We will not give out your email address to any 3rd party sources.