The following article has been written by one of our Trust members.  They are the opinions of that person and not necessarily those of Blues Trust.  Would you like to contribute a discussion point of your own about Birmingham City Football Club?  If so, we would be delighted to hear from you.
After the damaging issue of the continued closure of the Tilton and Kop stands that has dominated the last 72 hours, it should not be forgotten that there will still be a football match taking place at St Andrew's on Saturday. First home league game of the season now upon us, with Stoke City the visitors.
Last weekend it was interesting to watch two outstanding games, namely ourselves at Sheffield United and Coventry City's first game at home to Nottingham Forest. Both Coventry and Blues are, in my opinion, very similar in terms of endeavour over silky football. Lee Bowyer and Mark Robins get players actually giving 100% until the final whistle. Expected, yes of course but in reality, not many teams actually achieve this as there are always a couple of players who 'go slow'.
Against Sheffield we had Tahith Chong covering every blade of grass and Coventry had Callum O'Hare doing exactly the same. This determination not only stands out for the team but also produces the end result of a desire to win games. My point here is that our game against Stoke City on Saturday should be a continuation from last week, with no confusion about making the game complicated and worrying about tactical changes that might upset the system.
Lee Bowyer I feel will never overthink anything other than get consistency from each and every player. Attacking teams like Stoke will hopefully be his policy from minute one. Maxime Colin's goal was a decent example as to who and where the goals may come from. However, there is always a bit of a nag within and that is my frustration and irritation with Scott Hogan. He is frequently being caught offside and far too regularly misses decent goal scoring chances created by his teammates. This is not new. Unless he actually does deliver and perform to the levels that the manager entrusts in him, then surely his time is up? Little point in dressing it up and being further tolerant about Hogan. The match against Stoke City will give him another opportunity. I really hope he takes it.
Final thoughts on our first home game, apart from wanting to win, is the hope that smiles can begin to be seen on Blues faces…..both players and us fans. As for myself, it will be Tahith Chong I shall be watching and if he continues to perform like he did at Sheffield, with that man of the match award and beaming smile to follow, then that will do for me!
Mitchell Bray
​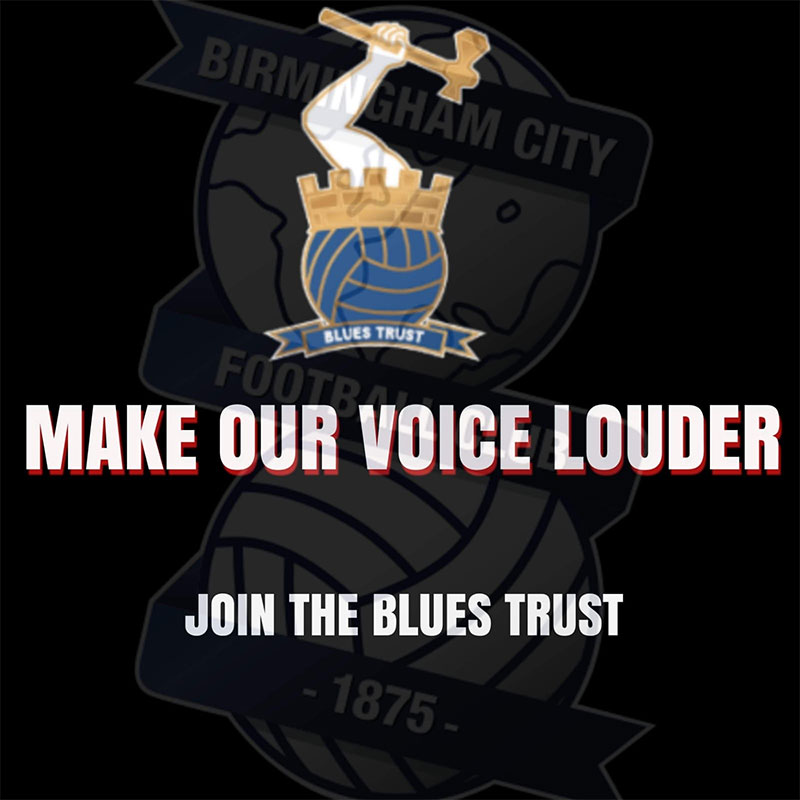 Want to be a full member with voting rights?
We have options for 1 and 2 years at £5 per year.  There is also a 5 year membership for £20 so you get 5 years for the price of 4.  See information and options here.
By making comments on the above article, you agree to Blues Trust retaining your email address should we need to make contact with you for admin purposes.   Let us know at admin@bluestrust.org if you do not wish us to do this.  We will not give out your email address to any 3rd party sources.