The following article has been written by one of our Trust members.  They are the opinions of that person and not necessarily those of Blues Trust.  Would you like to contribute a discussion point of your own about Birmingham City Football Club?  If so, we would be delighted to hear from you.
Every Championship game is tricky if not tough. Luton is another encounter which throws up all kinds of possibilities. Only a few years ago they were playing my local football team, Kidderminster Harriers, in the National League. Under the guidance of our old favourite Mick Harford, still an important part of the set up at the club, they have risen sharply to be a real force. Incidentally, you will no doubt be aware that Mick is not in the best of health right now. As a true Blues warrior in his time at St Andrew's, I'm sure we all wish him well in his personal battle with prostate cancer.
On Saturday we go to Kenilworth Road with confidence and, hopefully, enough strength not to leave empty handed. Last Wednesday's home loss to Bournemouth I am deliberately skipping over quickly, as we played well but the need for a proper striker with true composure was again highlighted.
Back to Luton and physicality over skill comes to mind. This season, so far, has again showed the amazing need for fitness and strength, with players reaching blistering levels of physical performance from the first minute to added time. My point here is that although skill obviously tells in the end – especially in the Premier League – the Championship is entirely different. Teams can overpower others with sheer strength and if a couple of average to good strikers are in your pack, then the chances of continually staying around the top six are good.
Luton and then Barnsley away will give us a clear indication as to what's ahead for Lee Bowyer and his backroom team. No doubt they are already acutely aware about the "goals for" column which, at this admittedly early stage of the season, doesn't look too rosy. We have played three hard games against teams fancied to do well and four points isn't bad at this stage, so Luton and Barnsley will hopefully allow our strikers to be more successful.
Taking chances is glaringly obvious to any team and in this regard, we need to up our game, especially Messrs Hogan and Leko. Maybe LB has plans away from these two, so again my feeling is that the next two games will be clear indicators as to their positions as regular strikers. Also, the need to compliment the efforts and form of the exciting Tahith Chong must be a priority, as this player deserves strikers around him performing at a decent level. No doubt this talented gem of a footballer expects this as not only does he need regular Championship football, but he needs to be part of a club sitting at least within striking distance of the top eight.
Luton then first beckons, and we do appear to be in a reasonably good place with our physical side and energy. It's that bit of quality we now need to light up the "goals for" column. Winning at Luton would get the feel good factor back at full swing under Lee Bowyer, and he more than anyone deserves success at St. Andrews. He is no slouch and he will not like that meagre goals scored stat, so come Saturday kick-off at Kenilworth Road he will be looking at three points.
Mitchell Bray
​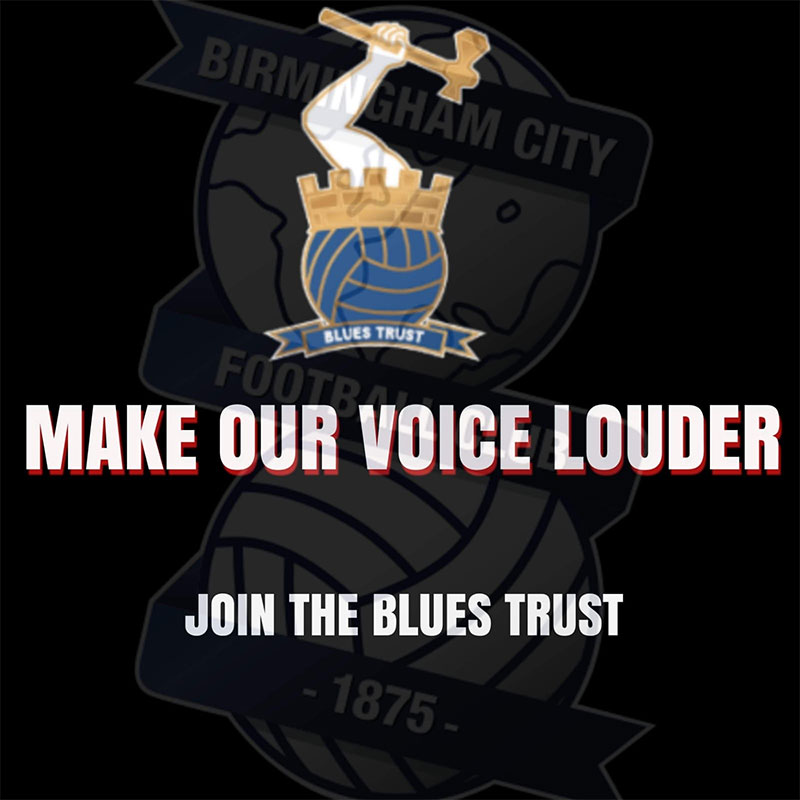 Want to be a full member with voting rights?
We have options for 1 and 2 years at £5 per year.  There is also a 5 year membership for £20 so you get 5 years for the price of 4.  See information and options here.
By making comments on the above article, you agree to Blues Trust retaining your email address should we need to make contact with you for admin purposes.   Let us know at admin@bluestrust.org if you do not wish us to do this.  We will not give out your email address to any 3rd party sources.