The following article has been written by one of our Trust members.  They are the opinions of that person and not necessarily those of Blues Trust.  Would you like to contribute a discussion point of your own about Birmingham City Football Club?  If so, we would be delighted to hear from you.
Friday night's fixture against Derby County has now become an eagerly awaited, mouth-watering prospect. Question is whether Troy Deeney will start? My emotive side says 'yes, yes', but perhaps I am not being realistic. A front pairing of Deeney and Jutkiewicz appears very tasty, and I would fancy them to cause Derby a lot of problems. However, as we all know, football is a funny game and so unpredictable. Lee Bowyer may well decide to keep to his successful line-up of late, with Troy literally waiting in the wings for the nod.
Derby County have started better than expected given their off-field circumstances, but should not be feared.  So, I feel Bowyer might be tempted to please my wishes and let Deeney loose from the off.
Such a great advantage playing the day before the rest of the Championship, with the prospect of three massive points that could elevate us to being real contenders. When have we been able to say that for a very, very long time? Obviously the Deeney bounce has got us all at it and why not? Too many recent seasons have been arduous for both players and supporters alike. Getting the team out on that St Andrew's pitch cannot now come soon enough.
Enough of questioning whether the team are up for it, enough of the doubts concerning tactics and enough of whether the quality is there.  My opinion is that we now have strong leadership across the pitch, with at least any one of three quite capable "captains" pushing the Blues home to victory. Dean, Jutkiewicz and Deeney are my leaders.
Although too many seasons have been greeted with hope in a fanciful way, only to be quickly deflated, this time around feels different with success beginning to stir around this current squad. A squad that appears very strong and determined.
Derby County should present the perfect opportunity for the arrival of Deeney to put on a crowd-pleasing display, not in a silky skills way, but the simple ask of putting the ball in the net. For too long have we struggled to put visiting teams to the sword after creating good chances that go begging.
Therefore, should Troy Deeney start from the off or wait for the nod to come off the bench? My view considering this Friday's opposition is that he should start, mainly because I want him lining up from the beginning at level scores and not being introduced at, heavens forbid, a goal down. Troy Deeney scores goals and the earlier he gets on the pitch the better.
Mitchell Bray
​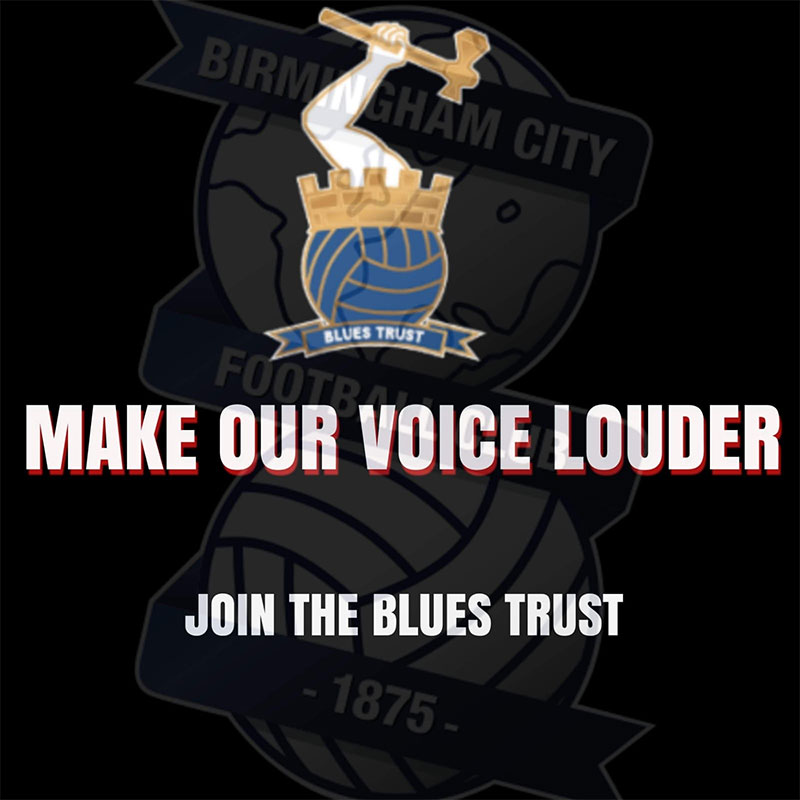 Want to be a full member with voting rights?
We have options for 1 and 2 years at £5 per year.  There is also a 5 year membership for £20 so you get 5 years for the price of 4.  See information and options here.
By making comments on the above article, you agree to Blues Trust retaining your email address should we need to make contact with you for admin purposes.   Let us know at admin@bluestrust.org if you do not wish us to do this.  We will not give out your email address to any 3rd party sources.