The following article has been written by one of our Trust members.  They are the opinions of that person and not necessarily those of Blues Trust.  Would you like to contribute a discussion point of your own about Birmingham City Football Club?  If so, we would be delighted to hear from you.
Whichever way you dress it up following two swingeing league defeats, Blues are under pressure against Preston North End. Lee Bowyer, beneath the calm persona after last Saturday's heavy defeat at Peterborough, must be desperate for a much-improved performance that brings points back to his squad. We are still in a decent place league table wise, and three points against Preston would trigger a new hope that we are back on track.
Listening to and watching Bowyer's post-match interview against Peterborough last Saturday evening made poor sense in my opinion, and a fair amount of disappointment. Blaming fatigue and a rapid clutch of games made little sense, particularly when Blues had recently played Derby County on a Friday night and then not played Fulham until the following Wednesday. Peterborough then three days later really shouldn't have been that onerous.
However, the optimism still remains intact with believers like myself that Bowyer is the man for us. Question now is how the team should shape up against Preston, who are fairly unpredictable. Naming Deeney and Jutkiewicz together sounds good and strong in many ways, but is this the way to go or do you bring Hogan into the thinking, which is the limited but obvious route?
Midfield is stable rather than exciting, with Sunjic the natural replacement for Gardner, leaving Chong and Bela to speed things up going forward. Should I ever be granted a wish for a position that could be introduced into the current team it would be for a really creative midfield player. A Mark Ward type. Recent years and as long back to 2011 we had Barry Ferguson, but since then nobody. Jude Bellingham obviously could have been my wish, but alas no as that was swiftly denied me. We currently have decent players like Woods, Gardner and Sunjic that do the job asked of them and that's fine. It's just that creativity – maybe not in great measures – that would be welcomed.
Fast forward now to the Preston game and fresh hope all round, with Troy Deeney hopefully being the first name on Lee Bowyer's team sheet and ending with his name on the scoresheet of a victory for Blues.
Mitchell Bray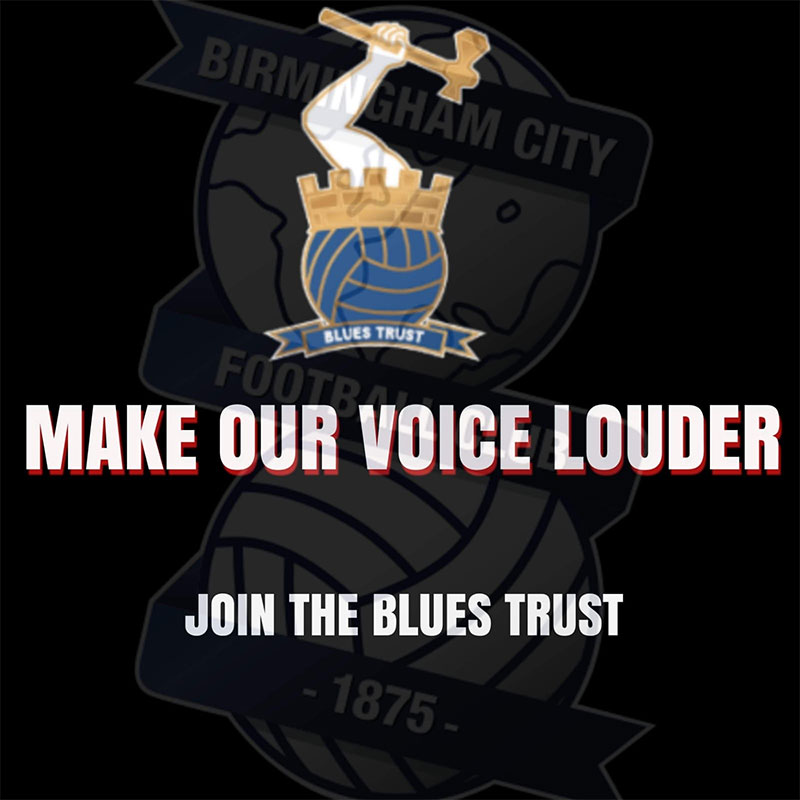 Want to be a full member with voting rights?
We have options for 1 and 2 years at £5 per year.  There is also a 5 year membership for £20 so you get 5 years for the price of 4.  See information and options here.
By making comments on the above article, you agree to Blues Trust retaining your email address should we need to make contact with you for admin purposes.   Let us know at admin@bluestrust.org if you do not wish us to do this.  We will not give out your email address to any 3rd party sources.