Bowyer's Balloon Deflating
The following article has been written by one of our Trust members.  They are the opinions of that person and not necessarily those of Blues Trust.  Would you like to contribute a discussion point of your own about Birmingham City Football Club?  If so, we would be delighted to hear from you.
Watching Lee Bowyer's post-match interview following yet another heavy defeat, this time by Nottingham Forest, left me in little doubt that he has had enough. Not that he is throwing the towel in but just the reverse, as anger certainly showed itself albeit in a calm and measured way. Bowyer and us supporters have believed in his squad of players, particularly as the majority of them were responsible for last season's fine form to escape the League One trapdoor.
What has gone so wrong this past month is baffling. After beating Derby on that Friday night in September we looked ahead to improving our league position against the likes of Peterborough, Preston, QPR and Forest. We expected Fulham to be tough, but a gain of only one point out of a possible twelve against the aforementioned four and not scoring a single goal has added to the pain. Watching Lee's obvious reaction to all this and his disbelief as to how this horrendous state of play has emerged, it raises many issues that only he can address.
During the next two weeks he has time before the West Bromwich Albion game to sort things out and try to assemble a team capable of not being humiliated yet again. Never would I have thought I would write that last sentence after eleven games and the feel-good factor that bubbled over from last season.
Every Blues supporter will be pretty well numbed by recent results and maybe have their own views as to why this has happened, particularly given the much heralded signing of Troy Deeney. This whirlwind of a signing was the icing on the cake for many, including myself, only for us to be stopped in our tracks and literally shudder to a halt.
What has gone so badly wrong with players form and confidence and what can Lee Bowyer do to 'fix it' as he puts it? He has nearly two weeks to work on it and so do we, in an odd way, as many Blues Trust readers will no doubt want to offer their own views. Welcome your thoughts.
Mitchell Bray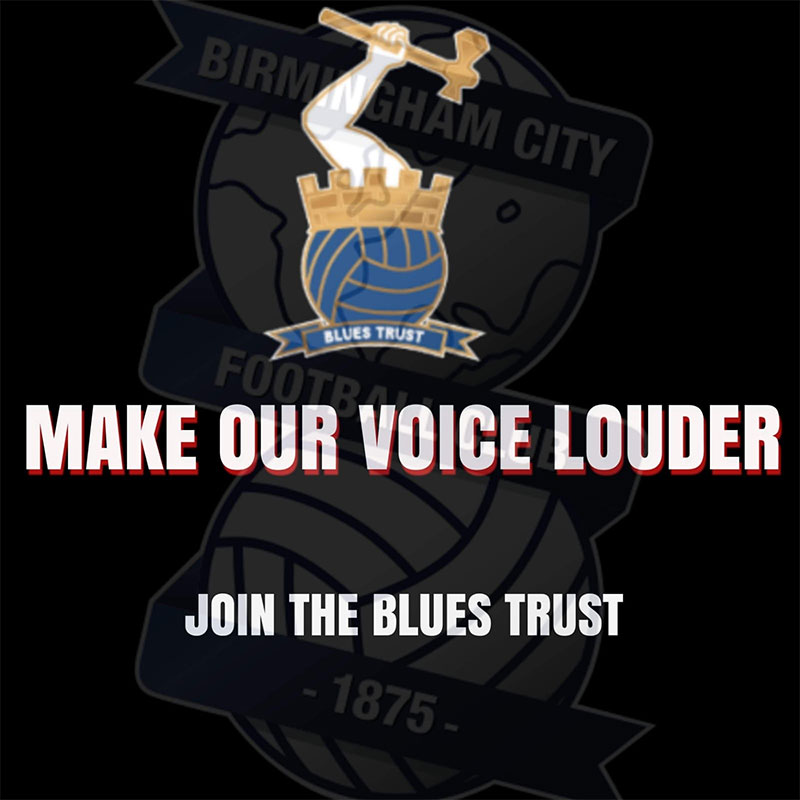 Want to be a full member with voting rights?
We have options for 1 and 2 years at £5 per year.  There is also a 5 year membership for £20 so you get 5 years for the price of 4.  See information and options here.
By making comments on the above article, you agree to Blues Trust retaining your email address should we need to make contact with you for admin purposes.   Let us know at admin@bluestrust.org if you do not wish us to do this.  We will not give out your email address to any 3rd party sources.