The following article has been written by one of our Trust members.  They are the opinions of that person and not necessarily those of Blues Trust.  Would you like to contribute a discussion point of your own about Birmingham City Football Club?  If so, we would be delighted to hear from you.
Nobody in my orbit would have predicted such an amazing downturn in our fortunes under our current manager. Bowyer bounce, Deeney delight…. just two pluses that have quickly evaporated leaving fans perplexed and wondering at this moment whether the current regime, and of course results, are better than that of previous managers.
Lee Bowyer is who we desperately want to be successful and give us a few seasons of hope and league table comfort. However, six consecutive games with zero goals is damning, and league position likewise, with the ominous feeling that something is very wrong. Or, more optimistically, that fortunes will soon change and the next opponent is going to get a hammering.  Hopefully it is the latter and all eyes are now on Saturday's home game against Swansea.
Recent formations designed to score goals have all looked fairly haphazard though, with different pairings proving feeble. Of late there has only been the odd flicker during games that encouraged us to think the ball just might end up in the opposition's net.
Lee Bowyer is hurting and so are we supporters who never envisaged such a curious downturn in form and results. Saving a season is now more than desperate, and nineteenth position in the league has to be vacated upwards……starting this weekend against Swansea. Winning again will quickly erase the last six sterile games from the memory and encourage us to believe again that a brighter future can be achieved.
No advice or suggestions to our manager as to why this or that is needed, as he knows this barren spell will end in tears if it continues much longer. Swansea is the chance to start putting things right.
Mitchell Bray
​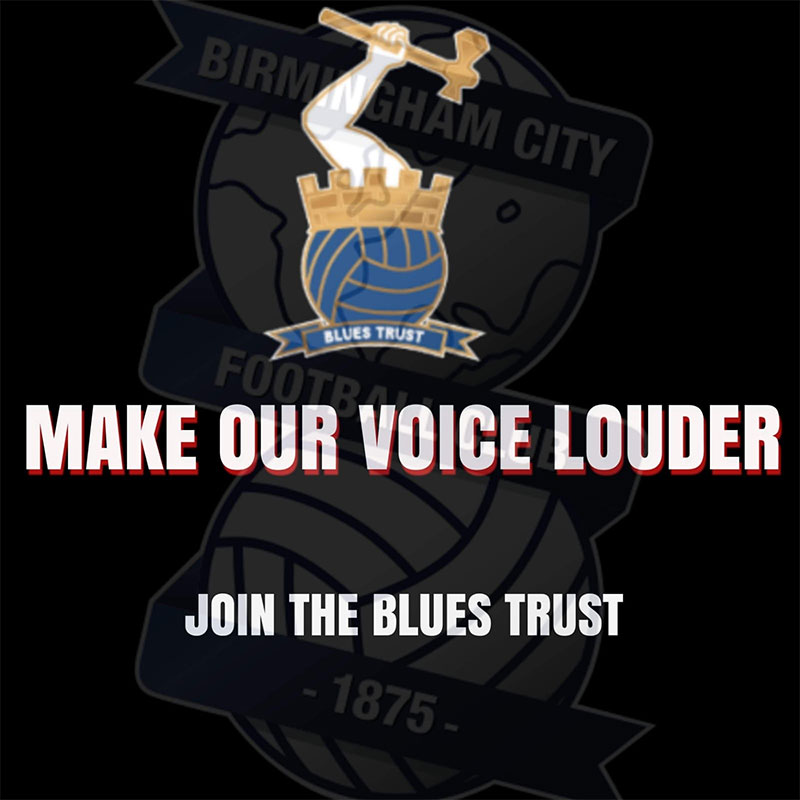 Want to be a full member with voting rights?
We have options for 1 and 2 years at £5 per year.  There is also a 5 year membership for £20 so you get 5 years for the price of 4.  See information and options here.
Have you visited our shop?
To raise funds for Blues Trust, we have for sale :
Blues Trust Pin-badges.
Old Football Programmes that have been donated.
Gift memberships in Blues Trust that you can buy for family or friends.
By making comments on the above article, you agree to Blues Trust retaining your email address should we need to make contact with you for admin purposes.   Let us know at admin@bluestrust.org if you do not wish us to do this.  We will not give out your email address to any 3rd party sources.