The following article has been written by one of our Trust members.  They are the opinions of that person and not necessarily those of Blues Trust.  Would you like to contribute a discussion point of your own about Birmingham City Football Club?  If so, we would be delighted to hear from you.
After finally ending our goal scoring drought against Swansea last Saturday, our next match against Middlesbrough must surely carry this simple message – same again please. Winning at last brought joy and new belief to supporters, and those who I have seen are still smiling. We don't ask much, but when we do get happy our smiles are as wide as the River Thames.
Troy Deeney came good and giving him the captaincy proved a shrewd move by Lee Bowyer, although consistency still needs to be achieved. As far as the squad is concerned, I still hold serious doubts, particularly the midfield and its best pairing. Strike force, likewise, especially with the continually    mis-firing Hogan. However, this is probably not the time to start pondering who is best suited to start a game. Bowyer has his squad and he knows its limitations and its strengths.
Against Middlesbrough he really needs to think hard as to his approach to this game, with Warnock usually being their twelfth man barking from the dugout. No doubt Bowyer will even this up with his own vocal retorts. My guess is safety first with a solid back four and four midfielders, which wouldn't surprise me to see the return of Woods to basically toughen things up. Middlesbrough have their defensive injuries, so Bowyer may opt for a front foot attacking lineup, but I feel the cautious approach will be the option he goes for.
After a fairly drab October with paltry points on the board, a point or even three would certainly lift the whole club and us supporters come the final whistle on Saturday. Building on from Huddersfield and Swansea is important for the better atmosphere around B9, as we experienced very low confidence after the Forest debacle. At times it was bordering on despair, questioning everyone and everything including the wisdom of the manager. Newly appointed captain has helped and generally approved of by most, but the proof of the pudding will be whether mid table and beyond is achieved in November.
Mitchell Bray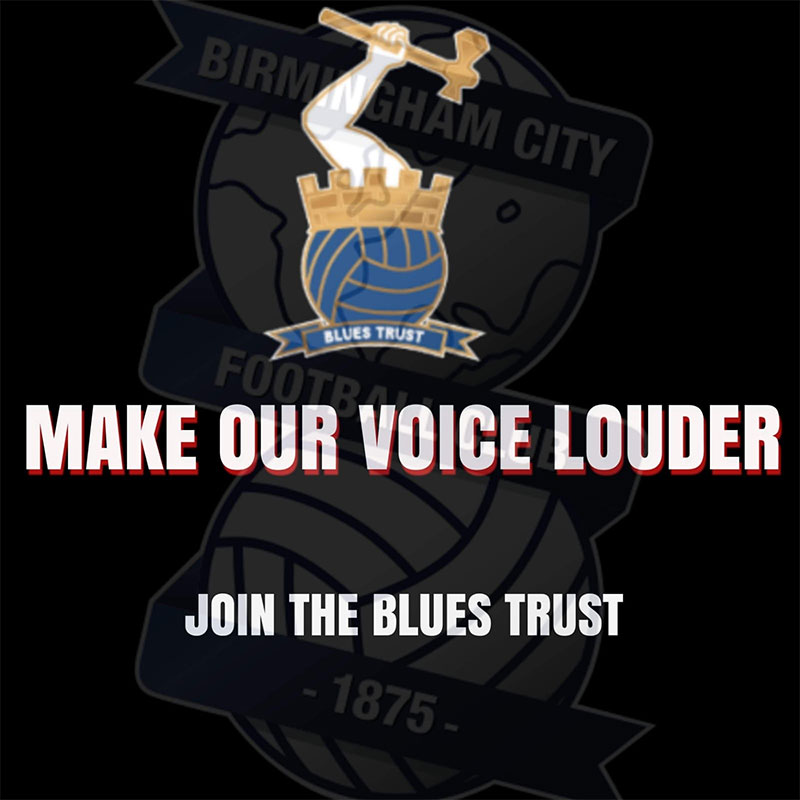 Want to be a full member with voting rights?
We have options for 1 and 2 years at £5 per year.  There is also a 5 year membership for £20 so you get 5 years for the price of 4.  See information and options here.
Have you visited our shop?
To raise funds for Blues Trust, we have for sale :
Blues Trust Pin-badges.
Old Football Programmes that have been donated.
Gift memberships in Blues Trust that you can buy for family or friends.
By making comments on the above article, you agree to Blues Trust retaining your email address should we need to make contact with you for admin purposes.   Let us know at admin@bluestrust.org if you do not wish us to do this.  We will not give out your email address to any 3rd party sources.