The following article has been written by one of our Trust members.  They are the opinions of that person and not necessarily those of Blues Trust.  Would you like to contribute a discussion point of your own about Birmingham City Football Club?  If so, we would be delighted to hear from you.
When the final whistle blew against Bristol City on Tuesday night, securing a hat-trick of wins, the amazing turnaround in the life of a Blues supporter was never more evident. From goal drought despair to 'life has never been better' just about sums it up.
Credit in bucket loads has to be given to Lee Bowyer and his squad for turning things around, particularly against rising injuries which necessitated trusting replacement players to become versatile on the pitch wherever Bowyer wanted them to play. Add to that being successful and grasping the opportunity is all any fan can ask.
My immediate thought after the three-nil victory was simply that my team, with all its recent frustrations in front of goal, was at the very least showing bottle.
Next up Reading on Saturday. It will be another huge test, especially with the ever-increasing injuries that Bowyer has to contend with. However, if we can get through this game unbeaten, then the two-week international break will be warmly greeted.
Major talking point here must be on what help LB needs in the January window? There is no doubt he needs new recruits, and I feel sure he will get them. But what positions are the priority? Two midfielders are my choice, with capabilities of holding on to possession. Sunjic, Gardner and Woods are what any Championship side needs in terms of aggression and battling qualities, but a little craft is needed should this run continue leading up to the New Year. Thereafter anything can happen should a top six position become a real possibility for us.
'Dare we dream' is a phrase often trotted out when results go favourably, and rightly so. This perhaps is now not so far-fetched, as a quick glance at the league table will point out that touching distance for a much sort after play-off place is within reach. Two quality additions may well be all that's needed in the upcoming transfer window.
Mitchell Bray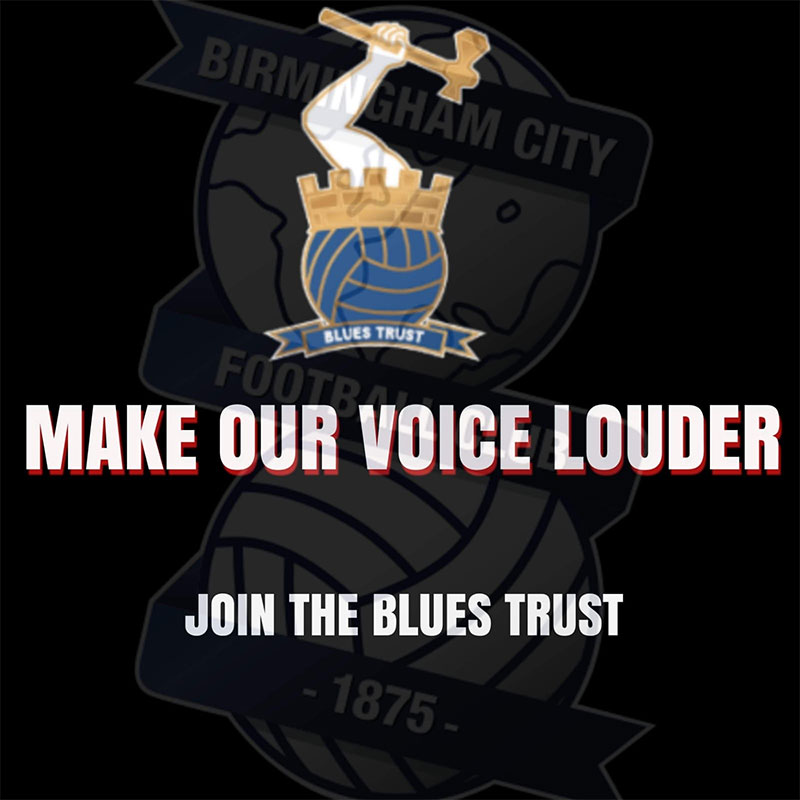 Want to be a full member with voting rights?
We have options for 1 and 2 years at £5 per year.  There is also a 5 year membership for £20 so you get 5 years for the price of 4.  See information and options here.
Have you visited our shop?
To raise funds for Blues Trust, we have for sale :
Blues Trust Pin-badges.
Old Football Programmes that have been donated.
Gift memberships in Blues Trust that you can buy for family or friends.
By making comments on the above article, you agree to Blues Trust retaining your email address should we need to make contact with you for admin purposes.   Let us know at admin@bluestrust.org if you do not wish us to do this.  We will not give out your email address to any 3rd party sources.