The following article has been written by one of our Trust members.  They are the opinions of that person and not necessarily those of Blues Trust.  Would you like to contribute a discussion point of your own about Birmingham City Football Club?  If so, we would be delighted to hear from you.
After a two week break from the Championship, we are back in the thick of it this weekend. Next up Hull City and, hopefully, with a few walking wounded back we dearly want to get back to winning ways. Dropping points against Reading was disappointing, but considering the injury situation Lee Bowyer faced prior to the game the outcome wasn't totally unexpected.
Hull City is one of those games when it's hard to string a sentence together about the opposition because they find themselves, once again, struggling at the wrong end of the table. Basically, we should expect to go there and not get beaten. We have good, experienced campaigners in our squad and as we proved prior to the Reading defeat we are capable of putting decent teams to the sword. However, we are Blues and taking things for granted is not clever.
Hull City away should, in my opinion, be the perfect springboard for us supporters to enjoy post-match activities after Saturday's final whistle. At this point there is a "but" though because, as we are all too aware, we tend to come unstuck against lower placed clubs leaving us fans not only disappointed but puzzled. Hull should not be treated lightly, but at the same time they should feel the force of a refreshed Deeney, Hogan and Jutkiewicz. Let's hope so!
Away from the current day if I may, Blues supporters of a certain vintage will I'm sure share my sadness at the passing of Bertie Auld this week. Reading the many tributes to him this week I couldn't help but recall my first Blues home game against Fulham, which featured the man himself. Barely understanding the rules of the game, and watching from the Kop opposite the half way line dugouts, I saw Bertie floor both Maurice Cook and Johnny Haynes of Fulham with uppercuts. He was promptly sent off. Returning home with my father it was hard to fathom out whether St.Andrews was a football stadium or a boxing venue.
Not sure what the score was, but as a follower of Blues I had been well and truly christened. A great player, despite his short temper, Bertie Auld gave fans joy and that's what supporting our B9 club is all about. Legends, superstars, characters….we have witnessed so many wearing our Royal Blue and, by and large, we have enjoyed every moment. Keeping this thread going for future generations is key. Including, of course, holding on to the talented footballers we develop ourselves such as the Bellingham's of this world.
Mitchell Bray
​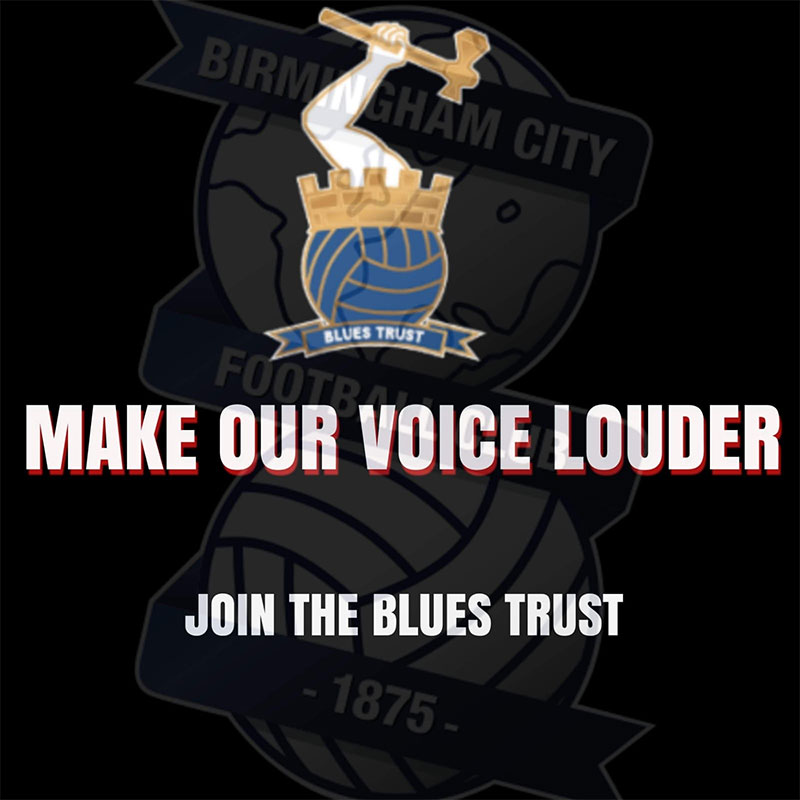 Want to be a full member with voting rights?
We have options for 1 and 2 years at £5 per year.  There is also a 5 year membership for £20 so you get 5 years for the price of 4.  See information and options here.
Have you visited our shop?
To raise funds for Blues Trust, we have for sale :
Blues Trust Pin-badges.
Old Football Programmes that have been donated.
Gift memberships in Blues Trust that you can buy for family or friends.
By making comments on the above article, you agree to Blues Trust retaining your email address should we need to make contact with you for admin purposes.   Let us know at admin@bluestrust.org if you do not wish us to do this.  We will not give out your email address to any 3rd party sources.