The following article has been written by one of our Trust members.  They are the opinions of that person and not necessarily those of Blues Trust.  Would you like to contribute a discussion point of your own about Birmingham City Football Club?  If so, we would be delighted to hear from you.
​Since the recent decimation of the team through injuries and suspensions, Blues have stuttered, risen and faltered. Points gained against Coventry, Blackpool and Cardiff have been hard earned, whereas defeats to Millwall and Hull were disappointing to say the least. Max Colin and the returnees from suspensions, Gary Gardner and Ryan Woods, should certainly bolster Lee Bowyer's troops. Add the experienced quartet of Jutkiewicz, Deeney, Hogan and George Friend, and surely the second half of the season should be a cause for optimism?
We have stagnated for over a decade now, with our regular slot in the Championship table sitting around seventeenth. We haven't dropped there yet this time around, but ominous signs are there depending on our next game against Blackburn Rovers. Should the worst happen at Ewood Park on Saturday, and we again find ourselves in familiar territory, then depression amongst us supporters may well kick in. Dropping to my now dreaded seventeenth spot around Christmas is very damaging, and psychologically tends to train our thoughts purely on survival for the remainder of the season.
Last weekend dropping two points so late on against Cardiff was horrible and unnecessary, resulting in yet another match day disappointment. My one ray of hope however came in the after-match interview by George Friend. This likeable and educated player explained how much the suspended duo of Woods and Gardner are bursting to get back and help the team.
We have the players to get results in this league, and not to be flirting around the lower reaches. Question is whether our now almost fully fit and experienced squad can take the second half of the season as a challenge. Twenty three games after Saturday is a golden opportunity for any team in the Championship. Let's hope we don't fritter it away.
Ten years in this division and struggling season after season has been debilitating. Any more will suck what little bit of faith we still have. Blackburn heralds a great opportunity to lift the whole of B9.
Mitchell Bray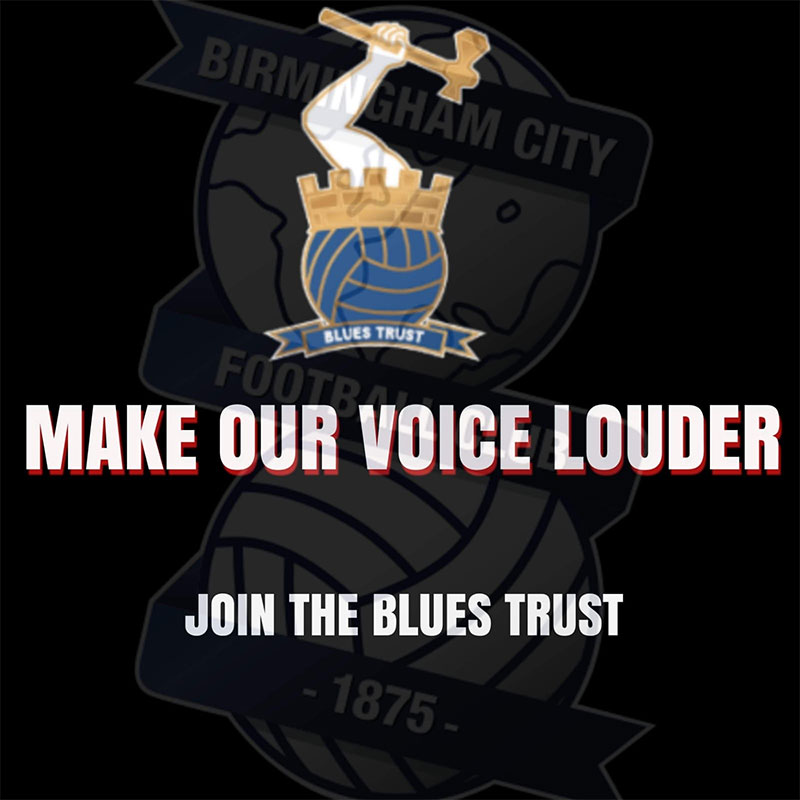 Want to be a full member with voting rights?
We have options for 1 and 2 years at £5 per year.  There is also a 5 year membership for £20 so you get 5 years for the price of 4.  See information and options here.
Have you visited our shop?
To raise funds for Blues Trust, we have for sale :
Blues Trust Pin-badges.
Old Football Programmes that have been donated.
Gift memberships in Blues Trust that you can buy for family or friends.
By making comments on the above article, you agree to Blues Trust retaining your email address should we need to make contact with you for admin purposes.   Let us know at admin@bluestrust.org if you do not wish us to do this.  We will not give out your email address to any 3rd party sources.