The following article has been written by one of our Trust members.  They are the opinions of that person and not necessarily those of Blues Trust.  Would you like to contribute a discussion point of your own about Birmingham City Football Club?  If so, we would be delighted to hear from you.
Second half of the Championship season now starts with QPR at home this Sunday.  Twenty three games to play and masses of points to be won. And, just as importantly, I suggest our squad start playing with pride.
When Lee Bowyer arrived to scrape us off the floor in that amazing heroic relegation battle last season, his players performed with astonishing pride. Where has that gone so far this season is my question? Twenty seven points at this halfway stage are decent but without being overly good. Injuries and suspensions have hindered Bowyer big time of course, and sympathy has been lavished on him by most supporters.
However, a new half season is beginning to start and with players returning from lay-offs, plus possible additions in the January window, this should set the tone for a steady points return. Limited resources and limited abilities on the playing front any true Blues follower can accept, but recent inept performances bar very few exceptions is not going down well. Playing with pride needs a recall. Experienced campaigners who excelled during the 'Bowyer Bounce' last season need a mental refresh and shown a video of games such as Rotherham and Derby away to remind themselves of just what do-or-die is all about.
Should anyone need an example of what is consistently needed in terms of commitment and performance during a Championship season, without luxury riches and by a group of workmanlike players, look no further than Millwall. Not nice I know to have to flag up this London club, but they are my example at this current stage of the very least we should aspire to be within the Championship.
What better way to start off the next twenty three games than to entertain QPR on Sunday. We will have had a couple of weeks rest and recuperation, albeit affected by periods of self isolation for some no doubt, whereas our opponents have been slogging away with almost zero rest. St. Andrew's welcomes the new year and, hopefully, the bucketloads of pride and passion that our players will display.
Mitchell Bray
​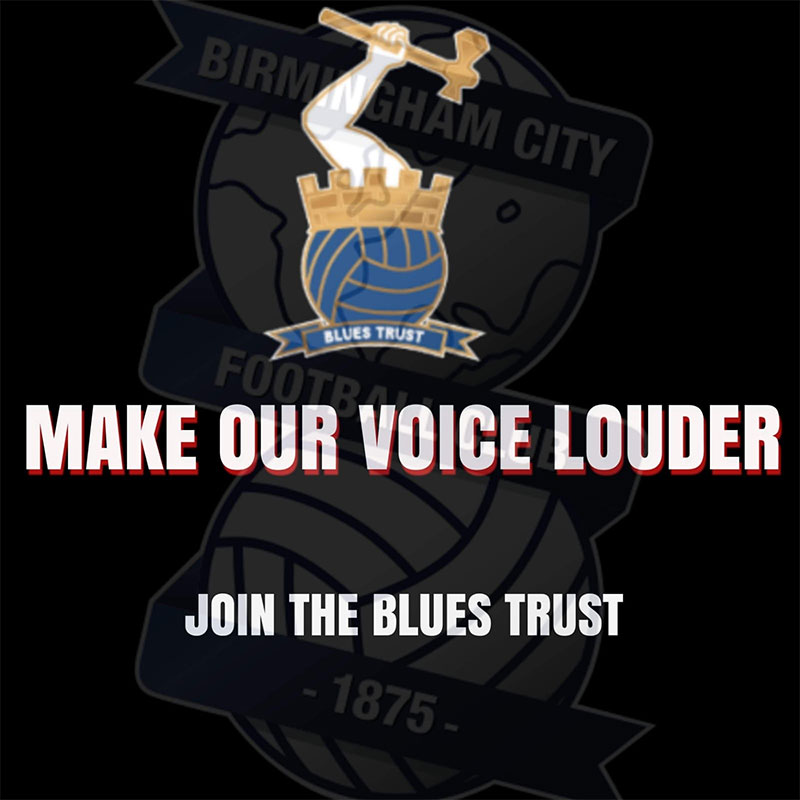 Want to be a full member with voting rights?
We have options for 1 and 2 years at £5 per year.  There is also a 5 year membership for £20 so you get 5 years for the price of 4.  See information and options here.
Have you visited our shop?
To raise funds for Blues Trust, we have for sale :
Blues Trust Pin-badges.
Old Football Programmes that have been donated.
Gift memberships in Blues Trust that you can buy for family or friends.
By making comments on the above article, you agree to Blues Trust retaining your email address should we need to make contact with you for admin purposes.   Let us know at admin@bluestrust.org if you do not wish us to do this.  We will not give out your email address to any 3rd party sources.