Barnsley Victory Essential
The following article has been written by one of our Trust members.  They are the opinions of that person and not necessarily those of Blues Trust.  Would you like to contribute a discussion point of your own about Birmingham City Football Club?  If so, we would be delighted to hear from you.
​If, as the song goes, "love changes everything" then forthcoming games over the next week or so take on a similar thread. Victory against Barnsley on Saturday will go a long way for supporters to get that loving feeling back towards Lee Bowyer and his beleaguered squad. This is simply the quickest medicine that needs to be prescribed.
Forget the dreadful run of recent results, forget the dark clouds hovering permanently over B9 and try to forget the weekly misery of Saturday evenings. Easy to say or write I fully understand, but there is absolutely no doubt that a three point haul against Barnsley is beyond vital.
Do we have a squad capable of better things? Yes. With players returning from injury and suspensions, add a couple of loanees who are nearing fitness with something to prove and you have a decent shot at home against Barnsley and Peterborough. Apart from the absence of Deeney, we do have the experience to survive yet another season that has been dismal so far.
Looking back and wondering why we are continually in a state of turmoil is slowing destroying the soul of loyal Blues followers. Truth is, we probably cannot do a great deal to change matters and certainly not those of the off-field variety. Given the remoteness of the owners we have, demonstrating at games is likely to be futile but obviously great news for the opposition. And we should not even think about giving them any assistance whatsoever.
Last season we had pride and passion for the "Bowyer Bounce". It produced a team nobody really fancied playing against, with vital encounters taken head on. Getting back on a similar track can be done and that should start against Barnsley at St Andrew's on Saturday.
After this week's Fulham game I was tempted to unlock the cupboard and reach for the prayer mats again. They need dusting of course but, for the time being at least, I decided to delay bringing them back into action. Hopefully that will prove to be the right decision. Barnsley beckons and three points await. If we manage to get them it will lift everyone and everything come the final whistle on Saturday.
Mitchell Bray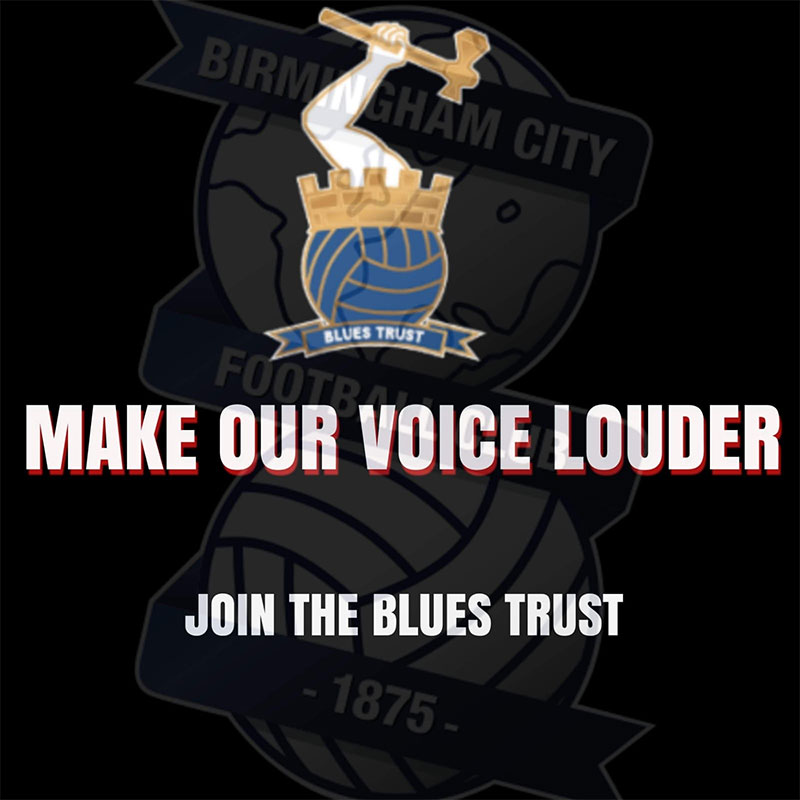 Want to be a full member with voting rights?
We have options for 1 and 2 years at £5 per year.  There is also a 5 year membership for £20 so you get 5 years for the price of 4.  See information and options here.
Have you visited our shop?
To raise funds for Blues Trust, we have for sale :
Blues Trust Pin-badges.
Old Football Programmes that have been donated.
Gift memberships in Blues Trust that you can buy for family or friends.
By making comments on the above article, you agree to Blues Trust retaining your email address should we need to make contact with you for admin purposes.   Let us know at admin@bluestrust.org if you do not wish us to do this.  We will not give out your email address to any 3rd party sources.