The following article has been written by one of our Trust members.  They are the opinions of that person and not necessarily those of Blues Trust.  Would you like to contribute a discussion point of your own about Birmingham City Football Club?  If so, we would be delighted to hear from you.
Whatever the circumstances surrounding our football club in its current state, we do have an important match against Preston North End on Saturday. Supporters have been left frustrated and angry with recent results, coupled with off field matters that have been going on for a very long time now. That combination has left a really miserable cloud over St. Andrew's.
Not easy to write about an upcoming game with any genuine optimism, but my view is that we must now get through this season with our Championship status intact. Lee Bowyer calls our latest malaise a 'sticky patch' and he may well be right. Let's hope it is. Overall, however, we know the problems lie a lot deeper.
What is paramount is the desire and determination by the players of reaching the minimum forty-six points. Not a huge target, but nevertheless nineteen precious points still required. Every Blues follower understands the monetary restrictions and all that goes with it. But despite the utter disappointment of league failures of late, together with yet another early FA Cup exit, we are still hopeful of salvaging a season with some pride.
Years of experience supporting this club has taught me that it doesn't take much to get us 'back believing' in order to reignite our favourite hobby. New players coming in and old ones leaving should, hopefully, refresh B9 and give Lee Bowyer encouragement for better times.
Preston will be a good opportunity for those who don the blue shirts to both make amends and, more importantly, produce points. We are used to being in the doldrums. It's part and parcel of being a Birmingham City supporter. But there always remains that flicker of hope each time the team steps out on the pitch. Deepdale provides that next hope.
Mitchell Bray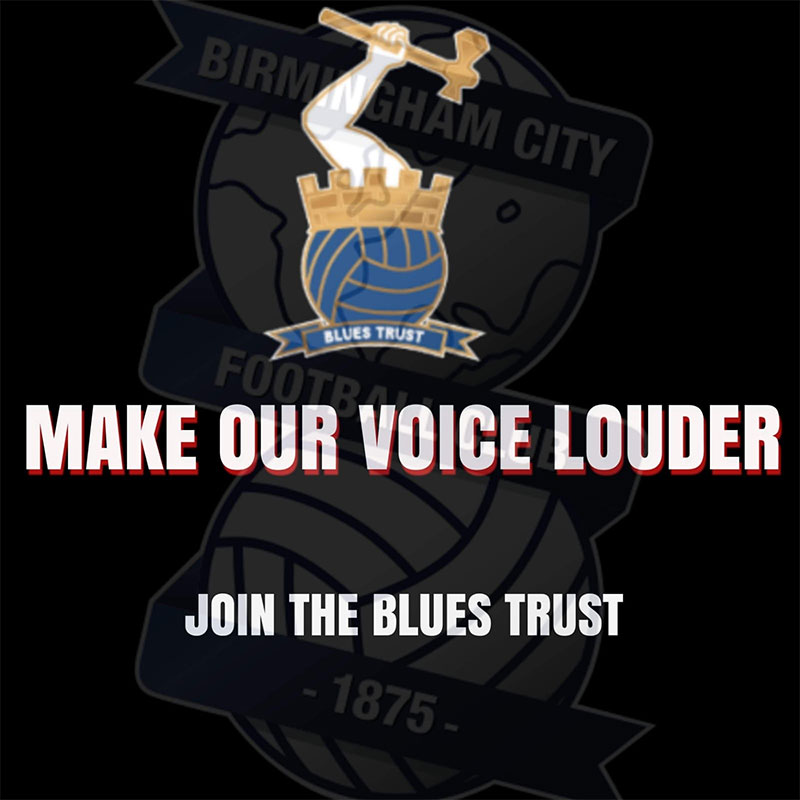 Want to be a full member with voting rights?
We have options for 1 and 2 years at £5 per year.  There is also a 5 year membership for £20 so you get 5 years for the price of 4.  See information and options here.
Have you visited our shop?
To raise funds for Blues Trust, we have for sale :
Blues Trust Pin-badges.
Old Football Programmes that have been donated.
Gift memberships in Blues Trust that you can buy for family or friends.
By making comments on the above article, you agree to Blues Trust retaining your email address should we need to make contact with you for admin purposes.   Let us know at admin@bluestrust.org if you do not wish us to do this.  We will not give out your email address to any 3rd party sources.