The following article has been written by one of our Trust members.  They are the opinions of that person and not necessarily those of Blues Trust.  Would you like to contribute a discussion point of your own about Birmingham City Football Club?  If so, we would be delighted to hear from you.
"We are where we are" is a common and worn-out phrase in footballing terms. At Blues we are certainly used to the wording, as it continually reminds us that we are nowhere near the races in terms of success. This transfer window is yet a further example of how deals must be made just to give the club a chance of surviving another awful season.
Yes, we must be thankful that we still have a club and likewise that a main interest and passion for thousands of us continues to exist. However, our situation of pure existence is based on St.Andrew's now having become, literally, a repository for players who for a variety of reasons cannot get games with their own clubs.
For over a decade now, with the exception of the ill-fated Redknapp experiment, we have suffered the annual indignity of having to borrow other bodies just to see us complete a season unscathed. Heavens above, we as BCFC deserve better and surely the very name Birmingham…with its recognised status of being the second city in the country…must one day be associated again with a top-class footballing outfit?
All this is familiar sounding I admit, and it is certainly depressing to write. But supporters of our beloved club will get where I am at, and understand that at the very least we really must have a club capable of doing well. A club to be proud of, and one that can repay the tired and weary who just want stability and players who are 'our own'.
We are, in my opinion, not only drifting along but hitting regular new lows season after season by using transfer windows as desperate short-term measures to avoid the dreaded League One trapdoor. Without Derby and Reading's points deductions this season, I really do shudder to think what our fate might be this time around.
As it is, we plod on in the hope our temporary incumbents can see us through to survive another Championship season. And, yes, of course we will cheer them on when they wear the royal blue shirt. But soon they will be gone. What especially saddens me though is the mini excitement fellow Blues fans seem to get when yet another 'loanee' is announced.
Mitchell Bray
​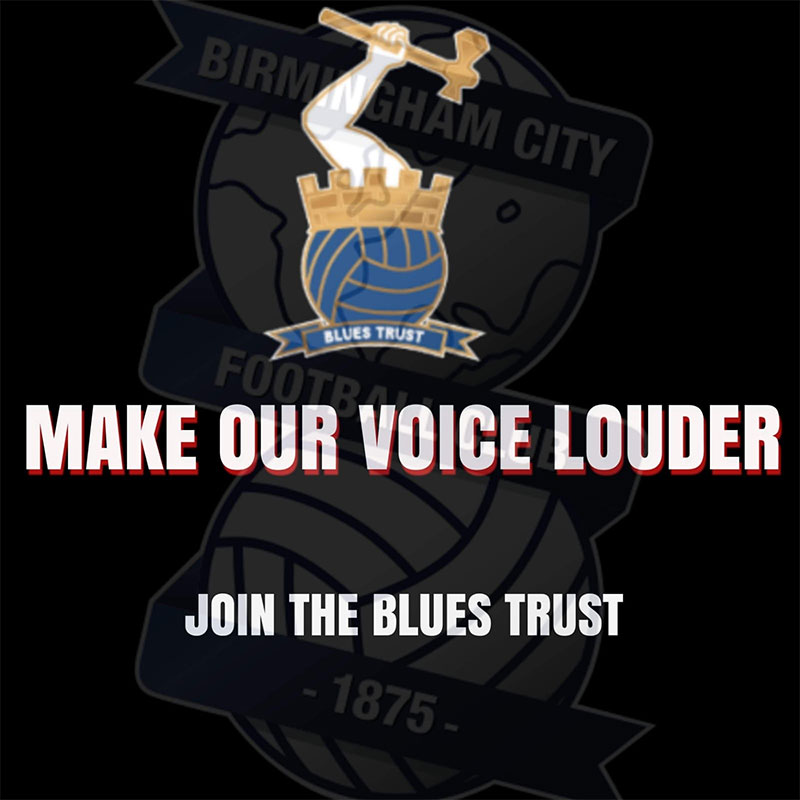 Want to be a full member with voting rights?
We have options for 1 and 2 years at £5 per year.  There is also a 5 year membership for £20 so you get 5 years for the price of 4.  See information and options here.
Have you visited our shop?
To raise funds for Blues Trust, we have for sale :
Blues Trust Pin-badges.
Old Football Programmes that have been donated.
Gift memberships in Blues Trust that you can buy for family or friends.
By making comments on the above article, you agree to Blues Trust retaining your email address should we need to make contact with you for admin purposes.   Let us know at admin@bluestrust.org if you do not wish us to do this.  We will not give out your email address to any 3rd party sources.