The following article has been written by one of our Trust members.  They are the opinions of that person and not necessarily those of Blues Trust.  Would you like to contribute a discussion point of your own about Birmingham City Football Club?  If so, we would be delighted to hear from you.
How much more stuffing needs to be knocked out of us Blues supporters?Our league position is a miserable one and our genuine belief of actually winning games is presently not very high. Whatever has been happening in recent games, when we have been in great positions to secure maximum points only to see them snatched away late on, needs putting right.
Cardiff at home, Derby away and now Sheffield United at home come immediately to mind. Concentration levels and focussing and other phrases are routinely being used by Lee Bowyer to explain the shortcomings. But this is happening too often of late and it's becoming very irritating. What really needs saying in my view is that we currently have a back four problem, and the word "poor" must be added in there somewhere.
Earlier in the season we were keeping clean sheets regularly, with Lee Bowyer quite rightly acknowledging the team's defensive resolve and making clear his satisfaction in goalkeeper Sarkic. With Etheridge now installed I don't see this as the problem, but it is obvious there is a reason for the fragile showings in front of him. My opinion is that our regular flat back four are not defending with 100% pride or passion. Many may disagree and instead simply give the reason of us being just fragile bordering on poor.
Over the weekend I saw Kidderminster Harriers and Boreham Wood show unbelievable desire and determination with their back four rearguard efforts. It left me hoping that LB will show video's of those displays to our entrusted defenders.
Bournemouth and Luton next up, and whether we sink lower down the table or stabilise will very much hinge on the defensive side of our play. New signings Taylor, Bacuna and Hernandez certainly appear to be shrewd additions which is applauded and welcomed. Bowyer and his staff need now to turn their heads backwards and address the true problem that is the cause of so much current concern.
Mitchell Bray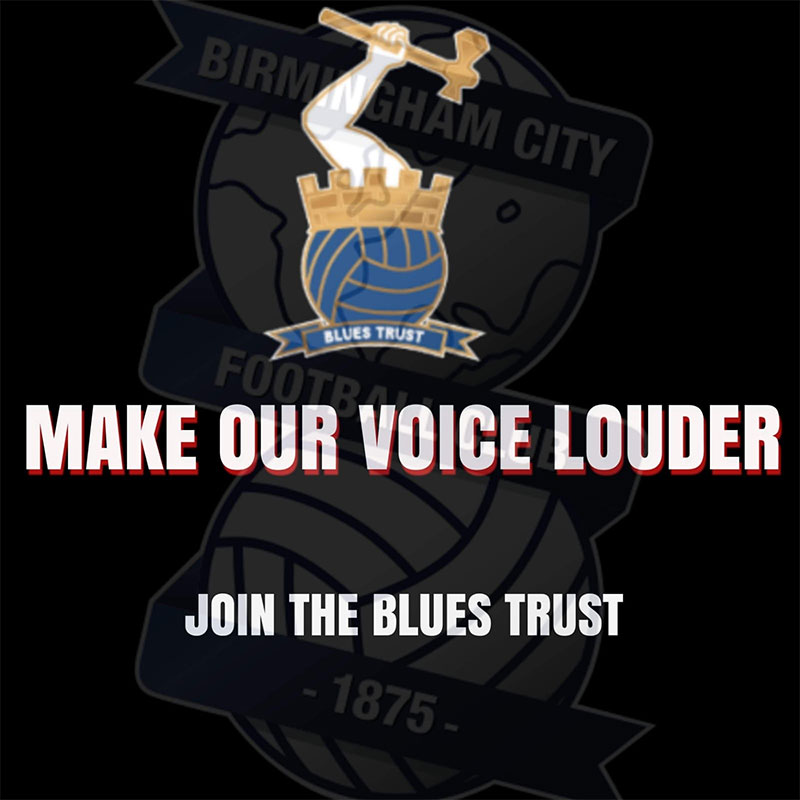 Want to be a full member with voting rights?
We have options for 1 and 2 years at £5 per year.  There is also a 5 year membership for £20 so you get 5 years for the price of 4.  See information and options here.
Have you visited our shop?
To raise funds for Blues Trust, we have for sale :
Blues Trust Pin-badges.
Old Football Programmes that have been donated.
Gift memberships in Blues Trust that you can buy for family or friends.
By making comments on the above article, you agree to Blues Trust retaining your email address should we need to make contact with you for admin purposes.   Let us know at admin@bluestrust.org if you do not wish us to do this.  We will not give out your email address to any 3rd party sources.