The following article has been written by one of our Trust members.  They are the opinions of that person and not necessarily those of Blues Trust.  Would you like to contribute a discussion point of your own about Birmingham City Football Club?  If so, we would be delighted to hear from you.
After showing zero mercy towards Bristol City last Saturday, Bowyer's Blues need to replicate that against Hull City at home this coming weekend. Getting a few of the injured players back has clearly made a real difference, not least the charismatic and immensely skilful Chong. This player together with Hernandez, Bacuna and Taylor form a quartet that mean business and it patently shows. Quick on the break and direct is what they offer, and it makes for a refreshing change from what we have become used to of late. Hull City need to be next on the list for back-to-back wins and I feel this will be the outcome.
After weeks of frustration with key injury ravaged players out, Lee Bowyer now has a long-awaited chance to show what his preferred team can actually do. The remaining ten games of this season provide him an ideal opportunity. Lee has previously expressed his hope that once his depleted squad returned, he would have enough games left to show how strong his first eleven can be. The performance at Bristol certainly hinted at what that might look like and, indeed, how different the season might have been with the availability of a full squad.
These remaining games are precious for all concerned at St. Andrew's, not least the loan players who have fitted in so well, referring again of course to Hernandez, Taylor and Chong. Signing these three for the next Championship campaign would undoubtedly be a significant coup, although realistically it will not be that simple.
The summer transfer window is likely to be very busy for Blues, with many players expected to be released and new recruits needed. Bowyer and Craig Gardner need ammunition for any serious discussions with our owners towards buying quality, and that involves having solid reasons to do so. Simply winning games will help massively.
Next ten will be Bowyer's bargaining hand, and I believe he will have that with a successful end to the season. My prediction against Hull City is 3-0 Blues. Reaction after the game will be welcomed, whatever the outcome. Let us share the highs together as well as the 'not so highs'.
Mitchell Bray
​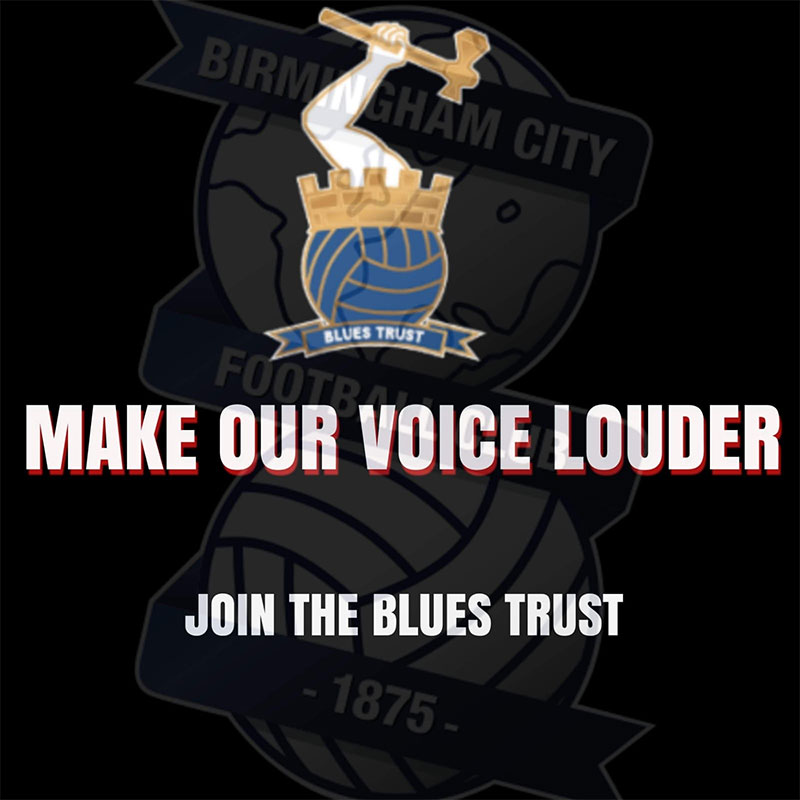 Want to be a full member with voting rights?
We have options for 1 and 2 years at £5 per year.  There is also a 5 year membership for £20 so you get 5 years for the price of 4.  See information and options here.
By making comments:
All we ask is that it relates to the Club that we all love. It can inform, question, challenge, criticise even….but it should not be written to threaten and/or cause personal offence.
By making comments on the above article, you agree to Blues Trust retaining your email address should we need to make contact with you for admin purposes.   Let us know at admin@bluestrust.org if you do not wish us to do this.  We will not give out your email address to any 3rd party sources.
The Trust reserves the right to moderate any comments made (in consultation with the writer) or to deny publication if comments are considered to be inconsistent with the requirements identified above.