The following article has been written by one of our Trust members.  They are the opinions of that person and not necessarily those of Blues Trust.  Would you like to contribute a discussion point of your own about Birmingham City Football Club?  If so, we would be delighted to hear from you.
After completing last weekend's tepid defeat at Nottingham Forest, we now run down the clock with five games remaining. As far as I am concerned, there is nothing truly significant about these games other than perhaps giving the younger players a starting slot.  Of course, it would be great to win all five, but there is nothing at stake. And we know yet more personnel changes are on the way, with loan players returning to their parent clubs and others who have been 'fixtures' for many seasons surely moving on.
Be that as it may, my plea here is addressed to Ian Dutton and Craig Gardner, not forgetting our current manager Lee Bowyer. Bearing in mind we are once again likely to finish a season placed in a very lowly position in the Championship table, supporters such as myself need something to believe in after yet another disappointing campaign.
This 'something' is important as we desperately want Dutton & Co. to entice us back to St Andrew's for another season. Whether it be the renewal of season tickets, buying new ones or simply purchasing on match days. Basically, I/ we want to receive some sort of assurance that things are going to change, with the real prospect of better times ahead. Surely that is not an unreasonable expectation after a decade of stagnation?
In my view, all staff at the club could, as my old school reports blurted out, 'do better'. This current season has flashed by without much excitement or expectation. We now face a new campaign with similar thoughts. Unless, of course, we get something thrown at us in a positive manner. Nothing complicated nor outrageously wild. Just a forward-looking statement of intent. Lifting us out of the yearly positioning in the basement areas, with hopes of keeping our younger talents and less reliance of loanees would be a start. We need something to ignite and tempt us for next season, without promising the unrealistic.
Every club I can think of usually sets out a campaign to get their supporters buying into the excitement for the new season's assault. This is what I dearly hope Ian Dutton and Craig Gardner will provide for us. We want to be encouraged and we want to believe that next time will be better. Just give us something to grab on to and something that will encourage us to be more optimistic for the 2022/23 season.
Mitchell Bray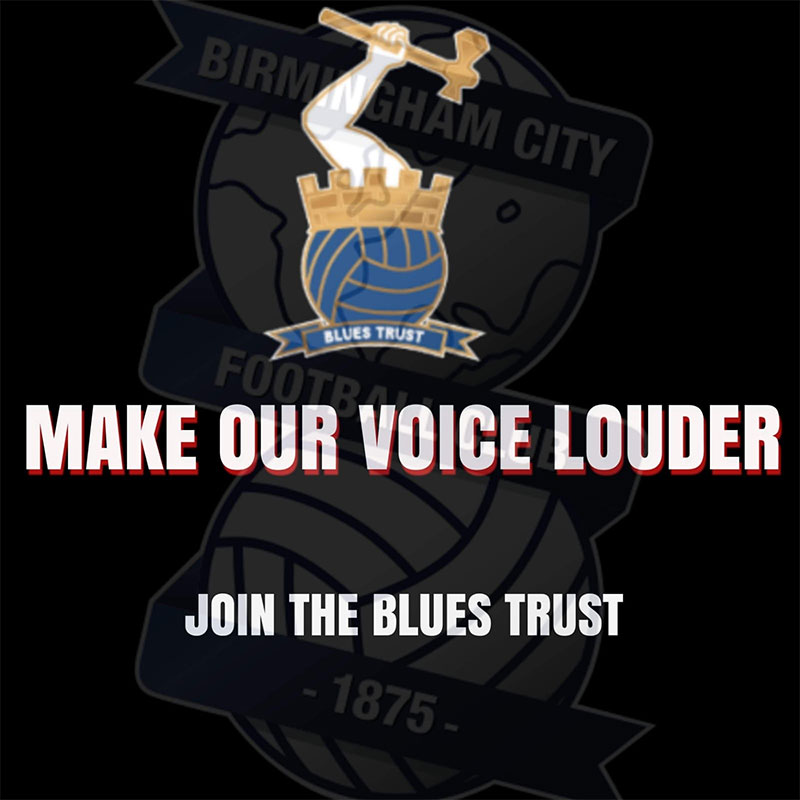 Want to be a full member with voting rights?
We have options for 1 and 2 years at £5 per year.  There is also a 5 year membership for £20 so you get 5 years for the price of 4.  See information and options here.
By making comments:
All we ask is that it relates to the Club that we all love. It can inform, question, challenge, criticise even….but it should not be written to threaten and/or cause personal offence.
By making comments on the above article, you agree to Blues Trust retaining your email address should we need to make contact with you for admin purposes.   Let us know at admin@bluestrust.org if you do not wish us to do this.  We will not give out your email address to any 3rd party sources.
The Trust reserves the right to moderate any comments made (in consultation with the writer) or to deny publication if comments are considered to be inconsistent with the requirements identified above.