The following article has been written by one of our Trust members.  They are the opinions of that person and not necessarily those of Blues Trust.  Would you like to contribute a discussion point of your own about Birmingham City Football Club?  If so, we would be delighted to hear from you.
With only two games to go in a hugely disappointing and forgettable season, should Blues continue with Lee Bowyer at the helm? Stick or twist? After last season's heroics by Lee, I genuinely thought we had at last found a new messiah to ease the memory of the one and only Gary Rowett. After all, it is Rowett who has been our most successful manager in ten years.
Of course, injuries have hit hard this season and some dreadful refereeing decisions have certainly not helped. But, overall, has Bowyer done enough to warrant another season? He has tried in recruiting the likes of Tahith Chong and Troy Deeney, which at the time appeared very exciting and gave supporters the buzz for good times ahead. Add Lyle Taylor and Onel Hernandez to the mix and, again, prospects looked good. But we know the rest and we want this campaign forgotten.
That said, should we once again seek out optimism for a new season? And especially one that will be upon us very soon as we start up late July in view of the World Cup? Much needs to be sorted quickly though, and I would imagine a few big decisions will have to be made.
But back to Lee Bowyer's position as the man in charge of delivering a successful football team. At the moment he looks battered and sponged out, but he is a fighter and he is no doubt hurting at recent results. Better the devil you know has a certain appeal, but of course we mustn't let the fact pass that had Derby County and Reading not had points deducted then our worst season in the Championship since 2011 would have been a reality. We have had a lucky escape.
Next season we need strong players with attitude and desire to overcome any lack of real quality and skill, and to perform worthy of the profession they have chosen. Coventry, Luton, Blackpool and Blackburn appear to have what's required for this punishing league after years of being in the wilderness. They also have managers who know the ropes.
So perhaps we need to stick with Bowyer and accept that it will take time for him to turn things around? If he is given the opportunity, although albeit limited I'm sure, to recruit more of the players he wants then maybe, just maybe, our fortunes will improve. Stick or twist is down to the owners, but the views of supporters may well influence what they decide. A tricky one this, with opinions very much split being my forecast.
Mitchell Bray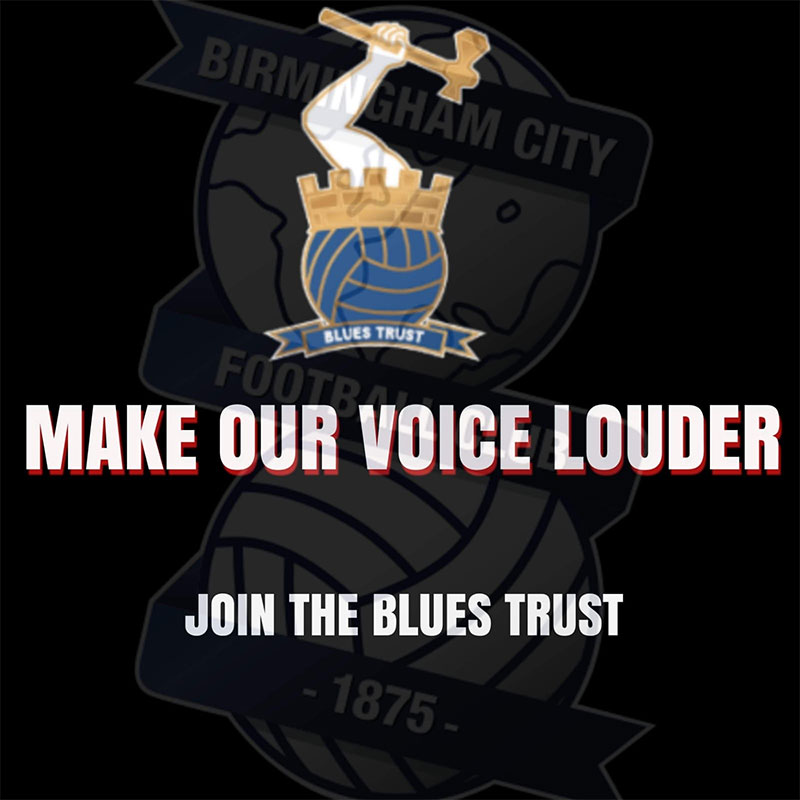 Want to be a full member with voting rights?
We have options for 1 and 2 years at £5 per year.  There is also a 5 year membership for £20 so you get 5 years for the price of 4.  See information and options here.
By making comments:
All we ask is that it relates to the Club that we all love. It can inform, question, challenge, criticise even….but it should not be written to threaten and/or cause personal offence.
By making comments on the above article, you agree to Blues Trust retaining your email address should we need to make contact with you for admin purposes.   Let us know at admin@bluestrust.org if you do not wish us to do this.  We will not give out your email address to any 3rd party sources.
The Trust reserves the right to moderate any comments made (in consultation with the writer) or to deny publication if comments are considered to be inconsistent with the requirements identified above.