The following article has been written by one of our Trust members.  They are the opinions of that person and not necessarily those of Blues Trust.  Would you like to contribute a discussion point of your own about Birmingham City Football Club?  If so, we would be delighted to hear from you.
Millwall next up should provide our beleaguered playing outfit with an ideal opportunity to stop the rot. Hammered, humiliated and downright pummelled by Coventry City and Blackpool over the Easter weekend has left all supporters totally sponged out. Forgetting past results gets harder when the team actually submits without showing any fight, which is what we are witnessing at the moment.
Lee Bowyer looks beaten, almost crestfallen, with current results particularly when the mighty Blackpool, not Barcelona, had us for breakfast, dinner and tea. Performances have to improve, and some degree of respectability must be achieved, starting with the Millwall game.
At the time of writing Lee Bowyer is still at the helm and no doubt he will be itching to get back to try and please the St. Andrew's faithful, with any anger lingering over from last weekend directed into getting at least a clean sheet on Saturday. My hope is that the loan players, with the exception of Lyle Taylor, make a real effort to impress this time out and the experienced professionals show their know-how for the whole game and lead by example. Mingling with a disgruntled crowd after a horror show doesn't wash with me.
Question is whether we can genuinely get respectable results with the crop of players currently at the club's disposal? My view is yes. Millwall, Luton, Coventry and Blackpool have achieved far more than expected this season, which is no doubt very pleasing for their fans. But that should trigger a real desire from our players to follow suit. "Looking for a response" is the usual phrase dished out by almost all managers after a sorry defeat, and rightly so. But in our case it is now more of a case of stopping the rot. Millwall at home presents an opportunity to do just that.
Mitchell Bray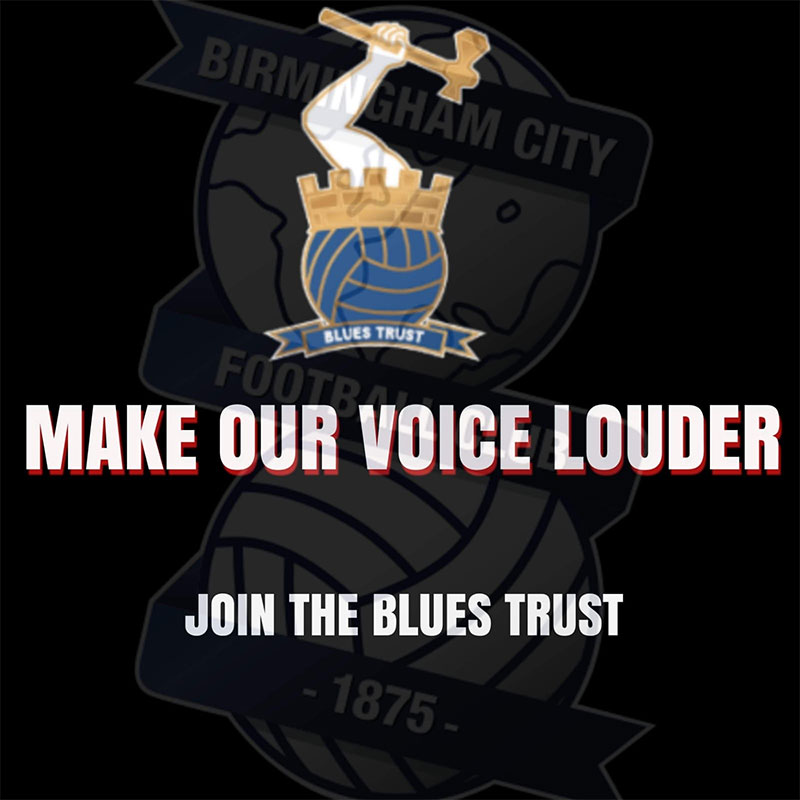 Want to be a full member with voting rights?
We have options for 1 and 2 years at £5 per year.  There is also a 5 year membership for £20 so you get 5 years for the price of 4.  See information and options here.
By making comments:
All we ask is that it relates to the Club that we all love. It can inform, question, challenge, criticise even….but it should not be written to threaten and/or cause personal offence.
By making comments on the above article, you agree to Blues Trust retaining your email address should we need to make contact with you for admin purposes.   Let us know at admin@bluestrust.org if you do not wish us to do this.  We will not give out your email address to any 3rd party sources.
The Trust reserves the right to moderate any comments made (in consultation with the writer) or to deny publication if comments are considered to be inconsistent with the requirements identified above.