Blues Trust is very encouraged to see movement towards a change of ownership at our club. We are confident of the validity of the story emerging on Thursday 5 May.  Paul Richardson, a lifetime Blues supporter, has confirmed to the Trust that he and Lopez are expecting the sale to proceed and will be bringing investment to Blues if successful
We call on the current owners to complete the deal as soon as possible, and without complication, so that the club and its fans can look forward to a future they deserve.
It is encouraging that a number of parties are seemingly interested in buying Blues. That is a cause for optimism. The Lopez/Richardson offer shows particular credibility and financial strength given the payment of the required deposit up front. We at Blues Trust are keen for it to succeed.
The Trust is concerned at the mention of some other potentially interested parties, not least those with a dubious track record in the acquisition of professional football clubs. We hope that the involvement of such parties will not prove to be an unnecessary distraction and that a sale to anyone who is unlikely to pass a fit and proper person test will rule this out.
The Trust calls upon everyone connected with, working at or concerned for the future well being of Birmingham City to keep things moving and progressing through the period of change as a sale in tranches takes place. The Trust and other supporter groups stand ready to help and support in any way we can.
The Trust is now hopeful that the future can herald a new era of togetherness and success at Blues. Let's get this over the line.
Blues Trust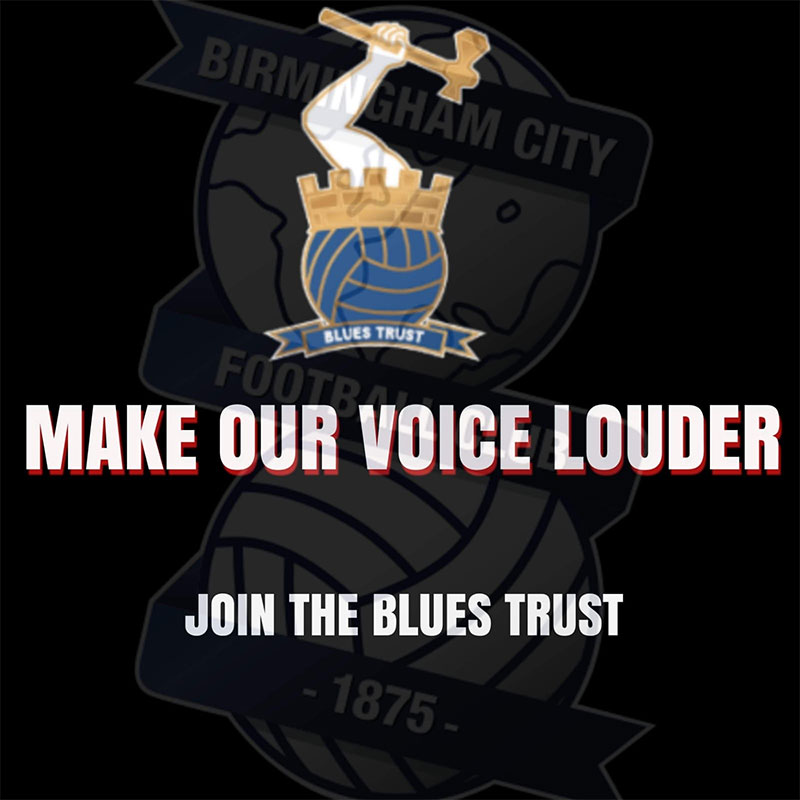 Want to be a full member with voting rights?
We have options for 1 and 2 years at £5 per year.  There is also a 5 year membership for £20 so you get 5 years for the price of 4.  See information and options here.
By making comments:
All we ask is that it relates to the Club that we all love. It can inform, question, challenge, criticise even….but it should not be written to threaten and/or cause personal offence.
By making comments on the above article, you agree to Blues Trust retaining your email address should we need to make contact with you for admin purposes.   Let us know at admin@bluestrust.org if you do not wish us to do this.  We will not give out your email address to any 3rd party sources.
The Trust reserves the right to moderate any comments made (in consultation with the writer) or to deny publication if comments are considered to be inconsistent with the requirements identified above.