The following article has been written by one of our Trust members.  They are the opinions of that person and not necessarily those of Blues Trust.  Would you like to contribute a discussion point of your own about Birmingham City Football Club?  If so, we would be delighted to hear from you.
After the final whistle of the season is blown today against Blackburn Rovers, Blues supporters will once again prepare themselves for a close season of action. Surprises and a few shocks normally follow our club around at the best of times, and I see this particular break being no different. Nobody can tell what's really brewing, and the weathering of years being a Blues supporter has left me, like many others I'm sure, fairly immune to shock.
What to expect is anything but clear. Lee Bowyer and his position is the main talking point and rightly so. But updates are also urgently required concerning the stand repairs at St. Andrew's. Saturday and beyond will start developments in earnest, and holding on to our hats is what I expect. All that put aside and a new season to look forward to, with the old one firmly binned, is my wish.
What happens on the pitch going forward is what matters, with players showing the paying public total respect. In my view this has been missing of late and I believe it has been noticed. Things simply have to improve. Loan players will probably feature heavily again, which is acceptable and necessary up to a point. But it is to be hoped that those coming in will be carefully selected and above all fit. Young players already at the club may well have strong roles to play next season. James and Gordon are the stand‑out pair, and with a close season of physical development behind them should be expected to really push on next season.
Grasping at straws seems to be the nature of being a Blues follower, and just having a club in existence is in some way a plus right now. Blues supporters care dearly about their club and just a modicum of success would be a real bonus for next season.
Who will be in charge of playing matters next season is anyone's guess, but as far I'm concerned it doesn't matter, provided we can finally see some signs of progress and can start to enjoying being at St. Andrew's again.  Saturday and beyond is almost here and let's hope stability, progress and respect for all associated with the club emerges thereafter.
Mitchell Bray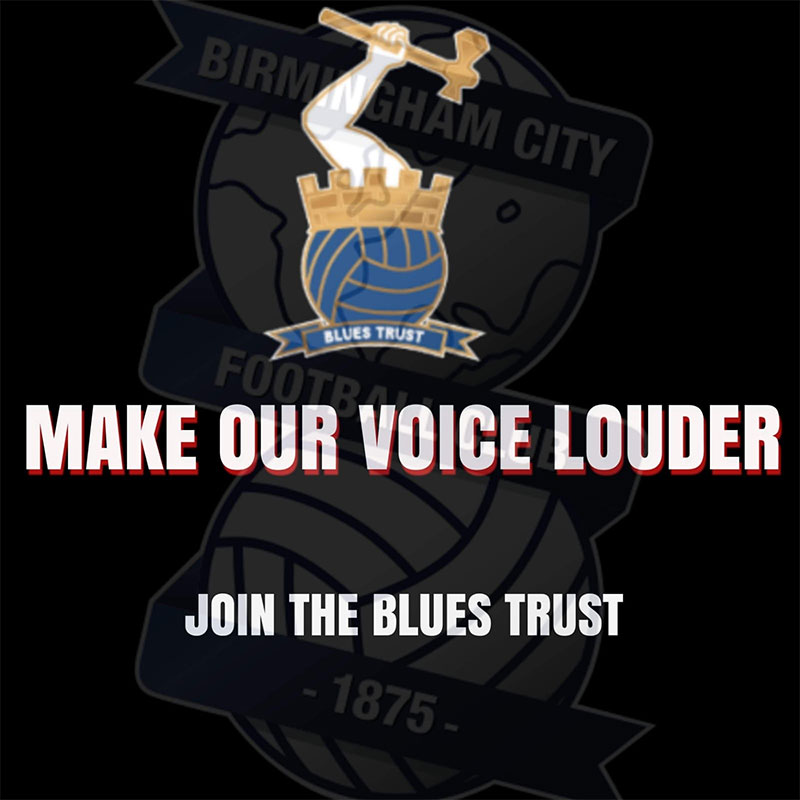 Want to be a full member with voting rights?
We have options for 1 and 2 years at £5 per year.  There is also a 5 year membership for £20 so you get 5 years for the price of 4.  See information and options here.
Have you visited our shop?
To raise funds for Blues Trust, we have for sale :
Blues Trust Pin-badges.
Old Football Programmes that have been donated.
Gift memberships in Blues Trust that you can buy for family or friends.
By making comments:
All we ask is that it relates to the Club that we all love. It can inform, question, challenge, criticise even….but it should not be written to threaten and/or cause personal offence.
By making comments on the above article, you agree to Blues Trust retaining your email address should we need to make contact with you for admin purposes.   Let us know at admin@bluestrust.org if you do not wish us to do this.  We will not give out your email address to any 3rd party sources.
The Trust reserves the right to moderate any comments made (in consultation with the writer) or to deny publication if comments are considered to be inconsistent with the requirements identified above.