The following article has been written by one of our Trust members.  They are the opinions of that person and not necessarily those of Blues Trust.  Would you like to contribute a discussion point of your own about Birmingham City Football Club?  If so, we would be delighted to hear from you.
Whilst we Blues supporters wait in anticipation for welcome news regarding the future of our club, many doubters are emerging. Silence being the main criticism, and the usual non-communication with us loyal paying customers. Takeovers is what it's all about. Simple and direct, without anything or anyone being misunderstood.
Again, it's the silence that's the gripe, and the longer it goes on the frustration amongst the supporters gains momentum. Media reports suggest all kinds of possible happenings, and the building up of excitement or disappointment continues its path. All part of being a Blues addict.
However, this time around my slant and belief is one of firm optimism that 'times are indeed a changing' and we are on the verge of a new way forward. Sticking one's neck out is always risky, but it is my firm view that we are on the verge of a change in fortune. And one for the better.
Hope and belief have always been around our support for the club, despite the almost continuous setbacks leaving us alive and kicking for another day. Or usually, in our case, another Championship season. Have we any evidence to support this new optimism I am sensing? No. And certainly no inside knowledge either that meetings are taking place in far away Hong Kong, at McDonald's on the Coventry Road or anywhere else for that matter. This is just a humble view from an almost sponged out fan that has found something within the various unconfirmed stories that suggests we are within reach of better times ahead.
Should all this become reality then my wish for the new season would be twofold. Firstly, the reopening of a complete and proper St.Andrews. And secondly, stability on the pitch which ends the almost yearly badge of honour for the latest manager or head coach that avoids the trap door to a lower league. Not a great deal to ask from any new regime in it's first season, but it would show progress. Getting new owners in is the key. On this occasion, silence at this time may well be a good sign and our patience could yet be rewarded. We will see of course, but we desperately do not need any more damp squibs and I believe they will be avoided.
Mitchell Bray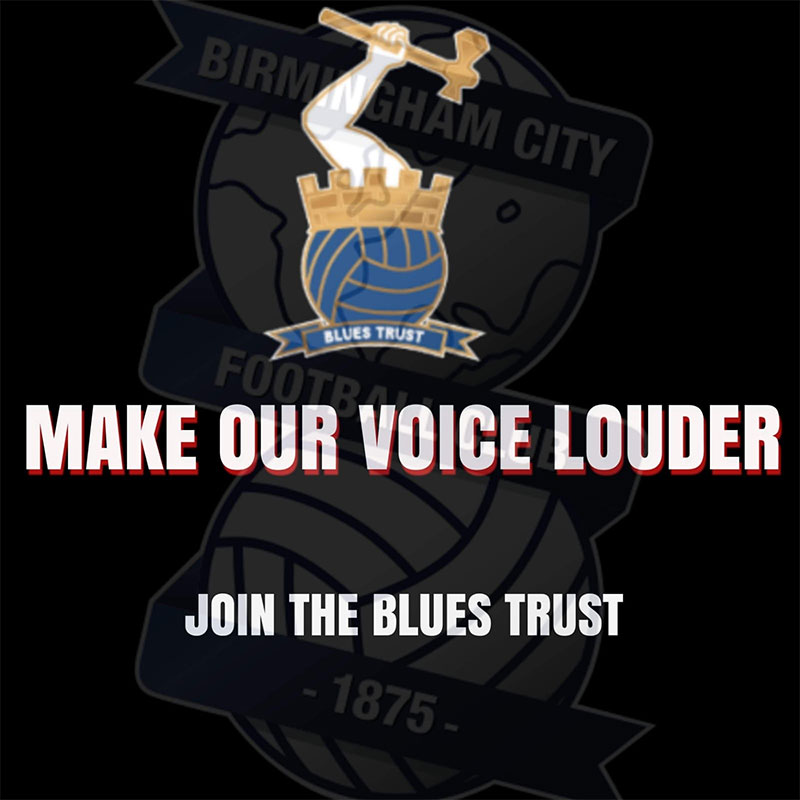 Want to be a full member with voting rights?
We have options for 1 and 2 years at £5 per year.  There is also a 5 year membership for £20 so you get 5 years for the price of 4.  See information and options here.
By making comments:
All we ask is that it relates to the Club that we all love. It can inform, question, challenge, criticise even….but it should not be written to threaten and/or cause personal offence.
By making comments on the above article, you agree to Blues Trust retaining your email address should we need to make contact with you for admin purposes.   Let us know at admin@bluestrust.org if you do not wish us to do this.  We will not give out your email address to any 3rd party sources.
The Trust reserves the right to moderate any comments made (in consultation with the writer) or to deny publication if comments are considered to be inconsistent with the requirements identified above.