The following article has been written by one of our Trust members.  They are the opinions of that person and not necessarily those of Blues Trust.  Would you like to contribute a discussion point of your own about Birmingham City Football Club?  If so, we would be delighted to hear from you.
'Another week has passed with Blues followers waiting in vain for some positive news regarding a takeover. We listen out and we watch for any murmur or glimpse that might ignite and set us thinking of better times ahead. We just want that flicker of hope.
Despite the ongoing silence from official sources, my belief remains that this time around will be the summer of change that we have been craving for. Whilst Lee Bowyer's dour but nevertheless honest comments last week didn't exactly lift my spirits, nor those of any other Blues fans that I have spoken too since, situations can change very quickly at St. Andrew's as we know.
Speaking to those other supporters has been very interesting, with a number somewhat nervous as to the clout any prospective new owners might have for the long term. Perhaps understandably, a 'better the devil' philosophy is still evident in many places, with continued concerns that current or future owners will simply not have the wealth to move the club forward. 
Whatever transpires during the coming weeks of June is obviously going to be crucial and significant for us all, not least with the new season kicking off in only 8 weeks time. No doubt there will be rumours galore and rollercoaster rides thrown in until some semblance of clarity is, hopefully, secured. Thus, in my view, seat belts should be tightened and clear heads maintained with a likely month of real turbulence ahead. Even by our own standards.
But let's keep the belief that we are due a long-awaited change of fortune, and hope for an upbeat acceleration toward the next season and beyond. Maybe, just maybe, with new owners with the right attitude and some resources to match.  
Mitchell Bray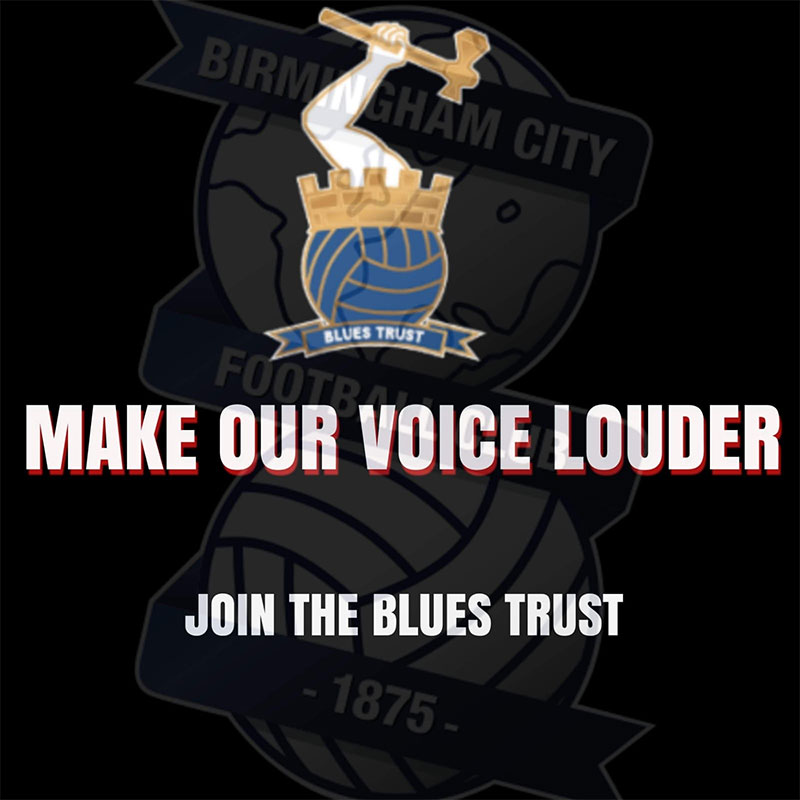 Want to be a full member with voting rights?
We have options for 1 and 2 years at £5 per year.  There is also a 5 year membership for £20 so you get 5 years for the price of 4.  See information and options here.
By making comments:
All we ask is that it relates to the Club that we all love. It can inform, question, challenge, criticise even….but it should not be written to threaten and/or cause personal offence.
By making comments on the above article, you agree to Blues Trust retaining your email address should we need to make contact with you for admin purposes.   Let us know at admin@bluestrust.org if you do not wish us to do this.  We will not give out your email address to any 3rd party sources.
The Trust reserves the right to moderate any comments made (in consultation with the writer) or to deny publication if comments are considered to be inconsistent with the requirements identified above.