The following article has been written by one of our Trust members.  They are the opinions of that person and not necessarily those of Blues Trust.  Would you like to contribute a discussion point of your own about Birmingham City Football Club?  If so, we would be delighted to hear from you.
All good things in life, so we are told, are worth waiting for. Whether that goes for the current round of debate concerning the Blues takeover though is anyone's guess. What we dearly hope for is a successful outcome before this saga becomes a circus act with nothing to show but comedy.
Serious stuff we want, and serious buyers we need. Simple as that and nothing more. Most of the media reports centre on a few characters with colourful histories, whereas other reports suggest lesser-known individuals. But what stands out in my view is the lack of respect for the seriousness of the situation shown by many news reports and phone-ins. Throw in an alarming number of simply invented stories and false announcements, and anyone who has a listening ear to the media can't help but be confused and frustrated.
That we will get new owners is almost certain now, though whether that might be through a total buyout or, more likely, a phased transfer is immaterial in my view. What matters is moving on, which we simply have to do, and rebuilding the club into something worthy of the name the sole concern.
My sincere hope is that during these tense days or weeks, we as supporters do not fall into the trap of being sucked into the fanciful merry-go-round of cherry picking who we want. We just don't have that luxury. In my view we have to stick to the reality as to where we actually are as a football club and stand back and hope we get the right people to at last deliver healthy progress on and off the field. Whether we approve or disapprove isn't necessarily the point. What matters is that the football club we all love is saved from sinking further into the abyss.
Right now, I don't think we can afford to be picky. We need urgent care in case this oncoming season, which may become quite brutal to endure, finally proves too much to cope with and results in the eventual dive to a lower league. My hope is that the next two weeks will be worth the wait.
Mitchell Bray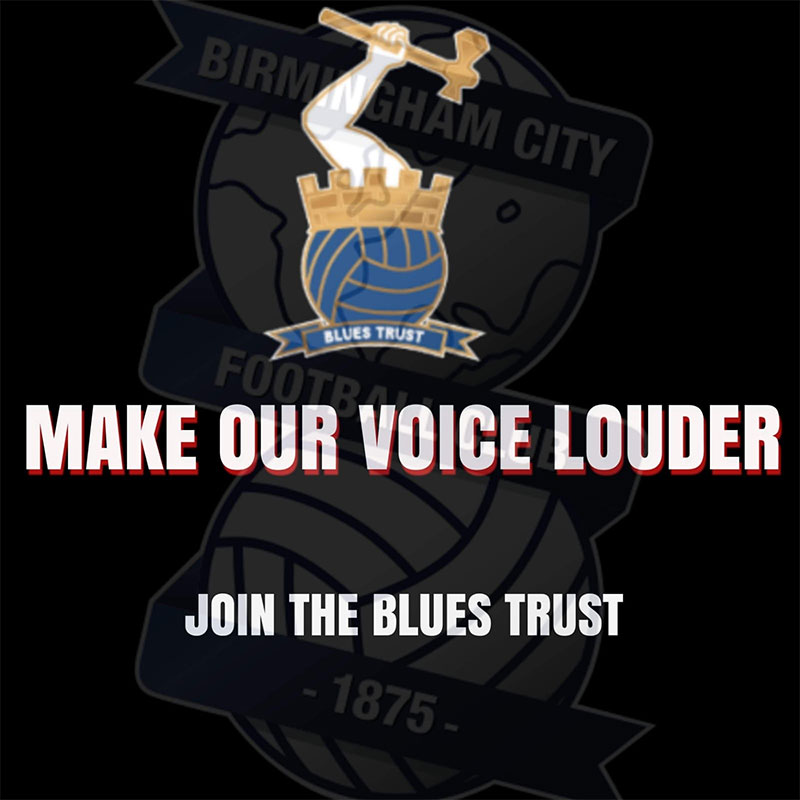 Want to be a full member with voting rights?
We have options for 1 and 2 years at £5 per year.  There is also a 5 year membership for £20 so you get 5 years for the price of 4.  See information and options here.
By making comments:
All we ask is that it relates to the Club that we all love. It can inform, question, challenge, criticise even….but it should not be written to threaten and/or cause personal offence.
By making comments on the above article, you agree to Blues Trust retaining your email address should we need to make contact with you for admin purposes.   Let us know at admin@bluestrust.org if you do not wish us to do this.  We will not give out your email address to any 3rd party sources.
The Trust reserves the right to moderate any comments made (in consultation with the writer) or to deny publication if comments are considered to be inconsistent with the requirements identified above.