The following article has been written by one of our Trust members.  They are the opinions of that person and not necessarily those of Blues Trust.  Would you like to contribute a discussion point of your own about Birmingham City Football Club?  If so, we would be delighted to hear from you.
Another day, another manager. But after what has been going on at our club for way too long now, is anyone really that bothered? Am I the only one that is underwhelmed by the latest turn of events at St Andrew's? Rearranging deck chairs on the Titanic springs to mind. That is no reflection on the new incumbent by the way, just a comment on the continuing troubles engulfing our club.
Results on the field is what matters, and now John Eustace is entrusted with the task of achieving those. To be fair, maybe this will be the person to finally deliver some progress, getting the best out of the players at the club in the process. And particularly so with the crop of promising younger guns such as James, Gordon and co. And maybe even the older established ones getting a new lease of footballing life? I do hope so because, heaven knows, improvement is desperately needed everywhere.
Whatever happens ownership wise is another matter. But that so obviously  has a bearing on the ability of the manager to succeed, whoever it might be. And of course it affects us supporters, particularly as far as confidence amongst the faithful is concerned. But that saga rolls on and until it is resolved it is difficult not to remain frustrated and concerned.
But results are now the focus that we look towards, with John Eustace at the helm. And hopefully favourable ones starting in only three weeks time. In my view, the brief for the new season is again simple, with survival the main target and anything more, with the current squad, a bonus. Negative thoughts maybe, but this is where we are.
My hope is that we do recruit some new players before too long, and players with some quality to at least make the first half of the season a decent watch. John Eustace is no stranger to my neck of the woods, and his managerial days at Kidderminster Harriers proved successful. He adopted a style of play that pleased the paying public, and this is the key. Playing a system which makes sense, using players who can actually play and perform in their natural positions and, above all, motivating them enough to make losing a very rare occurrence is the challenge for him now.
Whether our new manager has to do a trolley dash for new players, who knows? We will find out soon enough. Maybe youth will be the way forward for him, with a few experienced helpers recruited. What we cannot continue to do, as we have so many times before, is to add older players who have done it elsewhere and are now perhaps past their best. That will surely result in the trolley dash, if it happens, ending in further disappointment.
Meanwhile, let's welcome John Eustace. He deserves his chance and we wish him well. We all want him to succeed after all. And let's keep everything crossed that he does indeed bring new hope to the party. We need it badly.
Mitchell Bray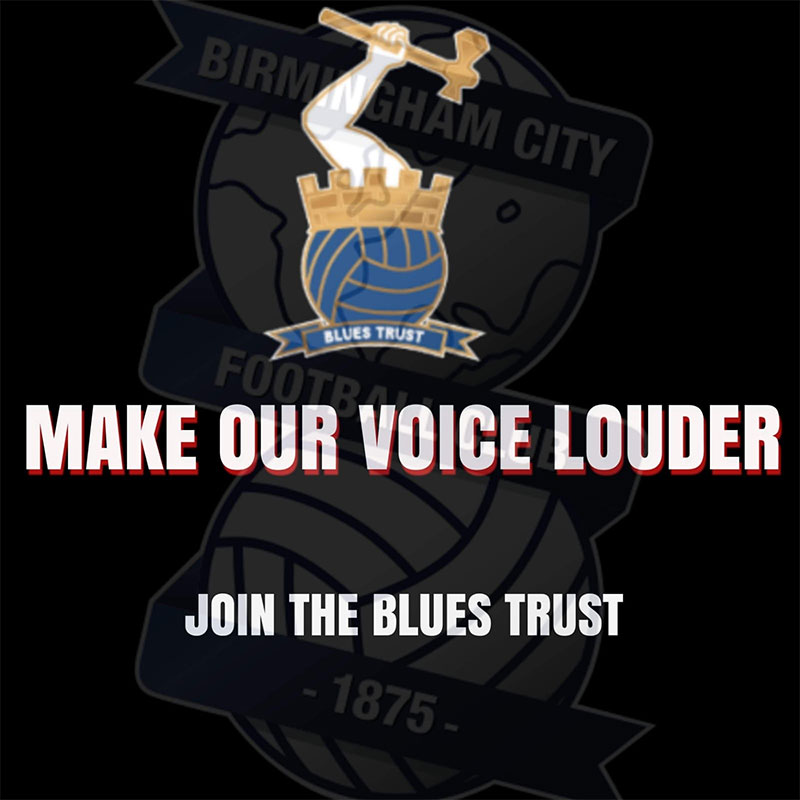 Want to be a full member with voting rights?
We have options for 1 and 2 years at £5 per year.  There is also a 5 year membership for £20 so you get 5 years for the price of 4.  See information and options here.
By making comments:
All we ask is that it relates to the Club that we all love. It can inform, question, challenge, criticise even….but it should not be written to threaten and/or cause personal offence.
By making comments on the above article, you agree to Blues Trust retaining your email address should we need to make contact with you for admin purposes.   Let us know at admin@bluestrust.org if you do not wish us to do this.  We will not give out your email address to any 3rd party sources.
The Trust reserves the right to moderate any comments made (in consultation with the writer) or to deny publication if comments are considered to be inconsistent with the requirements identified above.