The following article has been written by one of our Trust members.  They are the opinions of that person and not necessarily those of Blues Trust.  Would you like to contribute a discussion point of your own about Birmingham City Football Club?  If so, we would be delighted to hear from you.
The new footballing season is almost upon us. As long-suffering Blues supporters, "what to expect" is always the question we ask ourselves at this time of the year. But given the present situation of uncertainty about ownership, ground restrictions and the reliance on loan players, then forecasting is particularly hard. Whoever John Eustace manages to get through the door before the current transfer window closes will, I strongly suspect, dictate our fate.
With now over a decade in the Championship, we must still try to look forward and not back as far too many recent seasons have not been kind. We want success at some level, and the feeling of the club, the team and us supporters enjoying a new season start shouldn't just be wishful thinking.
Reality, however, is simply centred on whether we are ready and prepared for another gruelling Championship season. Maybe we are, with the blend of youth, elders and a new Head Coach ready for the task ahead. We will see.
The key must surely be on general improvement from every player donning the shirt, whether a seasoned professional or an upcoming talent given their first chance. This season must also see an end to the self destruct button that has somehow become the norm, leaving supporters totally exasperated and in despair.
Looking back too far makes looking forward even harder and, for this reason, my hope is that stability of some sorts can be achieved. This new campaign must be greeted with optimism, but at the same time not losing reality as to where we are in a very competitive league.
We are a proud football club with loyal supporters who are simply itching to get back to a full and partisan St. Andrew's. We all know what a difference that can make. And we certainly need the club's hierarchy and players to step up and lead by example of course. Surely that is the very least we should expect as dedicated supporters?
A sincere hope of mine though, should any takeover materialise…or even if it strangely now does not…is for our upcoming younger generation of supporters to experience a successful Birmingham City. And soon. They deserve to have their spirits lifted and, like those of us who have supported the club for a bit longer, enjoy the excitement and pride that comes with a truly competitive team.
Mitchell Bray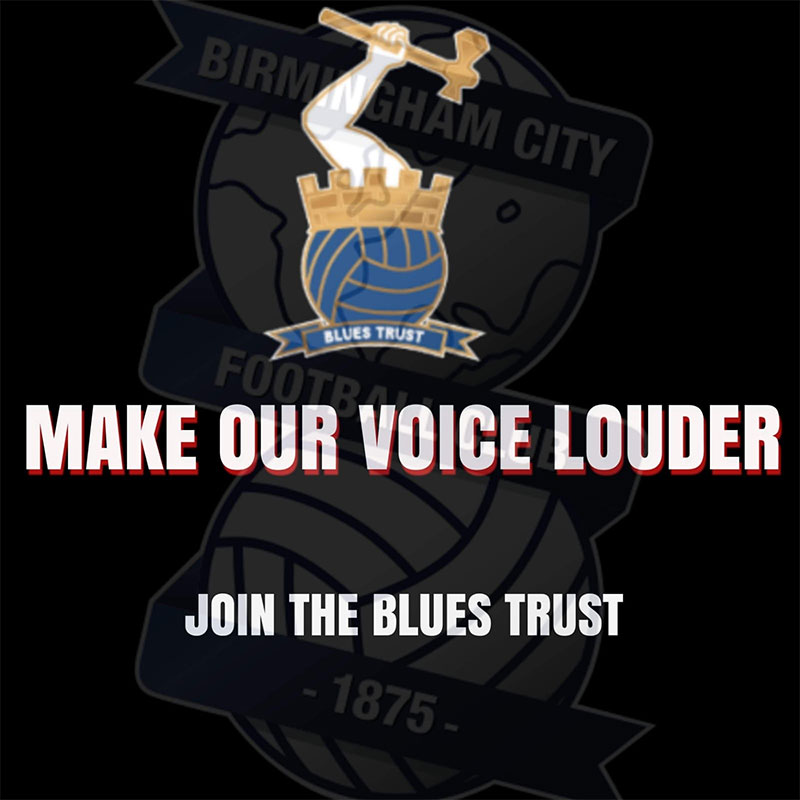 Want to be a full member with voting rights?
We have options for 1 and 2 years at £5 per year.  There is also a 5 year membership for £20 so you get 5 years for the price of 4.  See information and options here.
By making comments:
All we ask is that it relates to the Club that we all love. It can inform, question, challenge, criticise even….but it should not be written to threaten and/or cause personal offence.
By making comments on the above article, you agree to Blues Trust retaining your email address should we need to make contact with you for admin purposes.   Let us know at admin@bluestrust.org if you do not wish us to do this.  We will not give out your email address to any 3rd party sources.
The Trust reserves the right to moderate any comments made (in consultation with the writer) or to deny publication if comments are considered to be inconsistent with the requirements identified above.