The following article has been written by one of our Trust members.  They are the opinions of that person and not necessarily those of Blues Trust.  Would you like to contribute a discussion point of your own about Birmingham City Football Club?  If so, we would be delighted to hear from you.
Whatever's happening off the pitch at St. Andrew's is currently being overshadowed by performances on the green stuff. Two games played and four points in the bag is very, very acceptable. And not least because both opponents made it to the play-offs just a few short weeks ago.
Whilst we hope that this start continues to gather momentum, we must also be aware that our squad is fairly thin and needs bulking up before the transfer window closes. Should the takeover enter its final stages imminently, then adding to John Eustace's already confident group of players would seem sensible. Reinforcements up front and a creator in midfield would, in my opinion, make this season more than interesting.
Happy times as we stand before Cardiff City away then yes, certainly, although of course we want more. But I have been irritated since last Friday's win against Huddersfield by the comments from Scott Hogan about last season under Lee Bowyer. Comparing life under new management for himself and Troy Deeney to that of last season's tracking back on opposing wing-backs which left them tired is very disappointing. Blaming this for not performing what their positions in the team call out for is equally shoddy.
Both Deeney and Hogan didn't produce last season because they were not good enough. Hence the arrivals of Onel Hernandez and Lyle Taylor. In my view, Hogan is lucky to still be at St. Andrews given his history with previous clubs. And I don't think Lee Bowyer deserves such ill advised remarks, regardless of whether he was or was not a success at St. Andrew's. Hogan and Deeney need to produce and not just on the odd occasion. Goals are what they are employed to deliver and without feeble excuses should they fall short. Something, by the way, that has happened on more than one occasion recently in Hogan's case.  
Moving forward to Cardiff and the raised expectation of more points. But, hopefully, we will also see more progress with the takeover. I'm quietly optimistic about this, albeit that knowledge of the actual situation is proving rather difficult to obtain which is no doubt to be expected given the circumstances. That's all fine and understandable but let's not get too quiet about it. We don't need any dust settling!
Mitchell Bray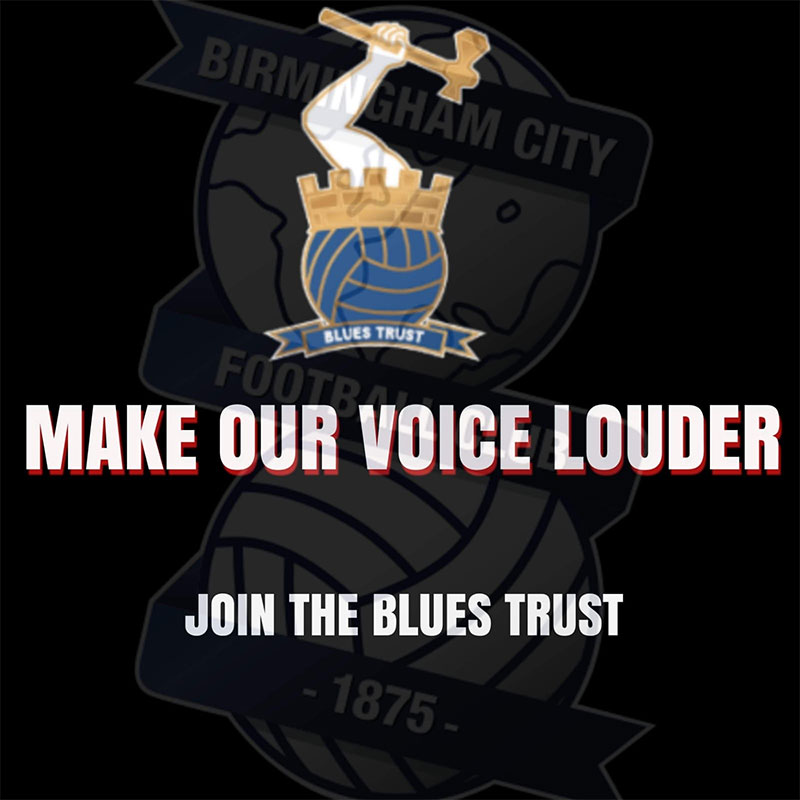 Want to be a full member with voting rights?
We have options for 1 and 2 years at £5 per year.  There is also a 5 year membership for £20 so you get 5 years for the price of 4.  See information and options here.
By making comments:
All we ask is that it relates to the Club that we all love. It can inform, question, challenge, criticise even….but it should not be written to threaten and/or cause personal offence.
By making comments on the above article, you agree to Blues Trust retaining your email address should we need to make contact with you for admin purposes.   Let us know at admin@bluestrust.org if you do not wish us to do this.  We will not give out your email address to any 3rd party sources.
The Trust reserves the right to moderate any comments made (in consultation with the writer) or to deny publication if comments are considered to be inconsistent with the requirements identified above.