The following article has been written by one of our Trust members.  They are the opinions of that person and not necessarily those of Blues Trust.  Would you like to contribute a discussion point of your own about Birmingham City Football Club?  If so, we would be delighted to hear from you.
Saturday morning started well but the day ended at 5pm in sheer frustration and bewilderment. My car radio blurted out Glory Days by Bruce Springsteen earlier in the day, and the omens felt good. And especially so when our opponents went down to ten men with eighty minutes still to play. But we know the rest so enough said.
Why oh why do we keep being dragged back into the boneyards of the Championship table when we allow opportunities like Wigan at home to go begging? We have witnessed it for ten full years now, and stepping back into below mediocrity has already begun. And the season is only three weeks old for goodness sake!
Rotherham away next and heaven knows what will happen, unless of course the days leading up to Saturday create a wave of optimism with either new arrivals in the shape of strikers, or new owners reassuring us battered followers that good times are around the corner. We need impetus and we need it quick. Pointless in delving into the needs of the team and equally useless pointing fingers at individuals as we already know what's needed.
Cardiff was poor, Watford a bit improved and Wigan simply tepid. Three results deservedly pitching us towards the bottom of the barrel. John Eustace needs help we constantly hear, and nobody can argue with that. Equally, younger guns need older heads around them and, again, nobody would disagree. But it's the overall mentality of winning, or rather the lack of it, that's the key in my opinion. Problem is that the elders of the team haven't enjoyed any winning mentality for years.
The current transfer window closes in a matter of days and if there is a chance of a fresh start, and one which means shipping out the elders, then the club should do it. Because relying on what we have will, I'm afraid, mean this being the season when we finally fail. We haven't the cushion of last season, when other clubs were punished with the deduction of points for example, and survival in this league will not be secured by ageing so called strikers.
Perhaps the return of Graham and the introduction of Bielik will help, and maybe Gary Gardner will be a better choice in midfield.  But overall we need matches that we can and should be winning. Wigan was a good example, but they are not alone in taking all the points away from St. Andrew's. Past seasons have seen very similar patterns all too frequently, with visiting teams who would have been delighted at pinching a point getting on their team coach with all three!
We as supporters know what Eustace is up against, and we know the restrictions placed upon him in terms of finance. But even if he is lumbered with what he has after this transfer window closes, then my plea to him is to find out who within the squad has that mentality to win. Against ten men Wigan it was evident that the know-how wasn't there when it should have been.
Newly promoted Rotherham, like Wigan, will be undaunted by our arrival on Saturday which should suit us as underdogs because, sadly, that is what what we now are. This is a crucial game for the club in many ways, as slipping into the bottom three so early in the season will be damaging and soul destroying. Two weeks ago I felt we were on a bit of a knife edge, with the then upcoming Cardiff, Watford and Wigan games likely to indicate whether we would survive or flounder. We now know, and the Glory Days have turned out anything but.
Mitchell Bray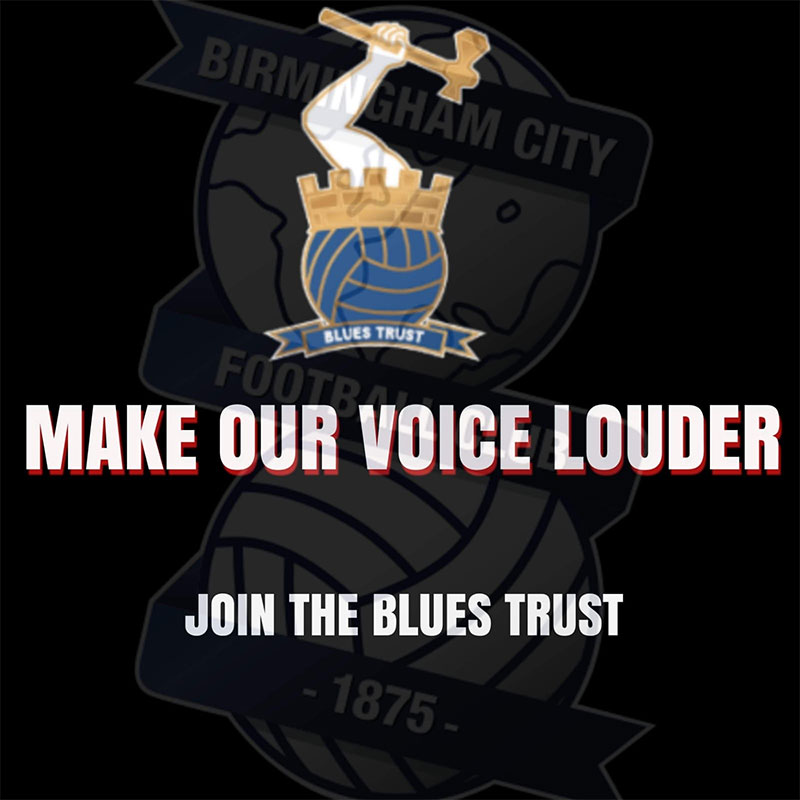 Want to be a full member with voting rights?
We have options for 1 and 2 years at £5 per year.  There is also a 5 year membership for £20 so you get 5 years for the price of 4.  See information and options here.
By making comments:
All we ask is that it relates to the Club that we all love. It can inform, question, challenge, criticise even….but it should not be written to threaten and/or cause personal offence.
By making comments on the above article, you agree to Blues Trust retaining your email address should we need to make contact with you for admin purposes.   Let us know at admin@bluestrust.org if you do not wish us to do this.  We will not give out your email address to any 3rd party sources.
The Trust reserves the right to moderate any comments made (in consultation with the writer) or to deny publication if comments are considered to be inconsistent with the requirements identified above.