The following article has been written by one of our Trust members.  They are the opinions of that person and not necessarily those of Blues Trust.  Would you like to contribute a discussion point of your own about Birmingham City Football Club?  If so, we would be delighted to hear from you.
Blues supporters will no doubt have different opinions about the current goings on at St. Andrew's, but my view is split between a fresh beginning and another season for sheer survival. Young players being blooded like Chang, Hall, Williams and James is fine provided the blend of older and experienced campaigners lend an almighty hand. Ryan Woods departure is no big deal as far as I'm concerned provided, of course, we have adequate cover or better. Returning players such as Gardner and Graham will help, as will the appearance of newcomer Krystian Bielik. So far not too bad as we stand, but the Cardiff game certainly highlighted the gulf between men and boys.
Our takeover saga adds further issues as to how far down the line we actually are. Strengthening the squad, especially at the top end of the pitch, is not only obvious but essential. Naming individuals is pointless, but relying on the experienced is surely not going to work. Again it is a case of not knowing how we currently stand, and whether we end up weaker or stronger by the end of this current transfer window.
Being on a knife edge is not new to Blues supporters, but this is something different. Getting rid of players to make way for younger talent is sensible and acceptable. But nursing them in with older heads is vital, especially when future talents like Jobe Bellingham await the nod. All down to finances I fully appreciate, but even more challenging when we are seemingly in the midst of a transition.
The next two weeks will be telling as last Saturday at Cardiff demonstrated how importantly we need a proper rounded eleven on the pitch. No doubt the watching Richardson/Lopez will have taken note and, let us hope, remain keen to help John Eustace. Transition at Blues is what we have longed for and my fingers are crossed that this takeover goes ahead with the arrival of much needed reinforcements.
This Championship season will be as tough as anything we have witnessed, which reinforces the need to survive and compete. Although quietly confident the next two weeks will work out, both on and off the pitch, it is difficult to escape the feeling of being well and truly on a knife edge right now.
Mitchell Bray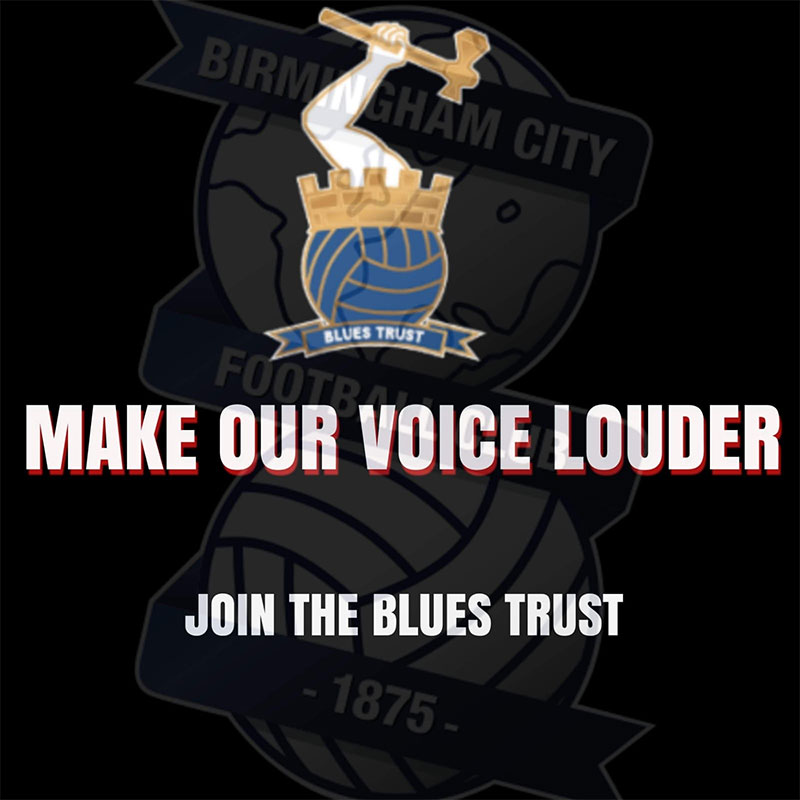 Want to be a full member with voting rights?
We have options for 1 and 2 years at £5 per year.  There is also a 5 year membership for £20 so you get 5 years for the price of 4.  See information and options here.
By making comments:
All we ask is that it relates to the Club that we all love. It can inform, question, challenge, criticise even….but it should not be written to threaten and/or cause personal offence.
By making comments on the above article, you agree to Blues Trust retaining your email address should we need to make contact with you for admin purposes.   Let us know at admin@bluestrust.org if you do not wish us to do this.  We will not give out your email address to any 3rd party sources.
The Trust reserves the right to moderate any comments made (in consultation with the writer) or to deny publication if comments are considered to be inconsistent with the requirements identified above.