The following article has been written by one of our Trust members.  They are the opinions of that person and not necessarily those of Blues Trust.  Would you like to contribute a discussion point of your own about Birmingham City Football Club?  If so, we would be delighted to hear from you.
First point of the new season at Luton Town and that's fine. John Eustace and the team wanted a positive result and so did we the supporters. Nothing fancy and nothing particularly outstanding, but bucketloads of hard graft and gritty defending. Building from the back is the managers blueprint, with the objective of producing a solid and reliable defence. So far so good.
However, the games ahead…especially at home…will also need to see some craft and speed to get both the crowd and the players confidence onto the front foot. Who has the pace and who possesses the craft is the tricky bit. With limited resources, John Eustace has his work cut out.
Loanee Placheta has pace which seemingly makes him the ideal forward runner who could operate on either wing, but so long as he is not designated to the wing-back duty. Jeremie Bela and Jordan Graham both had to fill these berths last season, leaving them somewhat ineffectual going forward in their natural footballing roles. Hopefully we either sign a quality left back or deploy a fit again George Friend.
We desperately need a pacy player up front, and getting our left back position sorted appears to be the key in releasing proper wing play. With Huddersfield Town up next on Friday for the first home game of the season, it will be interesting to see what tactics Eustace adopts.
Safety first comes immediately to mind and why not, as I have no doubt our new manager is desperate for his team not to be rolled over. Especially at home. We all appreciate the club is in a transitional period at the moment, given the expected takeover, therefore patience and understanding are going to be needed all round.
Transfers out and in will probably enter the final days of the window with, fingers crossed, a couple of quality players arriving on permanent deals. Until then my hope is that our manager gets the team solid enough not to be easily beaten, particularly at home. The game against Luton typified the situation as of now, with not being defeated the objective, and my view is that this safety‑first approach is ideal under our current standing with the takeover.
Huddersfield, just like every other Championship side, will be tough opposition and they arrive determined to get their first win of the season too. But on Friday night, St. Andrew's needs to belong to us, the hosts. And just like the events taking place at the nearby Commonwealth Games, Birmingham needs to continue that 'feel good' theme. Prediction 1-0 Blues.
Mitchell Bray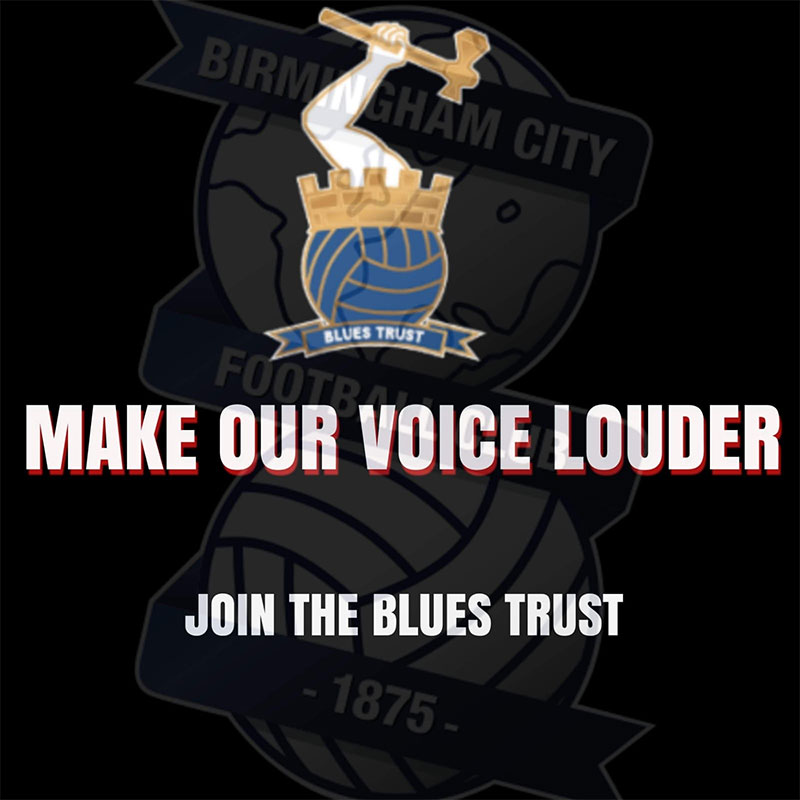 Want to be a full member with voting rights?
We have options for 1 and 2 years at £5 per year.  There is also a 5 year membership for £20 so you get 5 years for the price of 4.  See information and options here.
By making comments:
All we ask is that it relates to the Club that we all love. It can inform, question, challenge, criticise even….but it should not be written to threaten and/or cause personal offence.
By making comments on the above article, you agree to Blues Trust retaining your email address should we need to make contact with you for admin purposes.   Let us know at admin@bluestrust.org if you do not wish us to do this.  We will not give out your email address to any 3rd party sources.
The Trust reserves the right to moderate any comments made (in consultation with the writer) or to deny publication if comments are considered to be inconsistent with the requirements identified above.