The following article has been written by one of our Trust members.  They are the opinions of that person and not necessarily those of Blues Trust.  Would you like to contribute a discussion point of your own about Birmingham City Football Club?  If so, we would be delighted to hear from you.
Unlike the majority of Championship clubs this season, we at BCFC appear to be getting weaker by the minute. Being the underdogs to almost every other team we face is beyond humiliating but, even worse, exactly correct. We border on being welcome fodder for our opponents which is an embarrassment.
Whatever happens between now and the transfer window deadline will never be more vital. John Eustace is playing his ever depleting squad as best he can without the luxury, if you can call it that, of not knowing who will be treading the training ground from day to day. Yes we know the state of the club and it's need to offload players etc. And we also recognise the problems regarding our ongoing takeover, which may or may not ultimately happen. But losing the faith of supporters so early in the season is damaging.
My hope is that the next few days will see an influx of players capable of keeping our Championship status intact. Winning games for us at the moment appears to be too complicated. And, frankly, a bridge too far with never a thought that maybe one of our strikers will turn it on and burst the net with the all important winner. We expect nothing and that's the issue. We never get pleasantly surprised.
To get weaker in this league so early in the season is likely to prove fatal, which stresses again the need for this window to work, with outgoings expected to balance the books. All understandable by the majority of supporters, but this balancing act can backfire should we trip up with forty tough league games ahead. My view is that we have never been so fragile all over the playing field, which demands urgent attention this window. Not next.
If we must, we can just about accept the silence from the club in terms of communication whilst the supposed takeover is seemingly being progressed. And we can swallow our lot when our ground is not the best, although the delays in addressing the problems really are a shocking reflection on those running the club. But we cannot sit and watch our team become the fodder of the Championship by simply becoming weaker.
After a summer with a touch of optimism, with the hope of new beginnings and burying the forgettable past seasons, we still hold on for that flicker of improvement, and to enjoy this season. We still may achieve this, but first we have to stem the all too obvious fragility on the pitch.
Mitchell Bray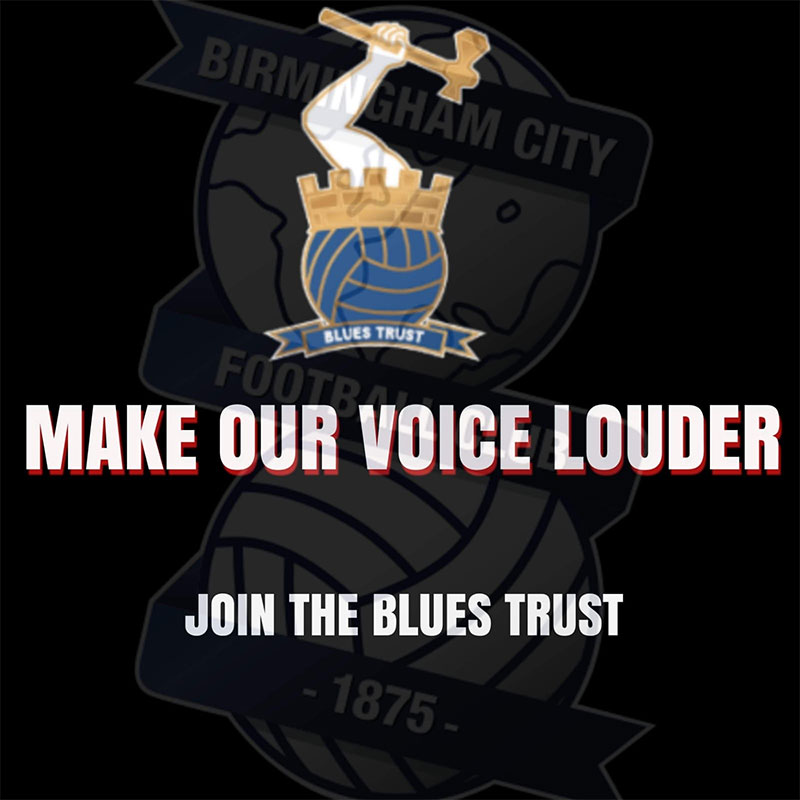 Want to be a full member with voting rights?
We have options for 1 and 2 years at £5 per year.  There is also a 5 year membership for £20 so you get 5 years for the price of 4.  See information and options here.
By making comments:
All we ask is that it relates to the Club that we all love. It can inform, question, challenge, criticise even….but it should not be written to threaten and/or cause personal offence.
By making comments on the above article, you agree to Blues Trust retaining your email address should we need to make contact with you for admin purposes.   Let us know at admin@bluestrust.org if you do not wish us to do this.  We will not give out your email address to any 3rd party sources.
The Trust reserves the right to moderate any comments made (in consultation with the writer) or to deny publication if comments are considered to be inconsistent with the requirements identified above.