The following article has been written by one of our Trust members.  They are the opinions of that person and not necessarily those of Blues Trust.  Would you like to contribute a discussion point of your own about Birmingham City Football Club?  If so, we would be delighted to hear from you.
A dogged and deserved single goal victory at Preston has lifted the whole atmosphere around St. Andrew's. Not for a long time has a win been more needed. John Eustace, players, future prospective owners and of course we as supporters are enjoying a rare easing of the pain, something so regularly endured on a Saturday evening and thereafter until the next game comes along. We now want more, and we hope for the whole club to push on so that we can once again start to truly enjoy being a BCFC supporter.
This must start with the rubber stamping of the Richardson/Lopez era which, hopefully, is imminent. As important as Maxim Colin's goal was at Deepdale, this new beginning is equally so. Preston and onwards being my real hope, with stability quickly established and everyone on board.
Putting all that aside, there is an equally important issue for Craig Gardner and co. to resolve. And quickly in my view. That, of course, being the urgent need for an additional striker. Yes, we know the story of the last two weeks and the hard work undertaken in trying to get someone in. But, as we also now know, to no avail. We get all of that. And as Blues supporters we are conditioned for disappointment after all.
But the need for additional fire power is real and it is pressing. And my plea is for an intensified search of the free agent market, and to find someone who has the ability to make a difference. There must be a gem out there surely? Other clubs seem to find them. Simple to say I readily admit, but without such an addition then struggling to score goals and winning points in this Championship season will cost us dearly.
John Eustace is making his post-match comments very clear as to the togetherness of the squad, and the laudable contributions of the elders with Troy Deeney getting the lion's share of his admiration. Which is fine up to a point. However, these are words and not the on-field actions which really matter. No back up strikers leaving us perilously fragile is twitchy to say the least. So, action please.
Mixing and matching with players prepared to fill slots is generally ok. But up top we need specialist strikers, and departing players have left the options for JE severely dented in my view. Management at the club may see things differently of course. Maybe all is covered and prepared for after last week's disappointments surrounding Maja, Thomas-Asante and the others now being mentioned, which renders my concerns unfounded. Let's hope so.
Swansea next up and another chance for points. And, hopefully, back-to-back wins for the first time in a while. Getting through games undefeated in the short term may well be the priority though, given the reduced fitness levels of those now beginning to freshen up the first team. Once we get the settled shape and consistency that we know we need then more pain free match days will hopefully follow. This season must not be allowed to become a repeat of the last, or indeed several previous ones, with every point a toil just for the sake of finding what we can all surely see is essential. Over to you Craig Gardner and co.
Mitchell Bray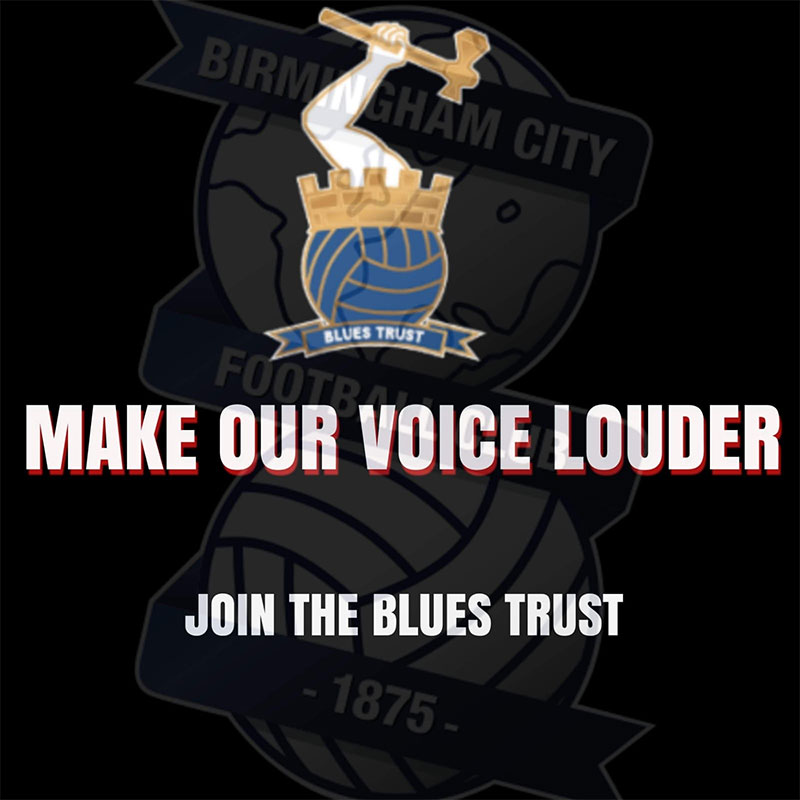 Want to be a full member with voting rights?
We have options for 1 and 2 years at £5 per year.  There is also a 5 year membership for £20 so you get 5 years for the price of 4.  See information and options here.
By making comments:
All we ask is that it relates to the Club that we all love. It can inform, question, challenge, criticise even….but it should not be written to threaten and/or cause personal offence.
By making comments on the above article, you agree to Blues Trust retaining your email address should we need to make contact with you for admin purposes.   Let us know at admin@bluestrust.org if you do not wish us to do this.  We will not give out your email address to any 3rd party sources.
The Trust reserves the right to moderate any comments made (in consultation with the writer) or to deny publication if comments are considered to be inconsistent with the requirements identified above.