The following article has been written by one of our Trust members.  They are the opinions of that person and not necessarily those of Blues Trust.  Would you like to contribute a discussion point of your own about Birmingham City Football Club?  If so, we would be delighted to hear from you.
After ten league games, twelve points gained in an ever-demanding Championship campaign must be regarded as respectable. Sitting seventeenth in the table though, which of late seems to be our natural home, is still a touch disappointing despite the last three games bagging two great away wins and a draw.
Keeping out of the bottom five by this enforced break was my stated hope, not least in view of our current situation regarding injuries and a lack of strikers. This achieved, and now we move onwards to the next phase of the season. That is no doubt going to be another challenge, particularly if we have to rely on the fitness and scoring form of Hogan together with the irritating absence of a natural left back. Players returning from injury will obviously help, especially Placheta and Gardner, and will give John Eustace some element of choice which he desperately needs.
My hope now is that we can find a solution to a problem that always seems to beset us. Namely, the need for a recognised and decent left back. Why we should labour this obvious weakness is baffling, particularly as new incumbents routinely arrive who are either not fit or deemed good enough to be trusted. The current loanee from West Ham United, Emmanuel Longelo, is the latest enigma. No doubt this is yet more irritation for our manager.
However, as we currently stand on the playing side the performance level overall is encouraging. Eustace is doing a decent job and currently appears to be a good fit for Blues. No doubt his brief by our owners is to keep our head above water this season.
As always the prickly, touchy subject of the takeover continues to rumble on with nothing yet clear in my opinion. My annoyance with all of this uncertainty is for us Blues followers, who always go that extra yard in believing and hoping that change is happening. We give the benefit of the doubt continually. This is in our makeup.
Communication is once again all too rare, and whilst understanding the need for 'in house' privacy and possible delicate diplomacy, we do need to be fed with regular updates no matter how frugal the information, Again, my hope is that this international break will benefit the club on a number of fronts both on and off the pitch. At the moment though, keeping the club's head above water is the key for me.
Mitchell Bray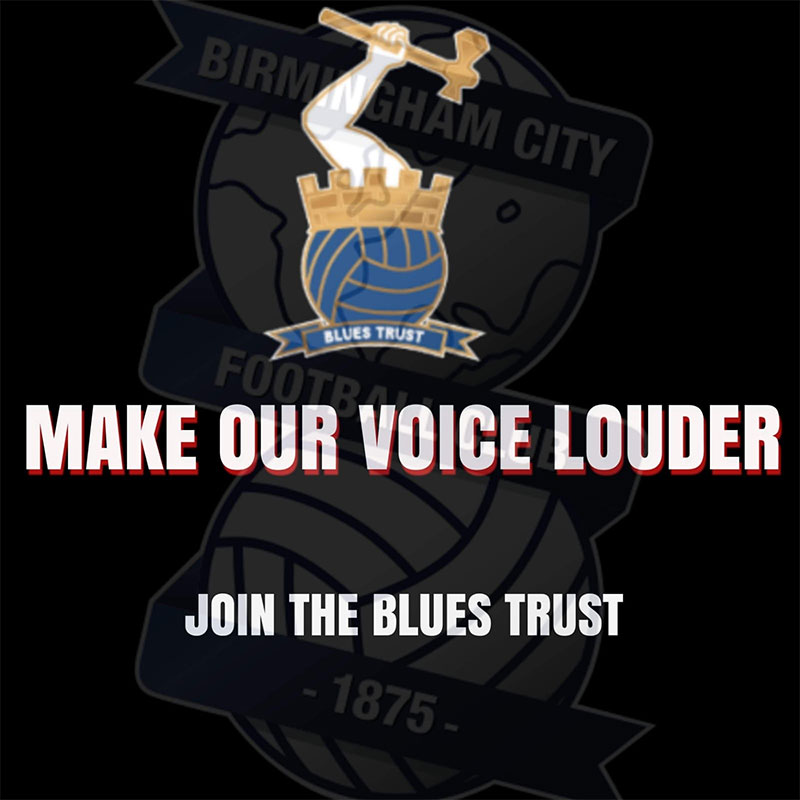 Want to be a full member with voting rights?
We have options for 1 and 2 years at £5 per year.  There is also a 5 year membership for £20 so you get 5 years for the price of 4.  See information and options here.
By making comments:
All we ask is that it relates to the Club that we all love. It can inform, question, challenge, criticise even….but it should not be written to threaten and/or cause personal offence.
By making comments on the above article, you agree to Blues Trust retaining your email address should we need to make contact with you for admin purposes.   Let us know at admin@bluestrust.org if you do not wish us to do this.  We will not give out your email address to any 3rd party sources.
The Trust reserves the right to moderate any comments made (in consultation with the writer) or to deny publication if comments are considered to be inconsistent with the requirements identified above.