The following article has been written by one of our Trust members.  They are the opinions of that person and not necessarily those of Blues Trust.  Would you like to contribute a discussion point of your own about Birmingham City Football Club?  If so, we would be delighted to hear from you.
Assuming our football league program returns this week, West Bromwich Albion and Coventry City provide Blues with an opportunity to build upon the away win at Preston. At this stage, with the current situation surrounding the club takeover still uncertain and the slow return of players from injury, achieving points this week and remaining undefeated would be some achievement. Lofty ambitions maybe, but very doable.
We need the impetus and the consistency to flow, particularly from the new recruits who have the ability to show flair. Chong and Mejbri are the game changers for me, with pace and skill. Getting them involved during games is going to be the key, as being on the front foot should naturally increase our possession without being worn down with long periods of dogged defending.
After the Coventry game and the enforced two weeks international break, more returning players from injury will be available to John Eustace for selection. This is obviously welcome and needed, but at the same time to finish outside a bottom five in the table by 5pm this coming Saturday is the realistic target in my view.
Ten games will have been played and, hopefully, the points earned during this difficult start to the season will be viewed as respectable. A fully fit squad thereafter could make things very interesting. But results over these next two games will take on extra significance for fans, and help to shape views as to whether or not we are in for a good remaining thirty-six games.
Early days accepted, but nothing wrong with having lofty ambitions. Building on that Preston result must be the way forward. Meanwhile, let us all hope that the Richardson/Lopez takeover does gain further momentum and flourishes this week.
Mitchell Bray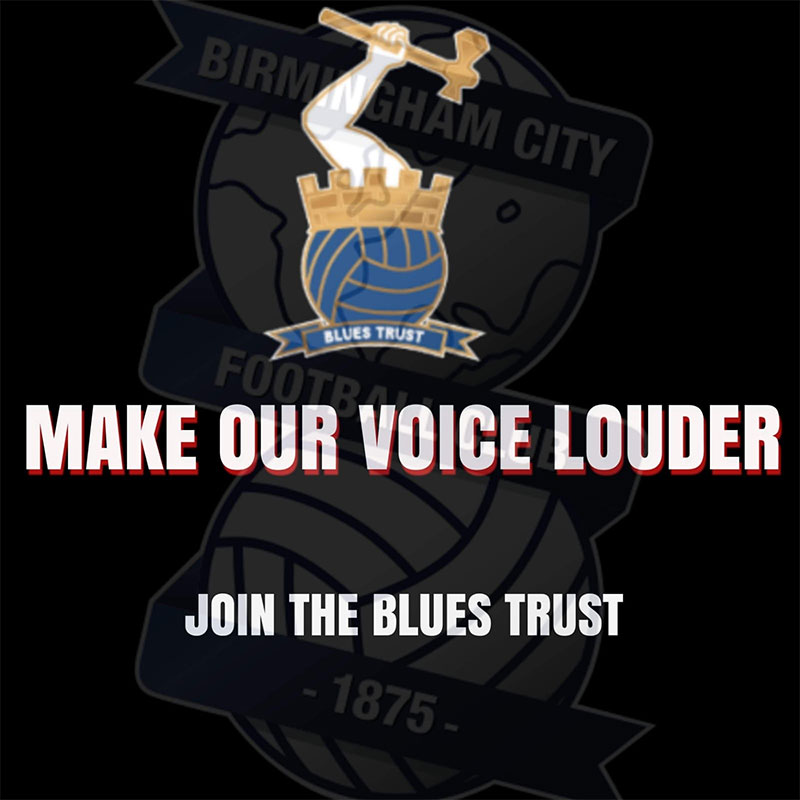 Want to be a full member with voting rights?
We have options for 1 and 2 years at £5 per year.  There is also a 5 year membership for £20 so you get 5 years for the price of 4.  See information and options here.
By making comments:
All we ask is that it relates to the Club that we all love. It can inform, question, challenge, criticise even….but it should not be written to threaten and/or cause personal offence.
By making comments on the above article, you agree to Blues Trust retaining your email address should we need to make contact with you for admin purposes.   Let us know at admin@bluestrust.org if you do not wish us to do this.  We will not give out your email address to any 3rd party sources.
The Trust reserves the right to moderate any comments made (in consultation with the writer) or to deny publication if comments are considered to be inconsistent with the requirements identified above.