The following article has been written by one of our Trust members.  They are the opinions of that person and not necessarily those of Blues Trust.  Would you like to contribute a discussion point of your own about Birmingham City Football Club?  If so, we would be delighted to hear from you.
Sheffield United and Middlesbrough away are our next two Championship league games. Not great reading on first glance and understandably so. But pausing for a second and reflecting on recent similar consecutive away games against Preston and West Bromwich Albion, then maybe we should welcome these two fixtures.
Bagging maximum points at Deepdale and the Hawthorns with a paper thin squad was unexpected, confirming yet again the unpredictable nature of the Championship. These next two games, plus the remaining fixtures leading up to the enforced World Cup break, are certainly vital for us with again only a thin looking squad.
Biggest problem of course is the dependence on Scott Hogan and, above all, keeping him injury free. What an unenviable situation for John Eustace. However, goals from others is the obvious answer with Deeney and Jutkiewicz the only other recognised helpers to see us through until the next transfer window. Easier said than done I readily admit.
Returning players Gardner, Placheta and Roberts should allow for a more solid base and, with fingers crossed, another decent ten game run. Remaining unfazed is the only way this season is going to pan out, as takeover talk and all that goes with it will not help the players win games. Reality is the 'here and now' and that we battle on regardless, with hopefully better times ahead should we get our prospective new owners rubber stamped.
John Eustace has his work cut out getting to the necessary target of points needed for survival, and should he succeed in guiding Blues through this season then job well done. The October fixtures certainly look difficult, but with the confidence gained by the recent away results then this Blues squad could well surprise. No predictions from me, but whatever happens from now until the November break my hope is that all concentration is focused on pitch matters and not off-field developments which, at the moment, only create confusion and uncertainty.
Mitchell Bray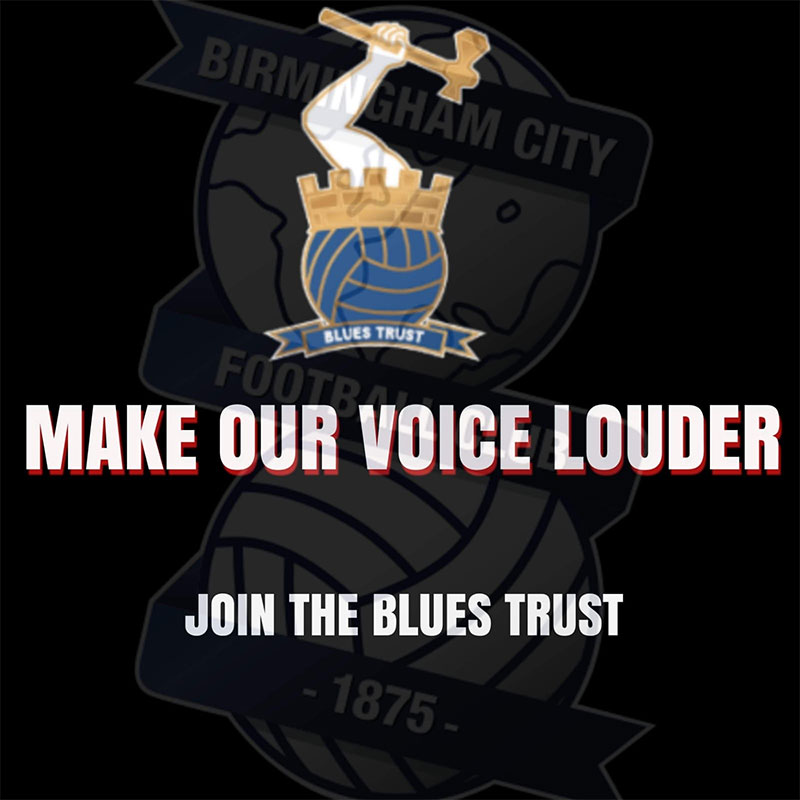 Want to be a full member with voting rights?
We have options for 1 and 2 years at £5 per year.  There is also a 5 year membership for £20 so you get 5 years for the price of 4.  See information and options here.
By making comments:
All we ask is that it relates to the Club that we all love. It can inform, question, challenge, criticise even….but it should not be written to threaten and/or cause personal offence.
By making comments on the above article, you agree to Blues Trust retaining your email address should we need to make contact with you for admin purposes.   Let us know at admin@bluestrust.org if you do not wish us to do this.  We will not give out your email address to any 3rd party sources.
The Trust reserves the right to moderate any comments made (in consultation with the writer) or to deny publication if comments are considered to be inconsistent with the requirements identified above.