Euphoria And Disappointments
The following article has been written by one of our Trust members.  They are the opinions of that person and not necessarily those of Blues Trust.  Would you like to contribute a discussion point of your own about Birmingham City Football Club?  If so, we would be delighted to hear from you.
After Wednesday's bitterly disappointing defeat at Middlesbrough, and by the most slender of margins, we once again find ourselves sitting uncomfortably in the lower reaches of the Championship table. After four previously undefeated games, including two creditable away wins, nineteenth slot is hitting hard. Three points obviously makes a big difference, emphasising the thin margins between success and failure. And particularly so this season, with no obvious stand out teams and only a small handful of points separating so many sides.
Of course, everything could change with Bristol City next up and a decent leap upwards being the prize for the win.  However, we know all of this and my apologies for stating the obvious, but there is a bigger issue here depending how near or far we are from a takeover. Sackings of managers this season have begun early with Cardiff, Hull and now Middlesbrough the latest to wield the axe, which ironically has had an impact in each case.
Expecting more departures this week seems logical. Such is the fragile nature of the game today and the limited patience afforded to managers and coaches. Never, it seems, has there been a more significant swing between euphoria and disappointment. Over our elongated stay in the Championship, which is getting to feel like a lifetime, our hierarchy has never flinched from managerial sackings. Though bordering at times on lunacy in my view.
My hope this time around is that John Eustace will be given time. I like his honesty and I doubt whether anyone else, under the strict monetary restrictions that are clearly in place, could do better. What I fear is that should a takeover not happen, then to fall below our current position in the table would most likely see a swift managerial change. This being the historical nature of the last decade at our club.
Should the reverse happen, with new ownership being rubber stamped, then maybe a knee jerk reaction could be put on ice. Clarity is what we as supporters of BCFC have always wanted. During those heady days in the summer when takeover talk with Lopez and Richardson generated hope and euphoria, good vibes circulated. Our patience has been tested since then of course, with protracted discussions leading to uncertainty and concern.
But whatever the outcome of the ownership deliberations, John Eustace needs help, and he needs support. And with new brooms, and not the reliance of an older brigade who are clearly finding the Championship programme ever demanding. Consistent results keeping us mid-table would be a comfort, but until this is achieved our hovering around the boneyard of the table will be business as usual.
Mitchell Bray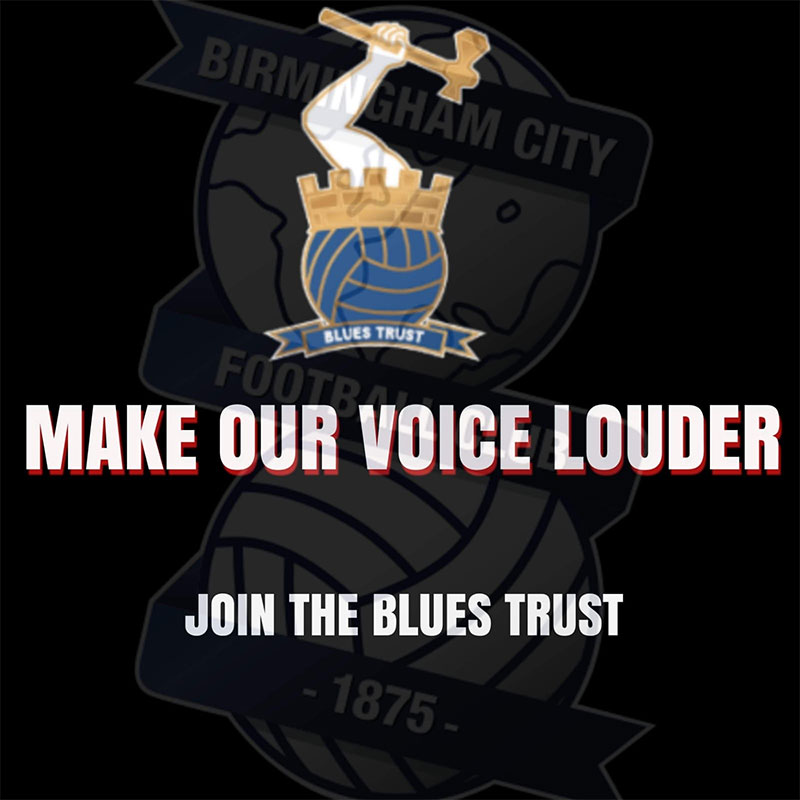 Want to be a full member with voting rights?
We have options for 1 and 2 years at £5 per year.  There is also a 5 year membership for £20 so you get 5 years for the price of 4.  See information and options here.
By making comments:
All we ask is that it relates to the Club that we all love. It can inform, question, challenge, criticise even….but it should not be written to threaten and/or cause personal offence.
By making comments on the above article, you agree to Blues Trust retaining your email address should we need to make contact with you for admin purposes.   Let us know at admin@bluestrust.org if you do not wish us to do this.  We will not give out your email address to any 3rd party sources.
The Trust reserves the right to moderate any comments made (in consultation with the writer) or to deny publication if comments are considered to be inconsistent with the requirements identified above.