The following article has been written by one of our Trust members.  They are the opinions of that person and not necessarily those of Blues Trust.  Would you like to contribute a discussion point of your own about Birmingham City Football Club?  If so, we would be delighted to hear from you.
Blackburn Rovers survived a Brummie battering last Saturday and ended up winners. Like every game it's the result that matters, and the rewards that affect the league table. However, deep in the hearts of true Blues supporters we know different. This performance at Ewood Park told us much more about our team, overriding the actual zero points gained.
Apart from Middlesbrough away and what was a pretty inept performance, our consistent displays since, both home and away, have been excellent. And, simply put, we are together again as a club; loyal fans and the team, whoever now steps onto the pitch. There is a new bonding that the St. Andrew's faithful can see and witness.
After last Saturday's game, our players appeared devastated with the result. Watching John Eustace and his players interviewed after the final whistle clearly showed their frustration and disbelief at losing the game. It was a match they controlled and a match in which the opposition goalkeeper performed heroics. And to such an extent that he was easily recognised as Blackburn's man of the match. They were shaken by the result, but certainly not stirred, and their eagerness to get hold of the next game came across loud and clear.
Queens Park Rangers on Friday awaits. Another match against a team at the top of the table, but also another chance to put on the type of show that we are now used to seeing. New hope and belief has been a well-used phrase over recent seasons, sometimes without justification, but John Eustace has, in my opinion, now given us that and added something else in the form of trust. He appears to have this from all areas of the playing staff. And especially the loanees, whose attitude has been first class and makes them all look permanent additions. Not easy to get temporary players performing as if on five-year contracts. Credit JE for all that.
Fast forward to QPR and another opportunity to add vital points to our current tally of twenty. With mid-November the cut-off point for the season because of the World Cup, my view is that a minimum of five more points by then should position us nicely for what comes next. And the welcome prospect of a second half campaign being looked forward to rather than feared.
When Millwall occupy a playoff spot, and the likes of Luton Town and Rotherham knocking on the door, then 'why not us?' will always keep nagging away. Let's hope Friday night's match gets us back on track, with a reaction similar to that which occurred after the recent defeat at Middlesbrough. Blackburn was clearly a frustration but the key pointer in my book, shaken as the players obviously were, was that they all appeared undaunted as to their eagerness to get QPR in their sights.
Mitchell Bray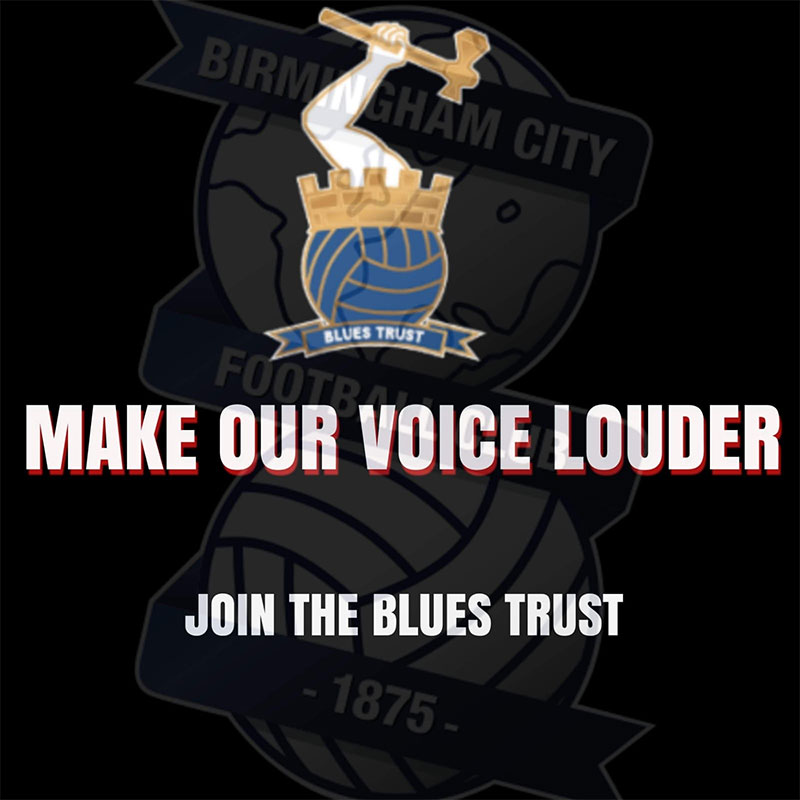 Want to be a full member with voting rights?
We have options for 1 and 2 years at £5 per year.  There is also a 5 year membership for £20 so you get 5 years for the price of 4.  See information and options here.
By making comments:
All we ask is that it relates to the Club that we all love. It can inform, question, challenge, criticise even….but it should not be written to threaten and/or cause personal offence.
By making comments on the above article, you agree to Blues Trust retaining your email address should we need to make contact with you for admin purposes.   Let us know at admin@bluestrust.org if you do not wish us to do this.  We will not give out your email address to any 3rd party sources.
The Trust reserves the right to moderate any comments made (in consultation with the writer) or to deny publication if comments are considered to be inconsistent with the requirements identified above.