The following article has been written by one of our Trust members.  They are the opinions of that person and not necessarily those of Blues Trust.  Would you like to contribute a discussion point of your own about Birmingham City Football Club?  If so, we would be delighted to hear from you.
As Tina Turner would so aptly put it, after the final whistle at Hull City on Sunday things are…at the moment at least…simply the best. Over the top maybe? Or enjoying the moment a bit too much? Then yes, probably. But sensible and wise words I prefer not to listen to at this precise time.
Recent away victories at Preston, West Bromwich Albion and now Hull City have pushed our club to within three points of a play-off spot. Add to all that last week's thumping of Bristol City at St. Andrew's and, suddenly, a winning pattern with consistency has emerged. It's been a good while since we have been able to say that.
This run of form is, hopefully, not a fluke. And with a grounded manager setting out this season's campaign with understandable and logical reasoning for all to see, it is no surprise that fans are becoming excited. What happens on the pitch is, for me, the all important focus with off-field matters left for others.
John Eustace has quietly arrived and impressed with his way forward for our club, with survival probably still the target over the quest for a playoff spot. Reminiscent of the Rowett days when hopes were high for success, Eustace has put us on a similar path. The big difference this time being, again hopefully, that lessons have been learned after the erratic actions taken previously by those upstairs.
Burnley next up and another challenge for the team, with a victory really raising the bar or a draw not a disappointment. Caution and being wary is what we as supporters have been used to over the recent appalling seasons of uncertainty, but this new and real hope of on-field success has binned all of that. Look at the table and start believing that, once again, we might just be becoming a force capable of climbing the rungs of the ladder.
A thin squad or a big one, it doesn't really matter in my view with our current manager at the helm. Provided injuries are not too severe of course. The signings of John Ruddy and Tahith Chong, following on from Juninho Bacuna, as permanent 'family members' bodes well for the future. Keeping important people around you is the key.
Onwards to the Burnley game on Wednesday night, and another match against the current table toppers. But another chance for John Eustace and his nice blend of young and experienced players to further catapult the club into the upper reaches of the division. Territory that we haven't experienced for a while. And why not?
Mitchell Bray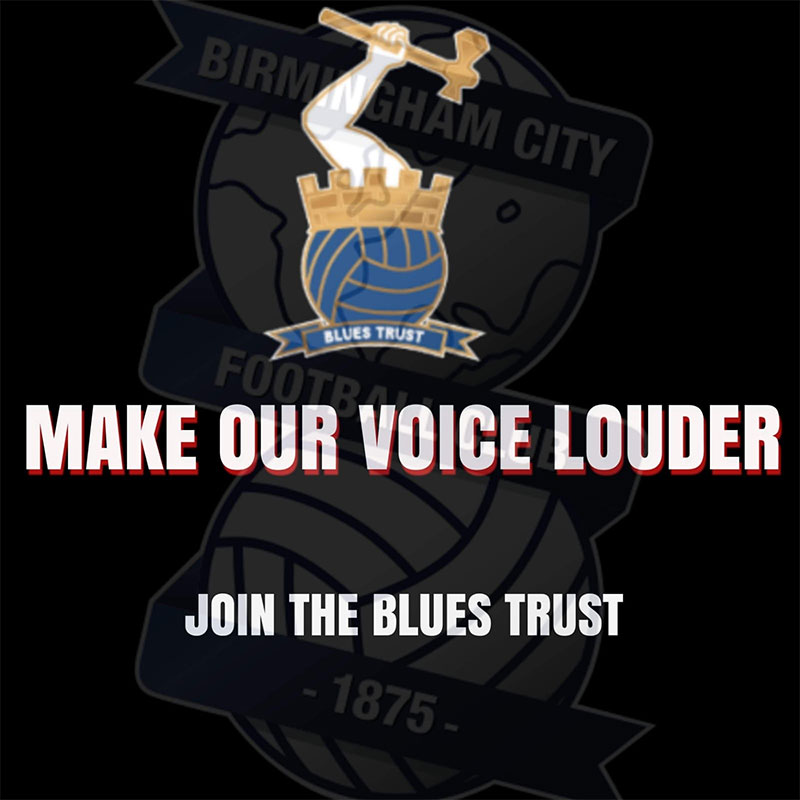 Want to be a full member with voting rights?
We have options for 1 and 2 years at £5 per year.  There is also a 5 year membership for £20 so you get 5 years for the price of 4.  See information and options here.
By making comments:
All we ask is that it relates to the Club that we all love. It can inform, question, challenge, criticise even….but it should not be written to threaten and/or cause personal offence.
By making comments on the above article, you agree to Blues Trust retaining your email address should we need to make contact with you for admin purposes.   Let us know at admin@bluestrust.org if you do not wish us to do this.  We will not give out your email address to any 3rd party sources.
The Trust reserves the right to moderate any comments made (in consultation with the writer) or to deny publication if comments are considered to be inconsistent with the requirements identified above.