The following article has been written by one of our Trust members.  They are the opinions of that person and not necessarily those of Blues Trust.  Would you like to contribute a discussion point of your own about Birmingham City Football Club?  If so, we would be delighted to hear from you.
​Whatever the outcome on Friday night when Sunderland come to visit, the new belief that this season is alive and kicking is all too real. The enforced break for the World Cup will be either a hindrance or a blessing for the club, with momentum on the field doing nicely as we stand, or an unwanted pause when players are very much in the groove.
Nice thoughts to ponder. Tuesday night's dramatic draw against Swansea City epitomised this 'new Blues', with John Eustace again proving a top Championship Manager. After so many seasons of misery and false dawns, we are all beginning to feel excited as to what might happen on the field between now and next May.
Factors such as the January transfer window and, hopefully, new ownership are good positive pointers for the resumption and second half of the Championship campaign. Scoring goals, tight defences, togetherness and patterns of sensible team selections are all there to be seen.
John Eustace came through the door at St. Andrew's with nothing to lose and everything to gain with his own methods. So far, everything is working . And working well. Time will tell whether his recipe for stability can be enhanced by climbing further up the ladder and, who knows, perhaps even securing a part in the play off games. As a Blues supporter this new experience of seeing the club aiming high is beyond joy. Hopefully this will continue and ultimately leave the awful past seasons as a forgettable place that we no longer live in.
After Sunderland we all take the enforced breather and recharge, looking forward to what I confidently believe will be continued progress on the field. But whether this hiatus in the season turns out to be a hindrance or a blessing, only the next set of results will tell. What really matters for me though is, as things stand, Blues fans are likely to be very much looking forward to December and January with belief, enthusiasm and expectation. And it's been a good while since we have been able to say that.
Mitchell Bray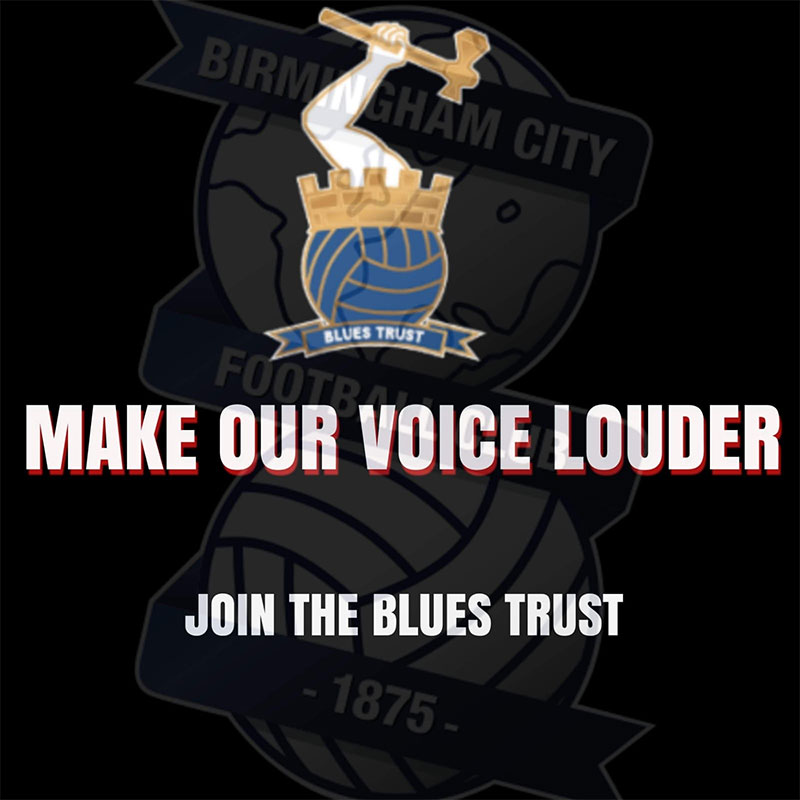 Want to be a full member with voting rights?
We have options for 1 and 2 years at £5 per year.  There is also a 5 year membership for £20 so you get 5 years for the price of 4.  See information and options here.
By making comments:
All we ask is that it relates to the Club that we all love. It can inform, question, challenge, criticise even….but it should not be written to threaten and/or cause personal offence.
By making comments on the above article, you agree to Blues Trust retaining your email address should we need to make contact with you for admin purposes.   Let us know at admin@bluestrust.org if you do not wish us to do this.  We will not give out your email address to any 3rd party sources.
The Trust reserves the right to moderate any comments made (in consultation with the writer) or to deny publication if comments are considered to be inconsistent with the requirements identified above.