The following article has been written by one of our Trust members.  They are the opinions of that person and not necessarily those of Blues Trust.  Would you like to contribute a discussion point of your own about Birmingham City Football Club?  If so, we would be delighted to hear from you.
Some may say 'here we go again', and that strikes a chord with me. George Hall is the starlet a number of Premier League clubs are reportedly interested in signing during the January transfer window. All done and dusted with proceeds likely to be spent on loanees Sanderson and Bielik. Or so we are led to believe.
Really annoying speculation once again, and particularly so with the team doing very well right now. But maybe the club considers such a deal to be necessary with finances as they are at St. Andrew's? Reluctantly I could appreciate and understand that if it was the case. However, if there is truth in the story that George Hall is indeed the starlet, we have to lose to facilitate the permanent acquisition of a couple of loanees, then how unfortunate and sad is that?
Once again, we would see ourselves as the selling club, without really holding on to the possible future advancement of our club. My point here is not that George might leave and be added to the lengthy list of 'early talent sold' but, rather, why sell to fund two loanees in positions that can be replaced?
Maybe it is not just this factor, but if selling the player is essential for our club to carry on and survive then, again, I could understand and accept that. But building a young, talented team is what John Eustace regularly preaches and he also quickly points out that these players are the future for the club. My question centres on whether the future refers to the ongoing existence of the club and therefore selling to survive or, instead, it means developing youth for success and keeping 'wanted talent' away from the vultures?
George Hall will be an interesting case during the upcoming transfer window as to how we are shaping up for the future. Che Adams and Jude Bellingham went for decent money and, although regrettable from the fans point of view, it was understandable in both cases given the circumstances each time. But the meagre figure being banded around for our latest 'starlet' is hard to accept, especially if the true reason is for loanee signings being made permanent.
Mitchell Bray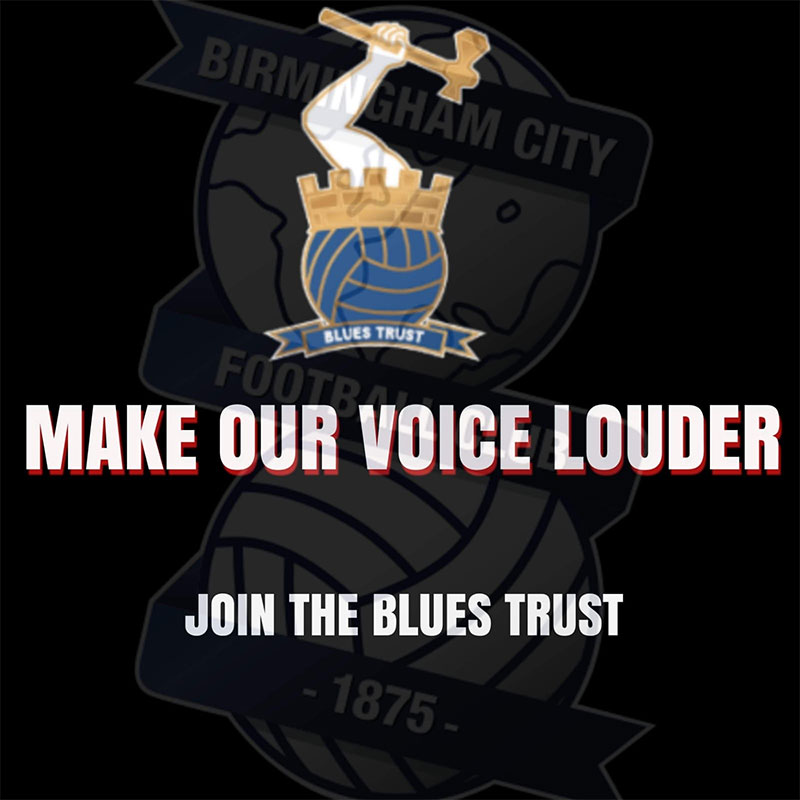 Want to be a full member with voting rights?
We have options for 1 and 2 years at £5 per year.  There is also a 5 year membership for £20 so you get 5 years for the price of 4.  See information and options here.
By making comments:
All we ask is that it relates to the Club that we all love. It can inform, question, challenge, criticise even….but it should not be written to threaten and/or cause personal offence.
By making comments on the above article, you agree to Blues Trust retaining your email address should we need to make contact with you for admin purposes.   Let us know at admin@bluestrust.org if you do not wish us to do this.  We will not give out your email address to any 3rd party sources.
The Trust reserves the right to moderate any comments made (in consultation with the writer) or to deny publication if comments are considered to be inconsistent with the requirements identified above.