The following article has been written by one of our Trust members.  They are the opinions of that person and not necessarily those of Blues Trust.  Would you like to contribute a discussion point of your own about Birmingham City Football Club?  If so, we would be delighted to hear from you.
​Whatever the results this week against Millwall and Stoke City, our current form and league position has reignited hope and optimism.  We are simmering nicely and with the prospect of approaching boiling point should Blues emerge with still more favourable results. New territory for us supporters of course, but the feeling that events could get even better is already taking hold.
Confidence in the team and John Eustace is now well entrenched.  There is both trust and belief that, at last, we are moving forward instead of backwards. Ironically, this feeling last happened under the guidance of our next opponent's Manager.  Rowett and Eustace would be a dream team right now, with this season's Championship campaign relatively wide open. Both highly respected and successful, albeit operating on limited resources.
What has changed the mood around St. Andrew's is not complex but, on the contrary, is actually overwhelmingly simple.  It is clear for all to see that there is a desire and a togetherness amongst the whole squad. Under John Eustace we are witnessing genuine on-field displays and a clarity as to what he is trying to achieve.  We buy into all of this and provided the desire to improve continues JE and his players will get unlimited support.
This week and beyond until the World Cup break will be very interesting.  Four games to be looked forward to with relish and enthusiasm.  Not something that we have particularly experienced in many recent seasons.  And thoughts of achieving a top eight position by year end are not unrealistic given the current momentum. All very positive I recognise, but more than possible I believe.
Living in hope with our club is quite different to actually feeling something is beginning to happen, and particularly so on the pitch.  But with over 19,000 supporters last Friday night against QPR, a continuation of current form and an improving league position together with an easing of ground restrictions suggests that a buzzing St. Andrew's once more awaits.  Fantasy feelings I think not, as October's results were anything but flukes.
John Eustace arrived under the radar and, together with his assembled squad of players…young and not so young, loanees who wanted their chance of regular football, a few contracted players wanting to come out of the shadows and be given a fighting chance…he has created a very successful mix so far.  Whatever the outcome between now and the November break, the next four games against Millwall, Stoke City, Swansea and Sunderland will tell us more about just how the pot is getting on.  As nicely simmering as it currently is, further progress with perhaps a couple more wins along the way will get us all bubbling over.
Mitchell Bray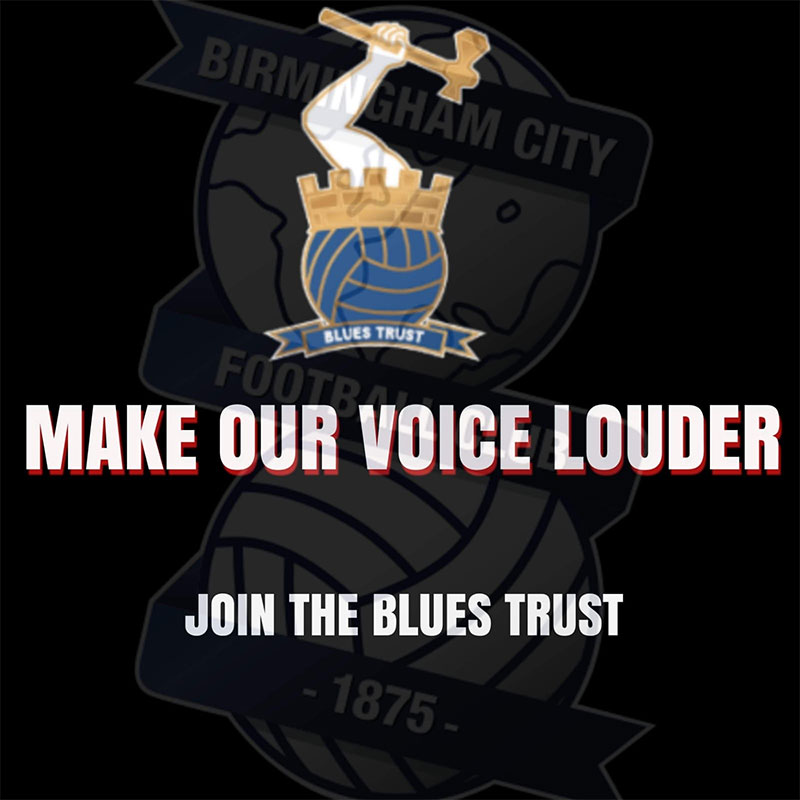 Want to be a full member with voting rights?
We have options for 1 and 2 years at £5 per year.  There is also a 5 year membership for £20 so you get 5 years for the price of 4.  See information and options here.
By making comments:
All we ask is that it relates to the Club that we all love. It can inform, question, challenge, criticise even….but it should not be written to threaten and/or cause personal offence.
By making comments on the above article, you agree to Blues Trust retaining your email address should we need to make contact with you for admin purposes.   Let us know at admin@bluestrust.org if you do not wish us to do this.  We will not give out your email address to any 3rd party sources.
The Trust reserves the right to moderate any comments made (in consultation with the writer) or to deny publication if comments are considered to be inconsistent with the requirements identified above.